As we begin the Year of the Goat in the 2015 Chinese year (starting February 19th), we're told that this particular Zodiac sign represents compassion, gentleness and kindheartedness. As it turns out, headlines are already being made this year by San Francisco's leading philanthropists, who are amply representing these traits.


Jan Koum, the 38-year-old founder of WhatsApp, recently donated an astonishing $556-million to the Silicon Valley Community Foundation, while Sean Parker and wife Alexandra donated $550-million, and GoPro founder Nicholas Woodman and wife Jill donated more than $500 million! Altogether, among the top 50 philanthropists in the nation, almost half are individuals in the tech industry, and most are based here.


So let's hear it for philanthropy's great golden goats!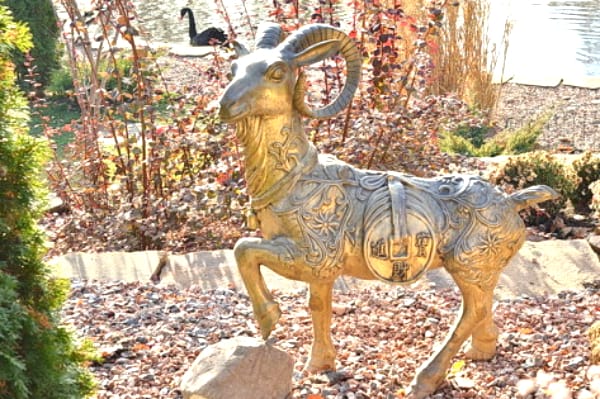 The Chinese Lunar New Year is February 19

With celebrations of the Lunar New Year throughout San Francisco this month, culminating with the visually spectacular Chinese New Year Parade in Chinatown (an event which originated in the 1860's), we're reminded of our City's deep historical ties to China and the strengthening of that connection in recent years through our business relationships.


Nowhere is this more apparent that in the trend of Chinese investment in San Francisco and Silicon Valley real estate.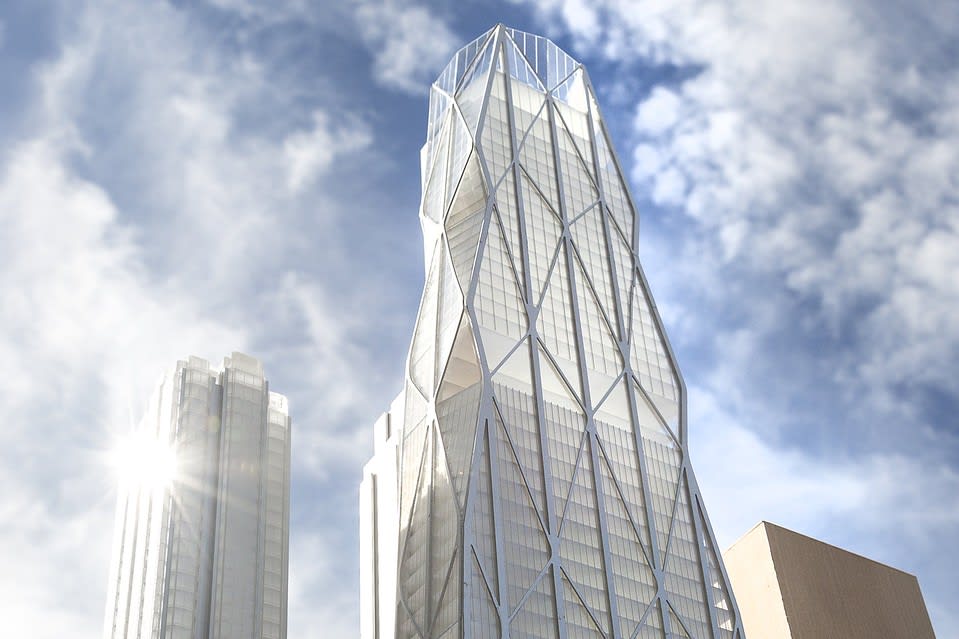 Foster + Partners Proposed Tower

There are three recent high-profile examples. Most excitingly, the $1.6-billion investment by China Oceanwide Holding's in two fabulous Sir Norman Foster-designed towers next to the Transbay Center, encompassing 2,000,000 square feet of offices, retail, hotel and condos. In Oakland's Jack London Square area, Beijing's Zarison Holdings is partnering on the new $1.5B Brooklyn Basin project, with 3,100 homes, 27 acres of public open space and 200,0000 square feet of office space at the top of the list.
And of course I've previously told you about Tishman Speyer's partnership with Shenzen-based China Vanke on the $620 million Lumina condominium project (which is quickly selling out.)


But with Chinese money or not, large scale real estate development continues to thrive in San Francisco, with the new $2.1-billion CPMC hospital on the rapidly changing Van Ness corridor (scheduled to open in 2019), the brand new high-tech $1.5-billion UCSF Mission Bay Hospital just opening, and the stunning new Warriors sports and entertainment center in Mission Bay (which is already having a dramatic effect on prices of condominiums in the surrounding area.)

Rendering of the SOMA Innovation Campus
A less monumental but still important new project is the "SOMA Innovation Campus," which will offer a campus-like setting for artists, "makers" and small manufacturers in Potrero Hill's design and manufacturing hub. Also small-scale but intriguing -- the fancy food market opening in the Twitter building.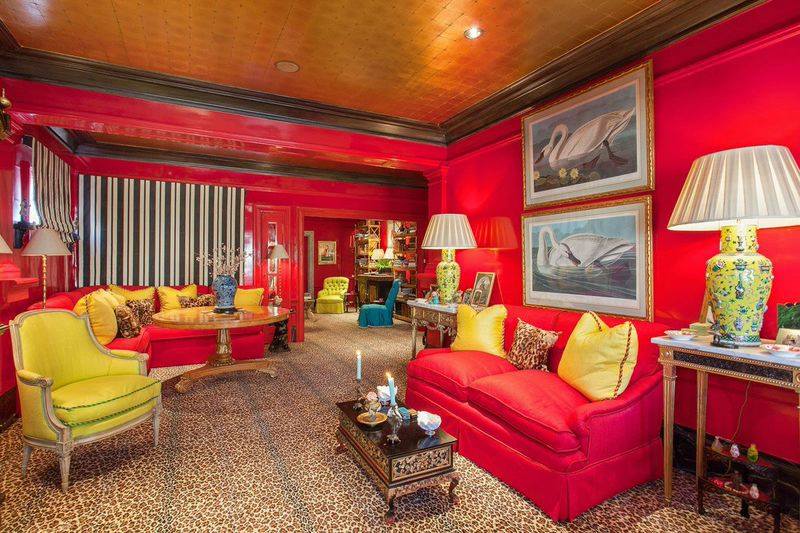 John James Audubon swan prints are displayed in this Thomas Britt-designed residence
Visit 1242sacramento4.com for more photos
Innovation, artistry, craftsmanship, these are the things we look for in design, which is why I'm so pleased to represent the sale of a true jewel box of a residence on Nob Hill designed by the great Thomas Britt, whose work is celebrated for just those characteristics. No wonder it was featured last year in Architectural Digest for its lively, high-spirited look.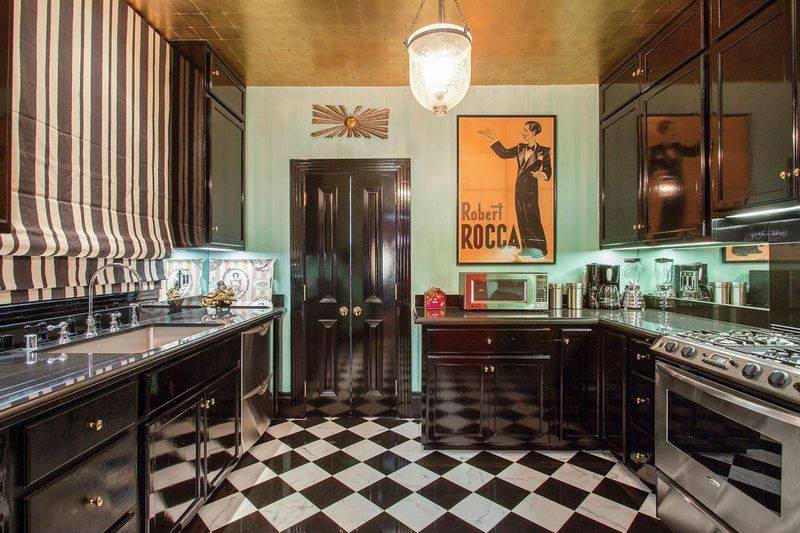 A Gracie metal-leaf wallpaper lines the kitchen ceiling. Range by Amana.
Visit 1242sacramento4.com for more photos
Other architecturally fascinating properties currently on the market include three I have my eye on in New York: international designer Juan Pablo Molyneux' mansion, the iconic Pierre penthouse on 5th Avenue, and a fabulous pied-a-terre on Madison Avenue with incredible views.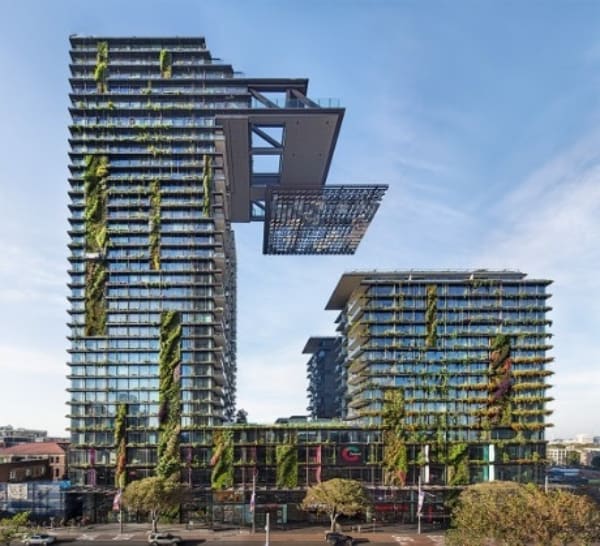 One Central Park, Sydney, Australia
Other examples of exciting architecture are in international high-rise construction. A design council recently announced "The World's Best Tall Buildings of the Year." A skyscraper in Sydney was at the top of the list. Featuring 11,000 square feet of vertical gardens that cover the surface of the building (35,200 plants and 383 different species) it is unusual for its cantilever structure that is covered in a series of reflector panels. The panels automatically redirect natural sunlight to various parts of a nearby park during shady periods of the day.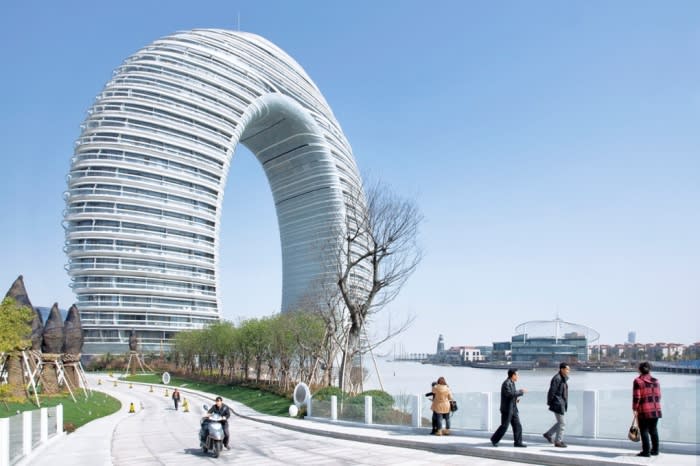 Sheraton Huhzou Hot Spring Resort, Huzhou, China
In China, a horsehoe-shaped Sheraton hotel high-rise is also on the list. Incredible! As the proliferation or ultra-tall, ultra-thin skyscrapers continues throughout the world, 2015's new buildings are more daring than ever!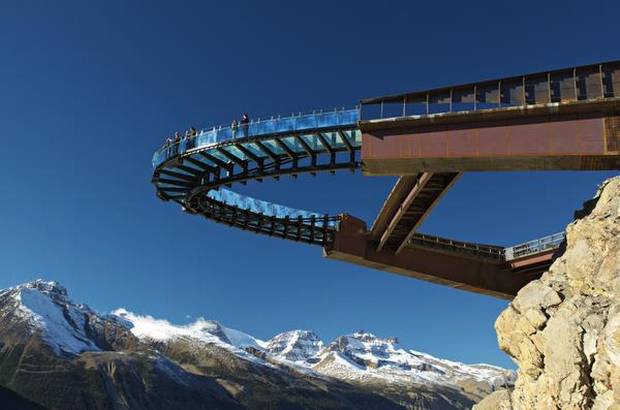 Glass Sidewalk Above Canadian Glaciers
Another stunning architectural feat is the extraordinary glacier skywalk 2,800 feet above Canada's Sunwapta canyon. The interplay of the modern structure with such an ancient natural wonder is breathtaking.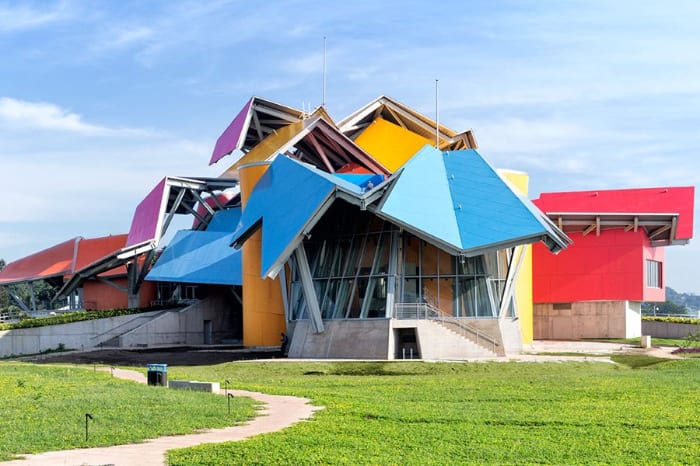 Frank Gehry's Biomuseo is dedicated to Panama's biodiversity
Finally, the most recent example of groundbreaking new architecture is Frank Gehry's Biomuseo in Panama City, which Architectural Digest named "one of the eight daring new buildings around the world."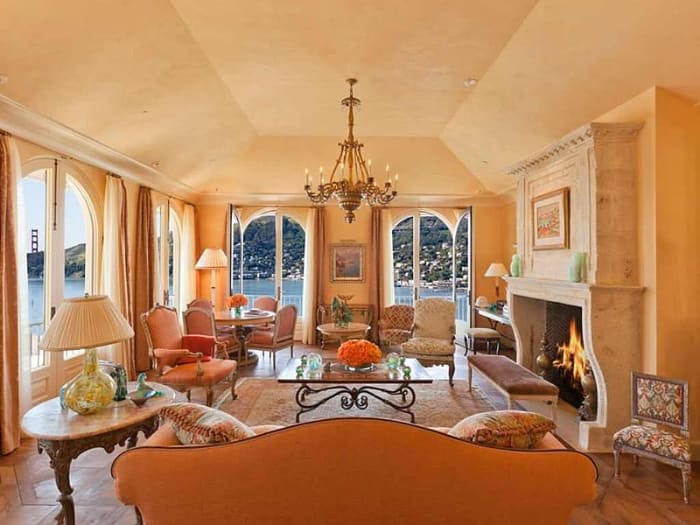 Belvedere Villa Designed by Andrew Skurman
But for those who prefer to be a bit more down to earth, there are some really fabulous waterfront homes on the market right now. In Belvedere there's a gorgeous bayside villa designed by the incomparable Andy Skurman available for $15.9 million. In Costa Rica, Mel Gibson is selling a home overlooking the beach for $29.74 million, Donna Karan's Parrot Cay sanctuary is on the market for $36 million, and an ultra-modernistic beach house near La Jolla has a fascinating retractable roof!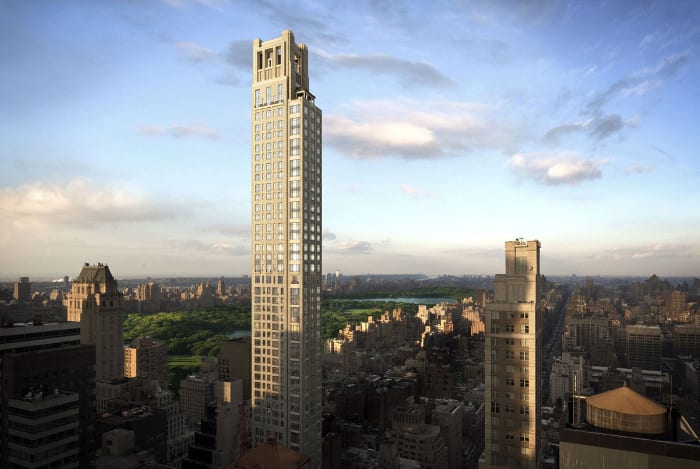 A $130 Million Penthouse will span the top three floors of 520 Park Ave
Nationally, the ultra-luxury market remains very strong with 9 of the 10 most expensive homes in America now listed at $100,000,000 or more (including 3 in California), and the $50-million+ penthouse market in Miami booming. More than half of the highest sales ever in Manhattan occurred within the last year, from Gilded Age Park Avenue co-ops to penthouses in the ultra-modern new supertall towers. Last month, a mystery buyer spent a staggering $100.47 million on the penthouse apartment of One57, which is still under construction. Rumor has it, though, that the penthouse at 520 Park Avenue will hit the market with a price tag of $130 million later this year!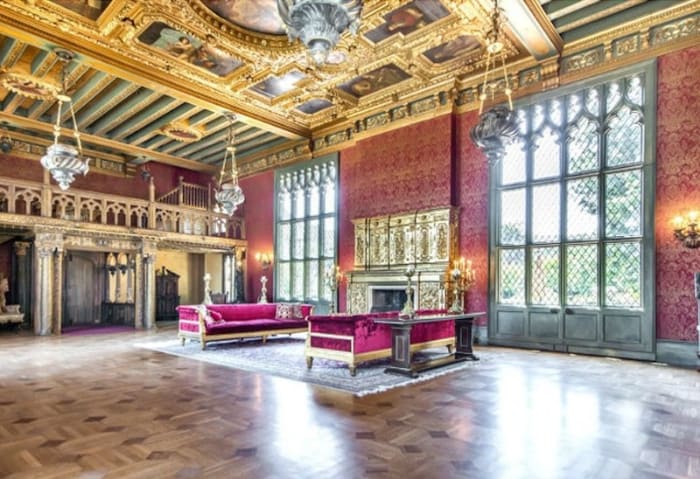 The Morgan Estate in Los Altos Hills sold for $25 Million
In the Bay Area, the top 10 sales of the past year (of which I had the pleasure of representing #4, the historic Tobin Clark estate) show a tight race between San Francisco and Atherton for most sales in this elite segment of the market. We are starting to see the first of 2015's big sales with the closing of the historic Morgan Estate in the Los Altos Hills for $25 million.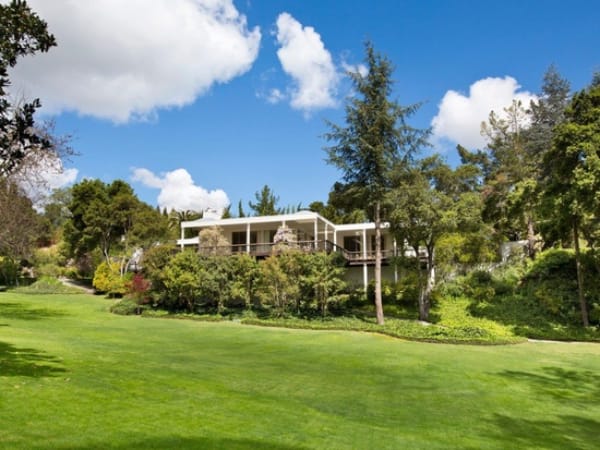 This Joseph Esherick home in Atherton just went on the market for $21.8 million

Eight properties are currently on the market in Atherton for over $10 million, the most recent of which is a contemporary home designed by Joseph Esherick sitting on one of the largest combined parcels (5.37 acres) in the area.

Real estate prices in the Bay Area are showing much more strength in the upper end of the market than the lower end, driven by all-time record employment numbers and mortgage rates near all-time lows, encouraging even all-cash buyers to finance purchase. San Francisco rents continue to surpass those of Manhattan for the 5th straight month. With San Francisco topping the list of best-performing cities in 2014, what's ahead for the rest of 2015? It looks like another heady year in San Francisco real estate. If past boom cycles are any indication, we haven't reached the end of this one yet!


Meanwhile the commercial markets continue to skyrocket with three $1 Billion dollar-plus deals in 2015 already in New York and a commercial condo sale at a staggering $20,000 per square foot. Interestingly, a plethora of new highrises are creating a new Los Angeles skyline.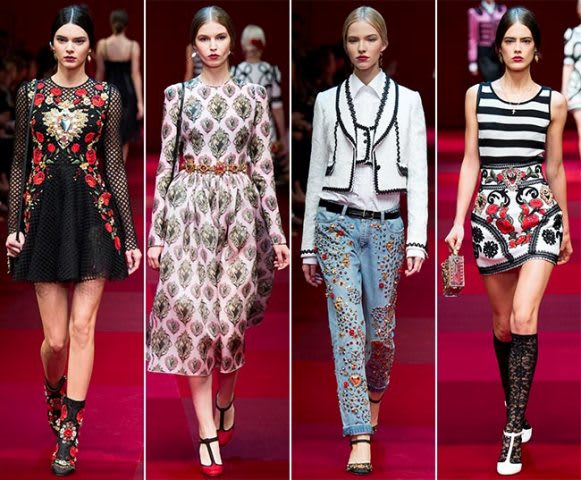 Dolce Gabbana to open a Union Square boutique

The retail frenzy continues in San Francisco with Dolce Gabbana, Maison Martin Margiela and other luxury brands continuing to flock into the red-hot Union Square area.


Our dazzling array of cultural, theatrical, dining and entertainment attractions continue to make this a most exciting time to be in San Francisco.