This month, with San Francisco now the fifth most popular city world-wide for the uber-wealthy, the ultra-luxury market in San Francisco continues to soar to new highs.


And you don't get any higher than a penthouse! The City's newest, biggest penthouses are now on the market, both at Lumina towers, and are making headlines for their record-breaking prices.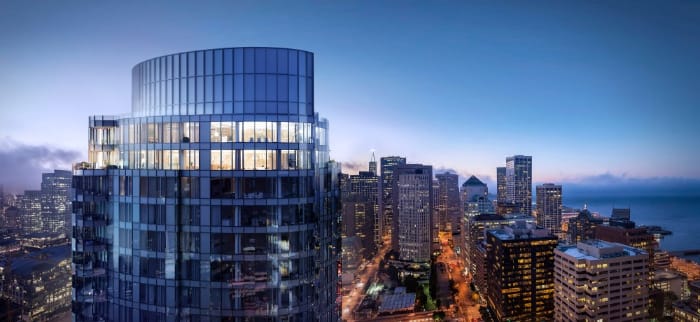 The Lumina Duplex Penthouse for $49 Million
One is a 13,800 square foot duplex designed by Bernardo Fort-Brescia, with an additional 1,200 square feet of exclusive-use outdoor space, listed for $49,000,000.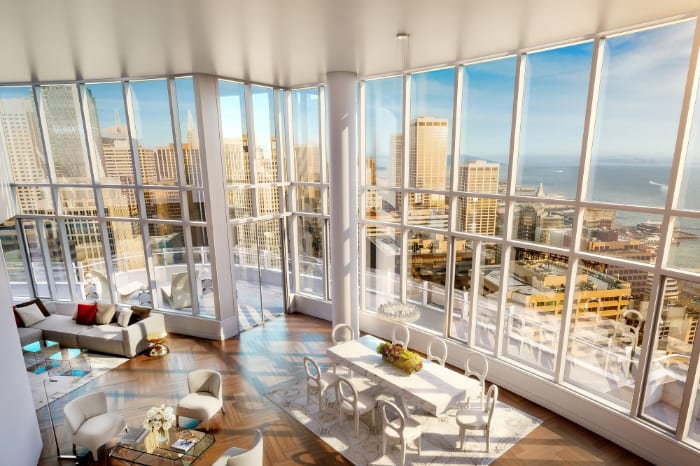 Rendering of the Lumina Duplex Penthouse for $49 Million
Located on the 41st and 42nd floors, it will offer spectacular views of San Francisco, and will include approximately 20-foot double-height living rooms, and eight outdoor terraces, including a roof terrace, to take advantage of the stunning bay views. The residence features two kitchens, five bedrooms, five full bathrooms and two half baths, a family room, a library, and a movie studio.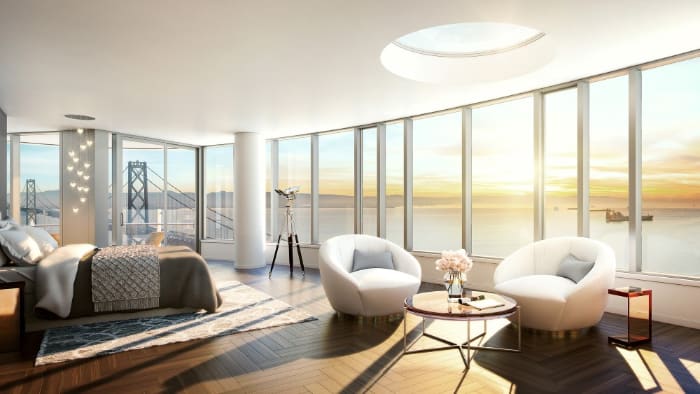 Rendering of the Lumina 37th Floor Penthouse for $29 Million

The second penthouse takes up the 37th floor of the Lumina's southernmost tower. The four-bedroom, 7,500 square foot residence is listed for $29 million, and includes an additional 750 square feet of private outdoor space.


"The ultimate luxury is natural light, feeling that you are in contact with the outdoors, and sensing the view no matter where you are in your home," says designer Bernardo Fort-Brescia. "The Lumina penthouse is a house in the sky, with views from every room."

Rendering of the Lumina Penthouse
Elsewhere in the City, with recent sales around the $2,800 per square foot range in the historic Russian Hill and Telegraph Hill areas, an asking price above $3,000 per square foot is becoming the new norm for premium, ultra-view apartments in A+ buildings with new renovations. Will they get their asking price? We'll know soon enough! Here are the top three condos currently on the market in this range: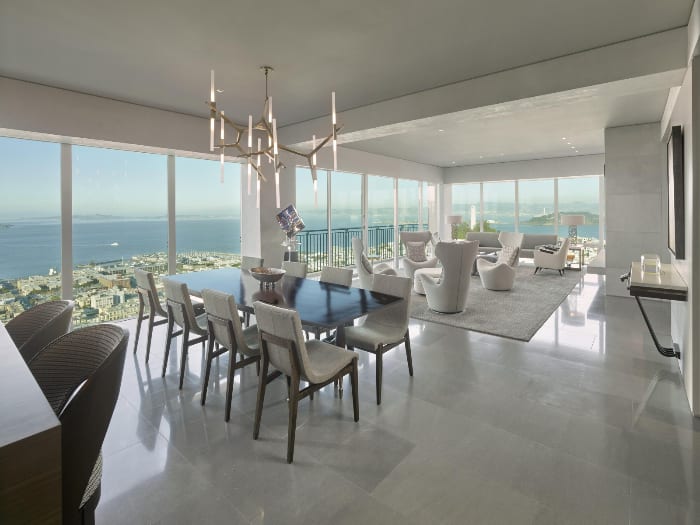 1. A Completely Renovated Co-Op at 1750 Taylor for $10,500,000


2. A Full-Floor Co-Op at 2500 Steiner for $9,950,000


3. Totally Renovated Half-Floor Condo at 1070 Green for $7,500,000
These figures are a new high, but keep in mind these residences represent the best of the best in terms of location, view and design. The latest forecast from the California Association of Realtors shows a very rosy forecast for the overall housing market this year, with the high end of the market continuing to outperform the mid and lower ranges.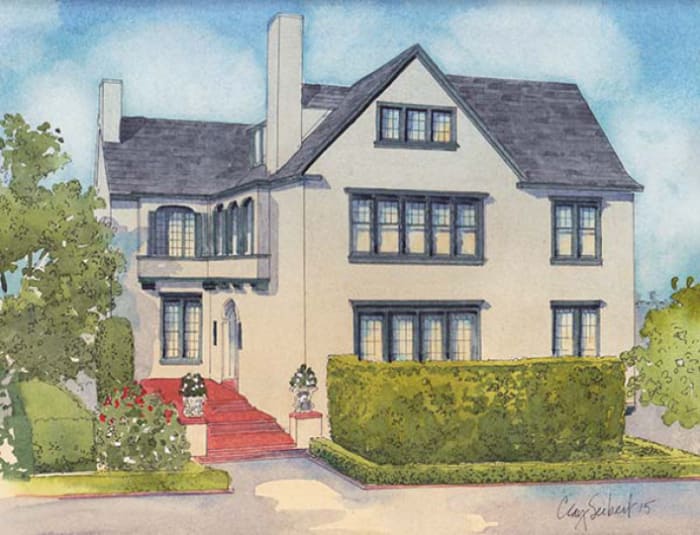 The 2015 Decorator Showcase To Take Place in Presidio Heights
Rendering by Clay Seibert.
Of course, a beautiful home should have beautiful interior design as well. For those looking for decorating ideas, the most anticipated real estate and design event in San Francisco is the Decorator Showcase, which will take place at this classic Julia Morgan mansion in Presidio Heights from April 25th through May 25th.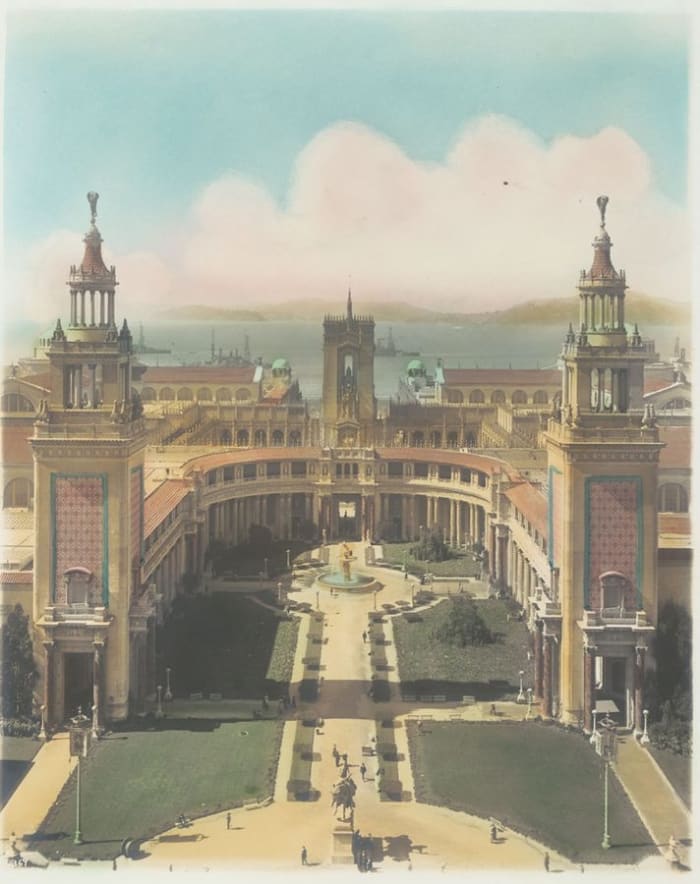 The Court of Flowers at 1915 Panama-Pacific International Exhibition
Julia Morgan's Elizabethan-style manor house was built in 1916/1917, during one of the most amazing architectural eras in San Francisco, following the 1915 Panama-Pacific International Exhibition, with its extraordinarily fantasy-like buildings never to be seen again.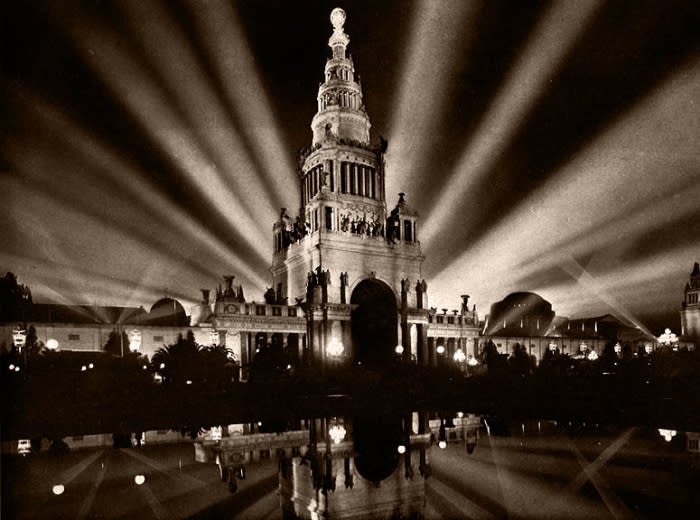 The Tower of Jewels at the 1915 Fair, Called "A Dazzling Day Dream"

Throughout 1915 millions of people toured structures that took three years to build, covering hundreds of acres in an area extending from Laguna Street to the Palace of Fine Arts, which is the only surviving building.


The opening was the biggest thing in America at the time (you can see a fascinating video of it here), with a massive parade attended by the Vice President, as well as the Liberty Bell. Yes, the actual Liberty Bell! It made a nationwide train tour from Philadelphia to the San Francisco Marina where it was paraded at the fair, then was sent back to Philadelphia where it has not budged since.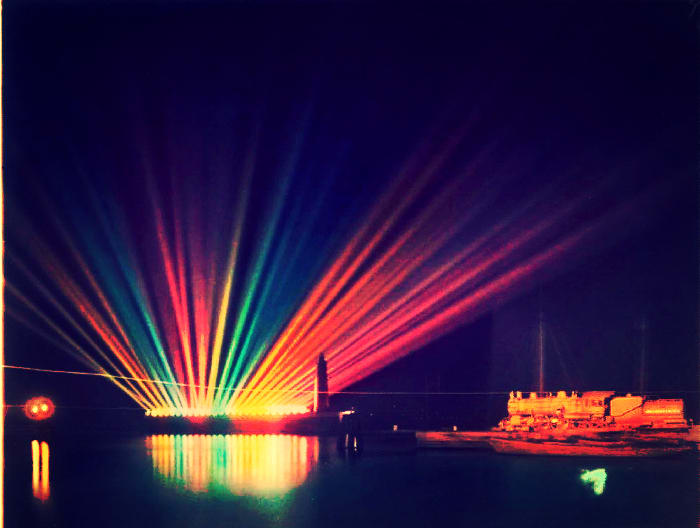 The Bay Lights, Circa 1915
A light show at the Tower of Jewels illuminated the Bay at night

The star attraction was the 435-foot Tower of Jewels, covered with 100,000 cut-glass "jewels" that shimmered in the light.


Now, as 1915 began with a fantastic light show on the San Francisco Bay, 2015 begins with our own light show going on hiatus.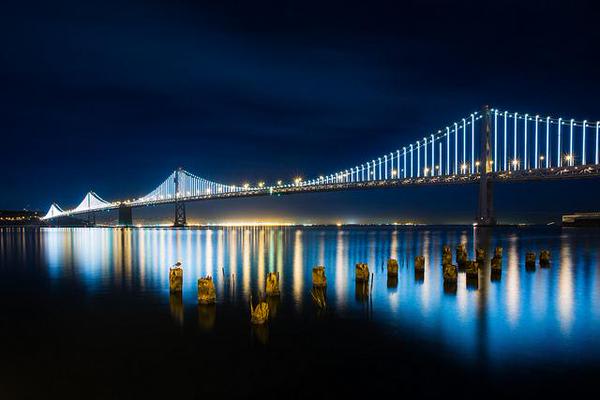 The Bay Lights, Circa 2015
Photo: @nicholasyust / twitter

The famous Bay Lights will be dark for eleven months while maintenance is done on the Bay Bridge's cables, but will be turned on permanently in 2016. Here is a look at some of the most incredible pictures of the largest light sculpture in the world.


It's exciting to see that 100 years after the great fantasy buildings of the 1915 fair were demolished, new architectural design in the Bay Area is starting to live up to our forebears' vision of the area as a place to explore new ideas while highlighting its natural beauty.


For this, it must be said, our technology companies are almost entirely responsible, with its influence on architecture and real estate.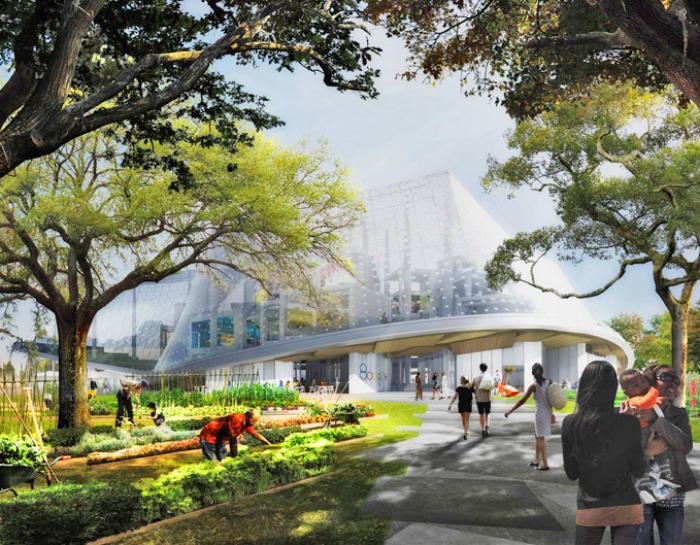 A Rendering of Google's "Greenhouse Utopia"

While Silicon Valley has brought incredible changes to the world, the look of the Valley hasn't change significantly in decades and the spirit of innovation has not been applied to its architecture, until recently. As David Radcliffe of Google said this week, "Tech hasn't really found its own language for building. We've just found old buildings and moved into them and we've made do the best we could."


That is about to change dramatically as we go into the future!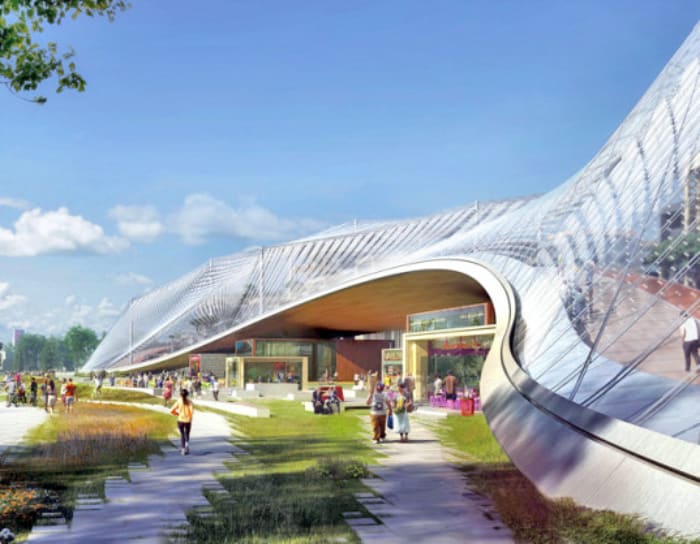 A Rendering of Google's New Campus
While the recent plans for the spaceship-like, Sir Norman Foster-designed Apple headquarters and Facebook's understated, back to nature Frank Gehry-designed campus have started to change the physical aspect of the Valley, Google's new greenhouse utopia vision for the future, designed by starchitects Bjarke Ingels of BIG and Thomas Heatherwick promises to totally disrupt the concept of office space.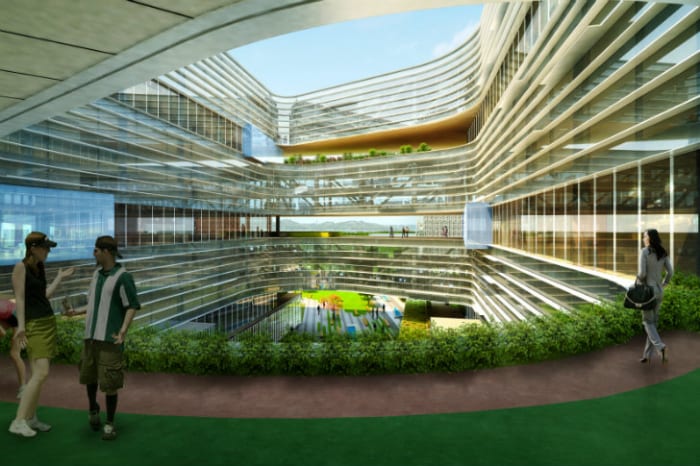 Samsung's San Jose Campus Opens in July 2015

Among the big new tech campuses, Samsung's will be the first to open, with its $300 million project in San Jose, designed by NBBJ, scheduled for completion in July of this year.
It will be fascinating to see how this architectural revolution will affect the pace and quality of innovation into the future!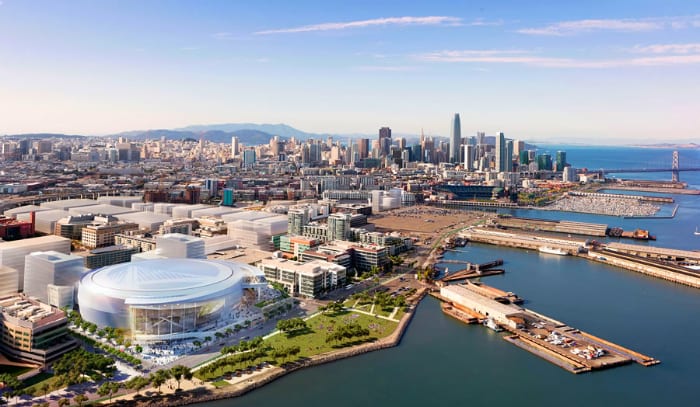 Bayfront Park at the Warriors Stadium, Possibly Ferry Service
In San Francisco, a spectacular new waterfront park is being planned directly across from the new Warriors Stadium in Mission Bay. And having lost George Lucas' $700 million museum earlier in the year to Chicago, is there a possibility it may come back to the Bay Area... but not San Francisco? Here's the latest scoop!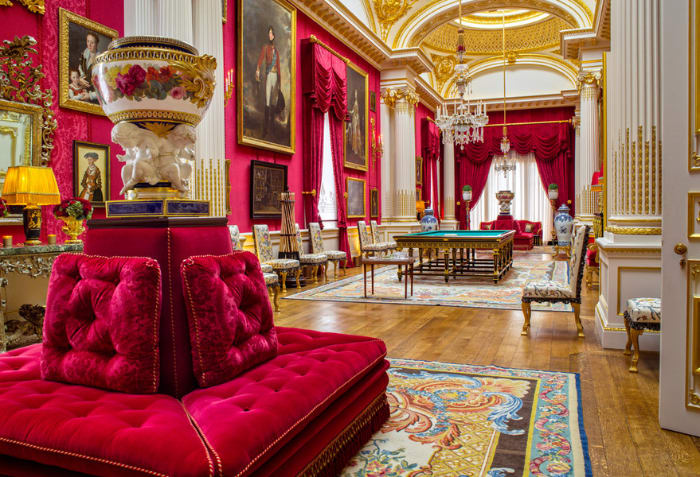 The Picture Gallery in Sheikh Hamad's Dudley House

While architecture continues to evolve into ultra-modern, futuristic forms, some of the world's most stunning classical buildings are also seeing extraordinary transformations.


One dramatic example is the painstaking restoration of palatial 44,000 square foot Dudley House at 100 Park Lane in London, now valued at $400,000,000, and as Queen Elizabeth remarked after a recent visit there for a dinner party "It makes Buckingham Palace look rather dull!"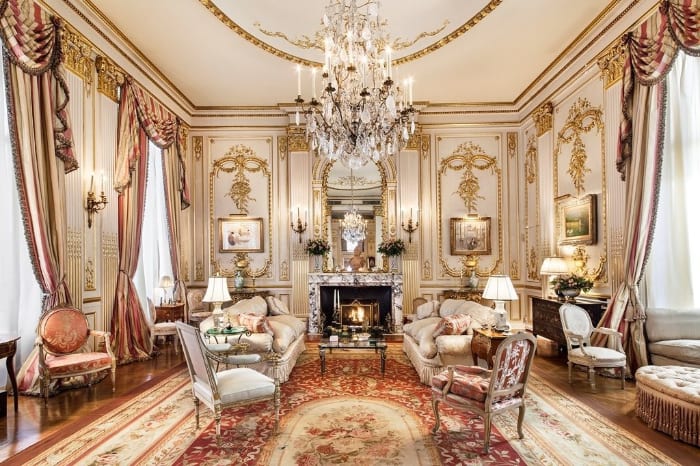 Joan Rivers' NY Penthouse Listed at $28 Million
Meanwhile, the trend of combining classic architecture with an ultra-modern sensibility is accelerating with the makeover of the iconic Beaux Arts-style Knickerbocker Hotel in Manhattan. And the late Joan Rivers' gilded penthouse in New York's Upper East Side with antique boisserie paneling and columns shows that no matter what the current trends are, classic architecture is timeless and will always have a market.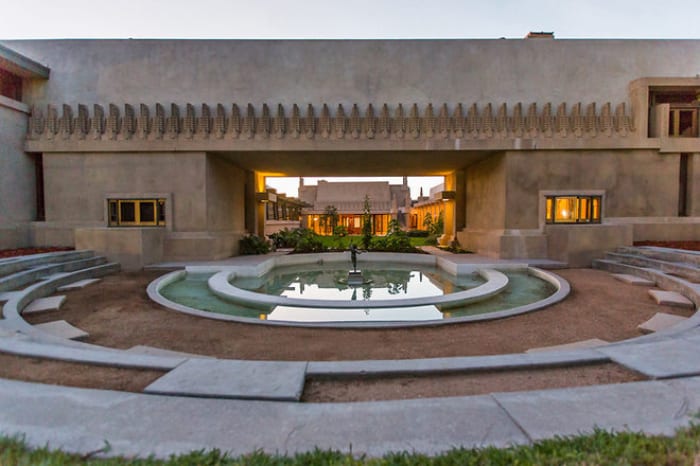 Frank Lloyd Wright's 1920s Hollyhock in LA
In Southern California, the stunning restoration of Hollywood's seven most historic theaters brings back the glamour of another era, while the first Los Angeles home of the most avant-guarde architect of his time, Frank Lloyd Wright, has also just been restored.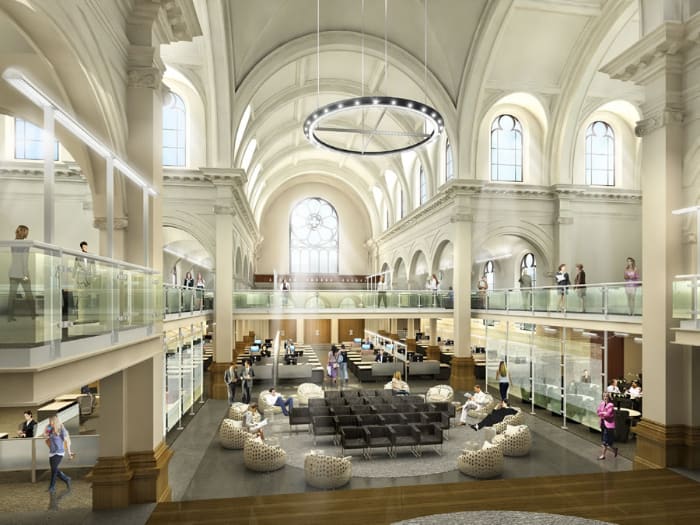 Tech Temple? This Church Could Become Tech Office Space

This one-of-a-kind conversion of Saint Joseph's Church at 10th and Howard into high-tech offices, in San Francisco's booming technology center in SOMA, is the ultimate symbol of the fusion of old with new.


In residential real estate, the retro Mid-Century look continues to see a huge amount of interest. A prime example is the 1961 Joseph Esherick-designed Atherton mansion I wrote about last month.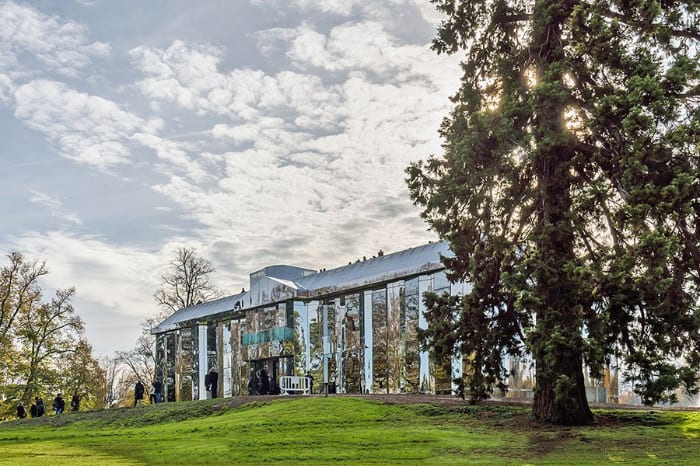 Château de Rentilly, a 1960s French Country House, Covered in Mirror
We are seeing more and more usage of unconventional materials, such as mirrors, for the exteriors of new buildings, as evidenced by these nine buildings that truly reflect their environments!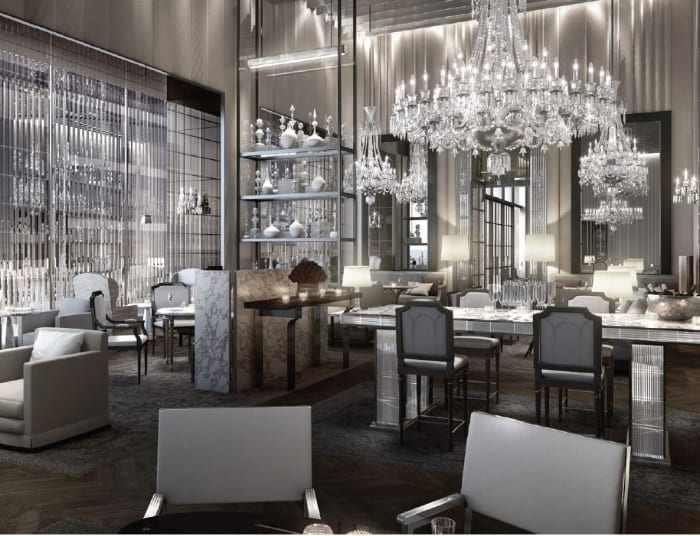 The Grand Salon at the Baccarat Hotel and Residences in NY
Mirror panels also play an important role in the interior of the exquisite new Baccarat Hotel and Residences in New York, which exemplifies the further branding of real estate with luxury icons. There will be plenty of crystal, too!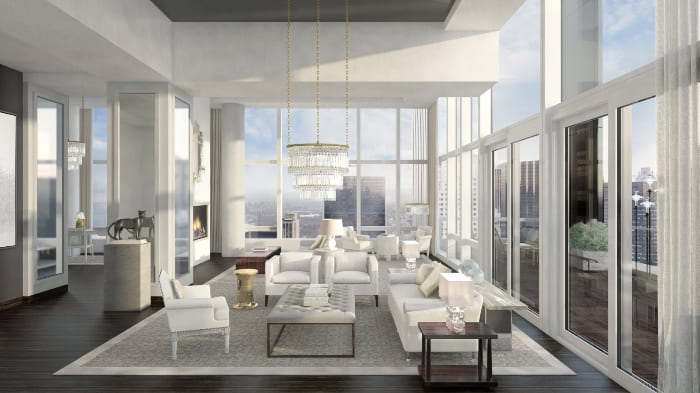 The $60 Million Penthouse at Baccarat Hotel and Residences in NY

The use of unconventional materials and a glassy, reflective finish can be seen on the exterior of the SFMOMA expansion which is underway, and in the futuristic sci-fi looking Broad Art Museum in Los Angeles, which will be open in 8 months. A comparison will be interesting!


And New York's MoMA is also expanding, taking floors two through five of the world's new supertall skyscraper, Jean Nouvell's MoMA Tower!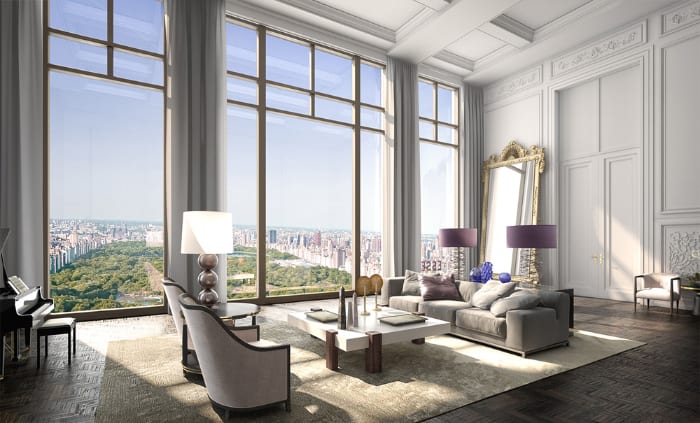 The $175 Million Penthouse at 220 Central Park South

Now that New York has entered the era of the nine-figure penthouse, the sky's the limit for pricing at the MoMa Tower. Price records are being regularly broken, from the $130 million triplex penthouse at 520 Park Avenue, to the SONY building penthouse for $150 million, and the $175 million penthouse at the Robert Stern-designed 220 Central Park South.


But who will buy all these penthouses?


We are seeing an increasing trend of international buyers "parking" their money in super-luxury United States real estate, seeking a safe haven. These trophy properties can be like safe-deposit boxes in the sky. A very dramatic example of this was highlighted in the recent controversial New York Times article "Towers of Secrecy".


In New York, as in San Francisco, "international buyer" now typically means the buyer is from China. A Chinese company bought the Baccarat Hotel that I just mentioned for $230 million last month. And the record-breaking acquisition of the Waldorf Astoria for $1.95 billion was also by a Chinese company.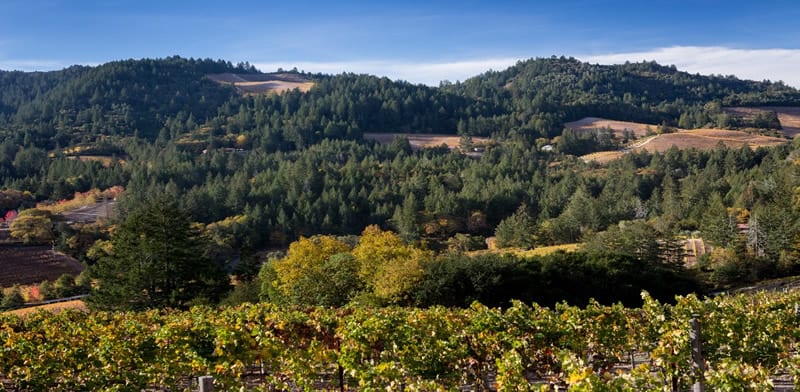 Calistoga Hills Resort Sold Last Month for $100 Million

The recent record-breaking $100 million Wine Country sale in Calistoga to the Hong Kong-based family which owns the Rosewood Sand Hill hotel further typifies this wave of international investment in America.