Marilyn Monroe married Joe DiMaggio there. James Bond chased bad guys through its corridors. And the last scene of "Raiders of the Lost Ark" shows Indiana Jones walking down its steps...


San Francisco's majestic City Hall, the oldest building in the world to achieve LEED Platinum status for its environmental sustainability, was called the People's Palace when it was built in 1915. With a dome standing 19 feet higher that the United States Capitol, it emerged from the rubble of the Great Earthquake of 1906 to serve as a symbol of 20th century renewal, hope and progress.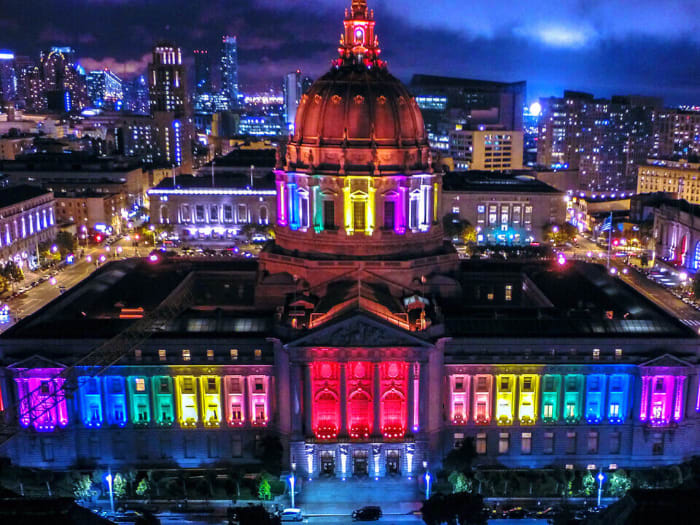 San Francisco Celebrates the City Hall Centennial on June 19, 2015

This month we celebrate its centennial with a spectacular LED light show, and a sure sense that San Francisco is poised for another 100 years of innovation and greatness. According to the A.T. Kearny Global Cities Index, which tracks the top 25 global cities in both performance and potential, San Francisco is the number one city of the future! (It's currently number 22 on the list, projected to reach number one by 2024.)


Assuming this holds true, it will be fascinating to see how the City will look 10 years from now. Truly an extraordinary evolution for our beautiful City by the Bay, as so eloquently put by Chronicle columnist Heather Knight: "Oh, little San Francisco. We remember when you were just an eccentric mix of charming little neighborhoods. My, how you've grown."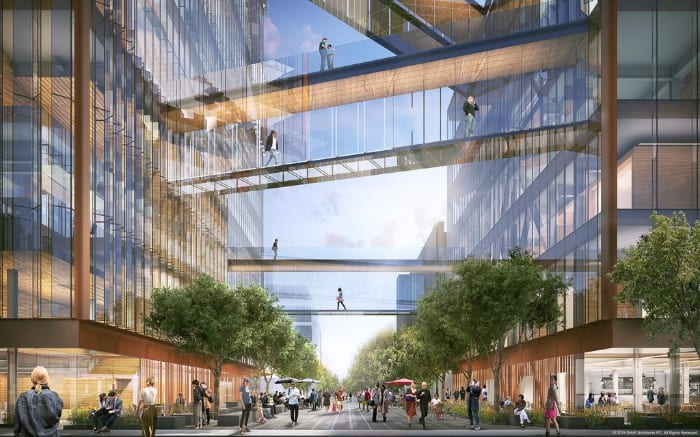 Plans for Uber's Headquarters at 1455 Third Street
Already the pace of change can be seen in a plethora of new developments, such as Uber's new Mission Bay headquarters with its avant-garde layouts, yet another TransBay tower set to rise next year, and most dramatically, the construction of an entire new neighborhood on Treasure Island, where a total of 290 acres will be home to 8,000 units of housing; 500,000 square feet of commercial, retail and office space; 500 hotel rooms; and 300 acres of parks and open space.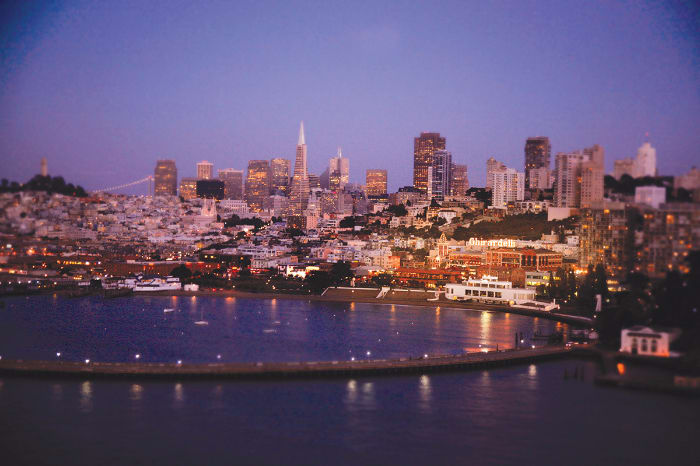 Bay Views from Fairmont Heritage Place at Ghiradelli Square
www.900NorthPoint228.com

With employment in the City again reaching an all-time high, demand for real estate remains strong, with an array of wonderful properties hitting the market to meet the need.


I'm currently offering a rarely available residence at Fairmont Heritage Place at Ghirardelli Square. With access to 24-hour concierge and butler, house car and chauffeur, housekeeping, in-residence dining, valet parking, and more, it's truly a case of a world-class luxury brand meeting a legendary San Francisco location.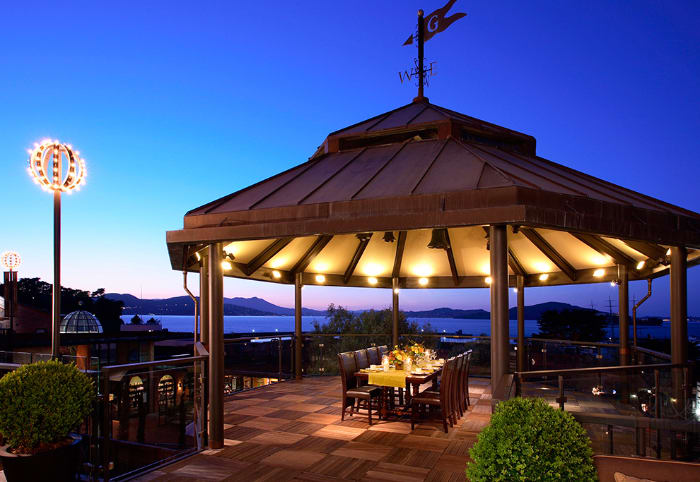 Bay Views from Fairmont Heritage Place at Ghiradelli Square
www.900NorthPoint228.com

The extraordinary Ghiradelli Square building is yet another example of the re-invention of historic properties into new uses. Stay tuned for exciting news on this iconic landmark, with a new five star restaurant and upscale market coming soon!
Bay Views from Tiburon's Paradise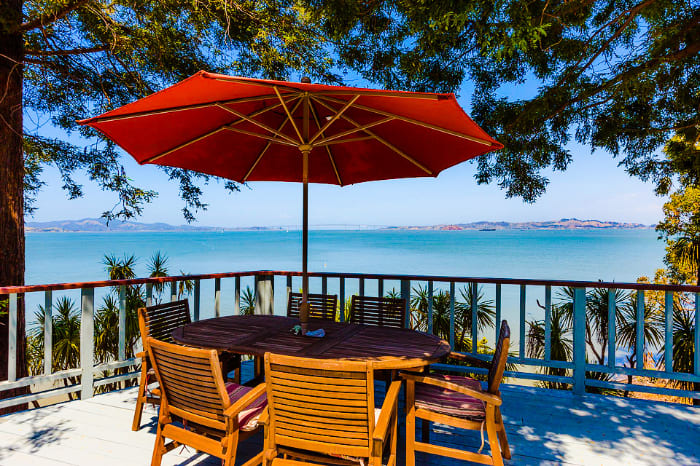 www.TiburonWaterfrontEstate.com

Talking about waterfront living, I'm also selling a one-acre Tiburon estate lot with private beach and a fun 1970's mid-century modern home.


The shore at this property is exceptional, with the possibility for fishing, wildlife viewing, and (upon approval by the Town of Tiburon), the creation of a private yacht dock. In the Bay Area we're blessed with such closeness to nature just minutes from downtown San Francisco!


As Californians surrounded by a wealth of natural beauty, it's not surprising that our state has just been named the world's second-greenest economy (perhaps instead of "The Golden State" our nickname should be "The Greenest State"?) according to a new study, and it may surprise you to see which country is the greenest!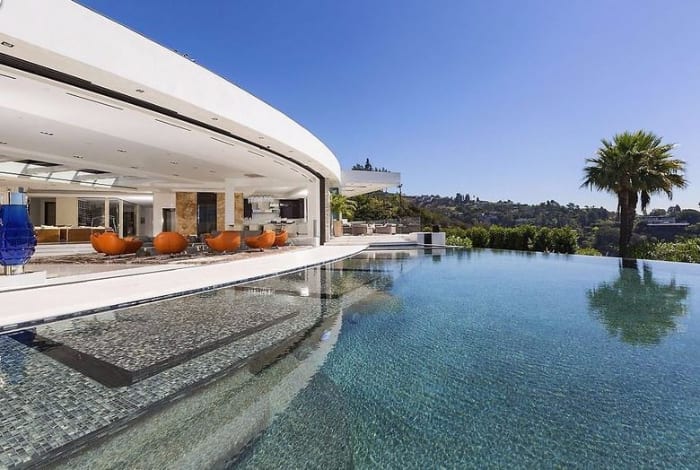 Markus "Notch" Persson's $70 Million Beverly Hills Home
The tech effect on real estate, so important in the Bay Area, also is accelerating in Southern California, as exemplified by these four purchases of significant Los Angeles properties by some of the best-known names in the business.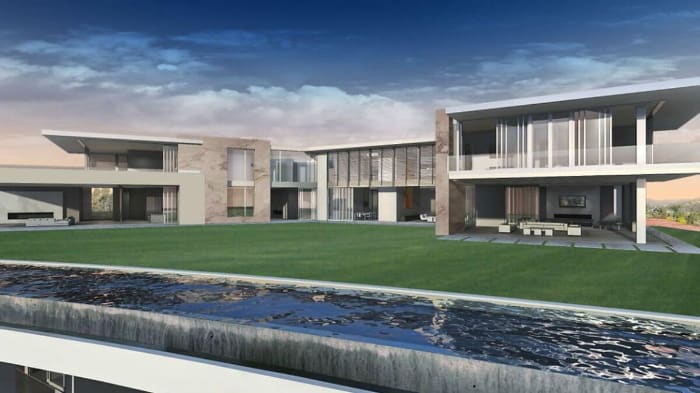 Rendering of a $500 Million Home in Bel Air
Will a technology billionaire buy the home currently under construction in Bel Air that is asking $500 million? It will be one of the largest houses in the United States, and most expensive for sale in the world. Exceeding 100,000 square feet, it will include a 5,000-square-foot master bedroom, a 30-car garage and a Monaco-style casino.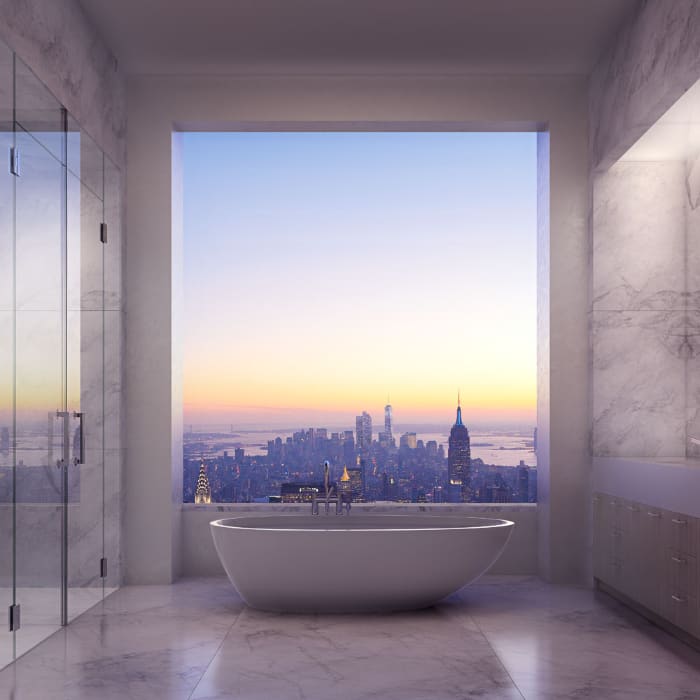 The Penthouse Bathroom at 432 Park Avenue
The effect of international buying on luxury US real estate continues to grow, especially in New York, with the buyer of the $95,000,000 penthouse at 432 Park Avenue now disclosed to be Fawaz Al Hokair, a Saudi Arabian retail and real estate magnate. It's also estimated that Chinese buyers have spent more the $5 billion on New York real estate since 2013, startling up from $300 million in 2012.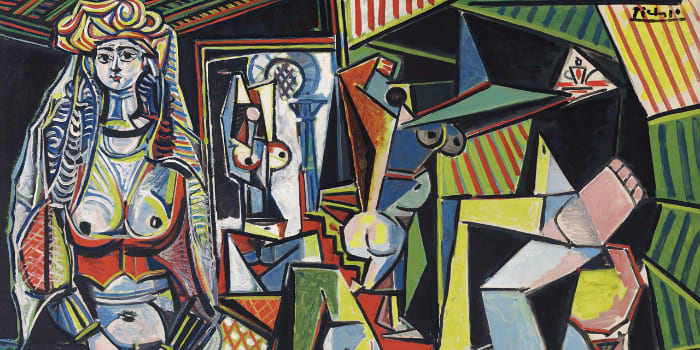 Picasso's Les Femmes d'Algers Sold for $179,365,000
The global economic boom is also reflected in both New York's Nordstrom Tower, where a new high of over $4 billion of condos will be marketed, as well as in the art world with the recent Christie's auction where a Picasso painting just sold for $179,365,000. Which makes one think -- it's been said that life imitates art, but in this case is real estate imitating art?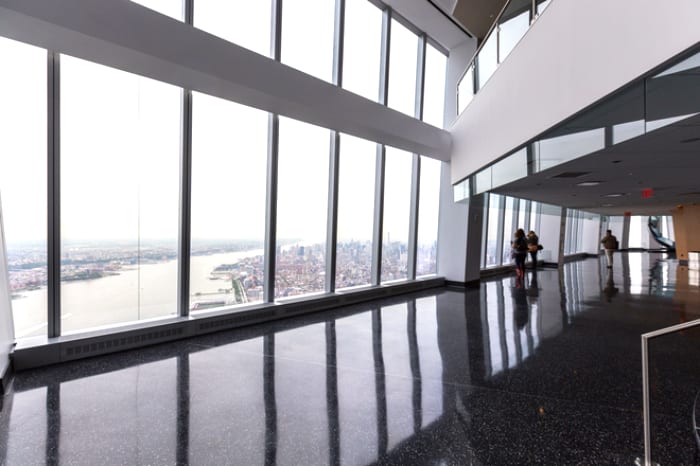 Inside the One World Observatory
The New York skyline is steeped in history from the early days of the iconic Chrylser Building, when it was the tallest building in the world for 11 months, and now the latest chapter in that history has been added with the completion of the One World Trade Center Freedom Tower, and the recent opening of the One World Observatory (11 years in the marking, here is a stunning time-lapsed two-minute video showing it rising from the ground up.)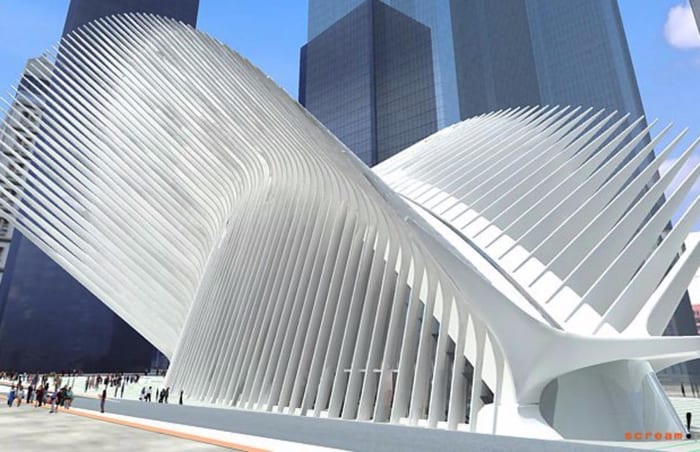 Santiago Calatrava's World Trade Center Transportation Hub
Other exciting projects altering the look of New York from street-to-sky include the $4 billion gull-wing shaped transportation hub designed by Santiago Calatrava, a new supertall tower on Central Park South, the modernistic 1,500 foot tower arising next to Manhattan's Grand Central Station, and Jean Nouvel's MoMA Tower, with condos ranging from $3 million to $70 million.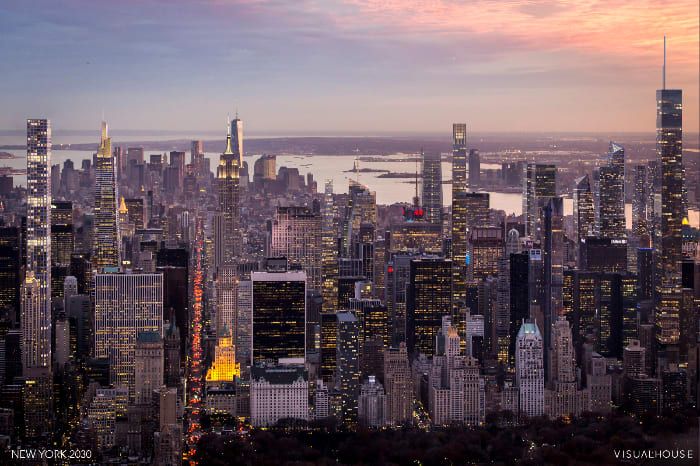 The New York Skyline in 2030
But all these changes are the tip of the iceberg and this futuristic vision of New York in the year 2030 shows. Instead of The Big Apple, will its new nickname be The Jumbo Apple?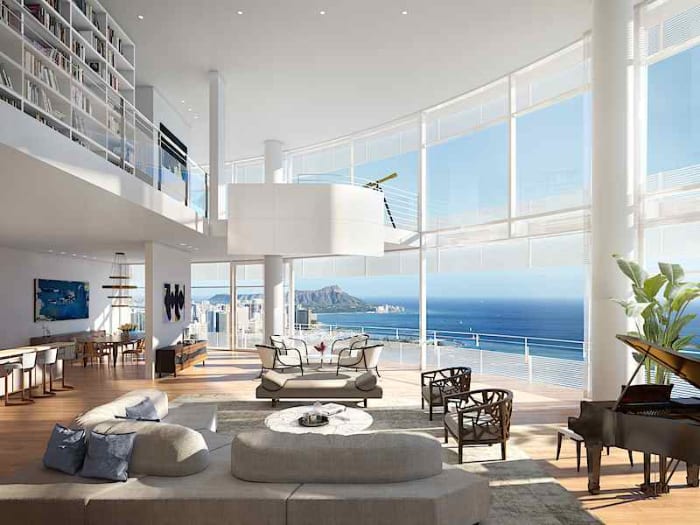 Gateway Towers in Honolulu
Meanwhile, luxury condominium development continues at a torrid pace outside of New York and San Francisco. I'm very excited about Gateway Towers, the 60 story Richard Meier-designed highrise in Honolulu with stunning views of Waikiki Beach and Diamond Head. In London, One Blackfriars is an avant-garde architectural tower that's also extraordinary.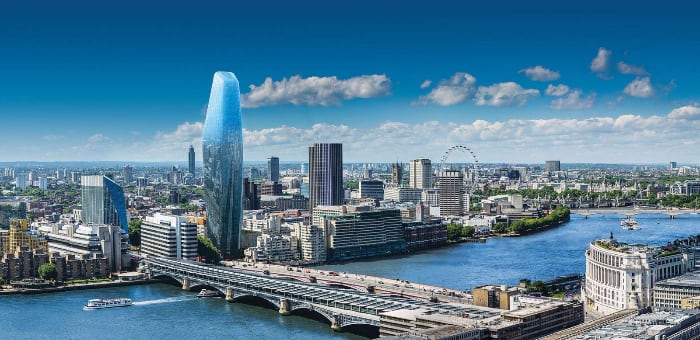 One Blackfriars in London
With all these groundbreaking new developments around the world, concerns arise in some quarters as to the perils and downsides of so many highrises, as explored in this provocative article highlighting the history of opposition, including a 1987 protest in New York with legendary movie star Paul Newman and the iconic Jacqueline Kennedy Onassis.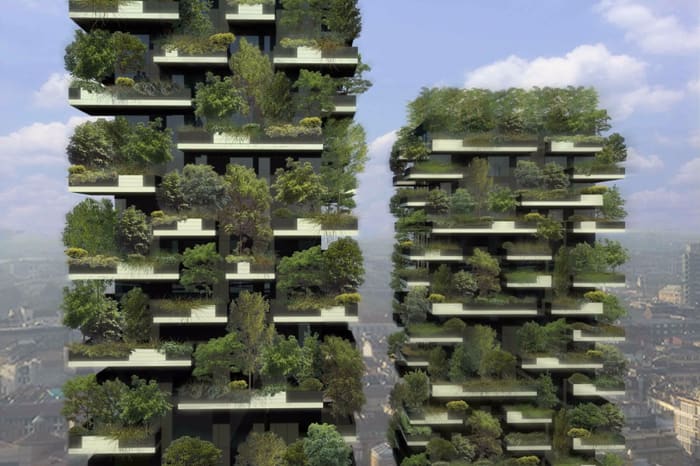 Stefano Boeri's Vertical Forest Highrise in Milan
With this in mind, some developers are exploring alternative materials, such as this revolutionary wooden skyscraper in Stockholm and the "Vertical Forest" highrise in Milan, Italy.
A New Zaha Hadid Building at Oxford

Architecturally, the trend of juxtaposition of old with new is dramatically highlighted on the venerable Oxford campus, with this new ultra-modern stainless steel and glass library by Zaha Hadid placed in contrast to the stately Victorian-era stone buildings.
This is also exemplified by the iconic, seldom-seen San Francisco penthouse in a classic pre-war Russian Hill cooperative that Diane Dorrans Saeks recently wrote about in a beautiful piece at TheStyleSaloniste.com. The addition of a floating circular staircase is seamlessly integrated into the classical architecture of the residence- stunning!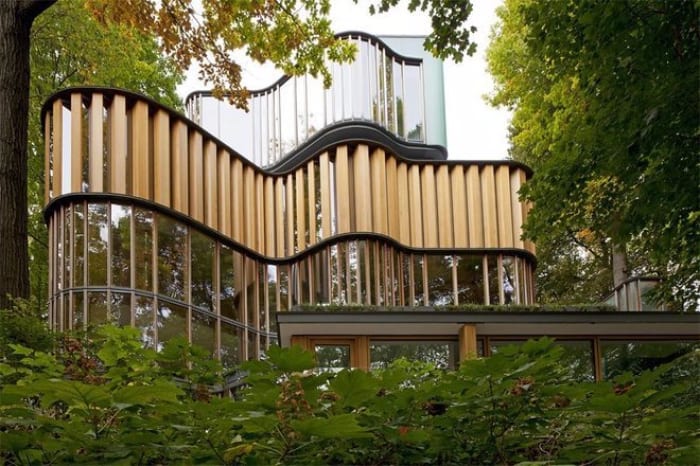 The Integral House in Toronto, Canada
In an interesting convergence of architecture with mathematics, Integral House, designed by calculus genius and violinist James Stewart, continues to channel calculus with its many curves, notably the undulating glass and oak facade, and the centerpiece of the five-story mansion is a show-stopping concert hall with enough room for 200 guests. It's for sale in Toronto for $23 million.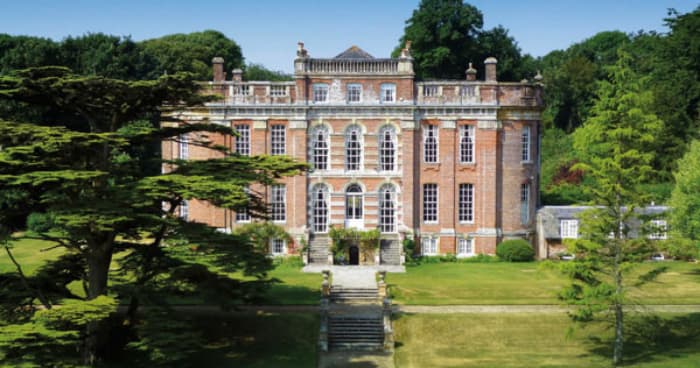 Chettle House is on the Market for Approximately $6.1 Million
We're also seeing some fascinating historic properties on the market, including the historic Chettle house on 117 acres in Dorset, England.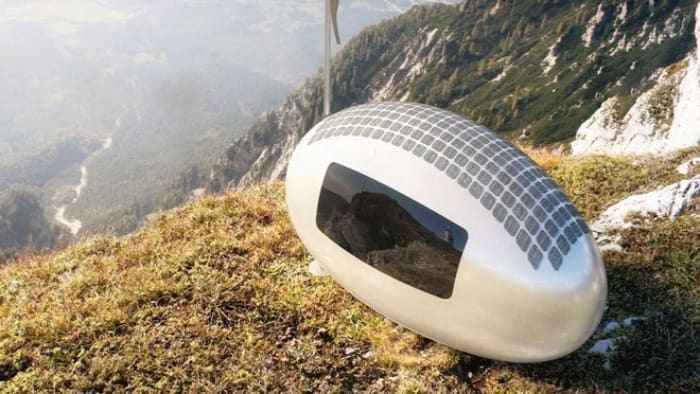 The Ecocapsule
Experiments in green living continue to take shape in interesting ways. This off-the grid solar-powered dwelling called an Ecocapsule is attracting a lot of attention. And this unique "Dome Home" saves energy by being able to rotate 360 degrees at the touch of a remote, ensuring it's always taking advantage of the sun for controlling indoor temperature. It doesn't hurt that it also provides a constantly changing view!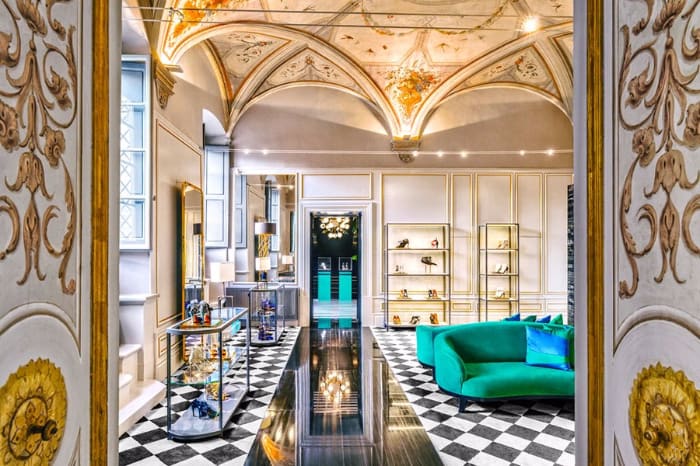 Palazzo Corsini

And the fashion world continues on it's architectural spree with the Italian fashion house Fendi moving to its new headquarters in a Roman Palace with striking modern interiors, and Aquazzura moving its flagship store into the Palazzo Corsini.


In the midst of this vibrant economy, San Francisco and the Bay Area continue to be at the forefront of philanthropy, as exemplified by Gentry Magazine's recent event honoring the Bay Area's Top 50 Philanthropists at the historic Filoli Estate in Woodside.