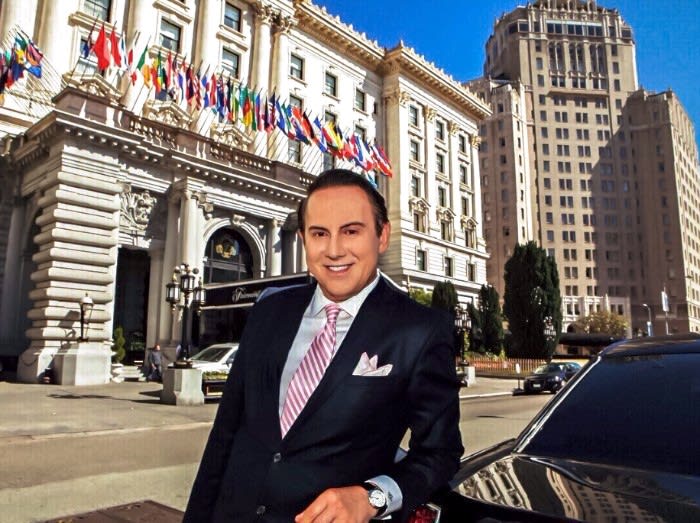 Greetings from San Francisco!
With Spring in full swing, and our time spent increasingly outdoors, we're all reminded of the Bay Area's vast natural beauty.
With over 1 million acres of publicly accessible parks, nearly 200 beaches, and over 600 hiking trails, there's a stunning variety of outdoor experiences available to nearly anyone!


This month, we'll go on a brief tour throughout the region and look at some of the most beautiful homes in the best neighborhoods.


I hope you enjoy, and as always -- thank you for reading!
Joel


Understated Luxury in the Beautiful Bay Area

A Private Residence at Four Seasons Napa Valley

One of the top destinations is, of course, the Wine Country of Sonoma and Napa Valley, where construction of a major new luxury real estate development is now underway.


The Four Seasons Resort & Private Residences, located off the famed Silverado Trail in Calistoga, is the latest example of luxury brands merging with real estate. After completion next year, the 20 homes and five-star resort, will become a coveted location for those seeking a memorable Napa respite.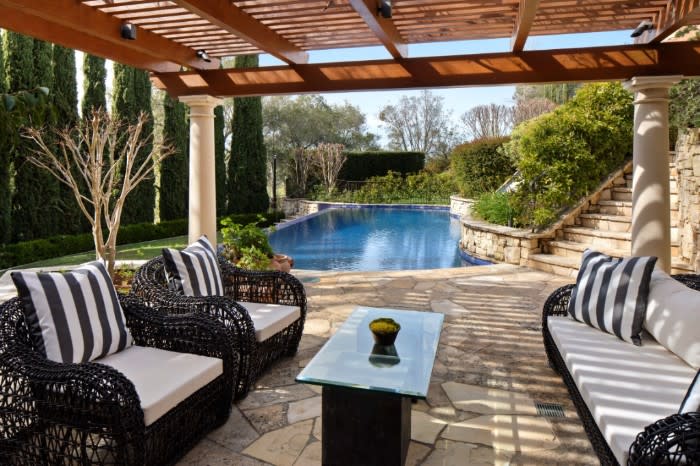 Elegant 4.4 Acre Los Altos Hills Estate for $8.6 Million
www.LosAltosHillsEstate.co

Our beloved Mediterranean-style of understated luxury living extends to the lush rolling hills bordering the Peninsula as well.

For example, I'm delighted to represent a stunning resort-style estate in the prestigious Los Altos Hills that feels straight out of Tuscany -- yet it's only minutes from the heart of Silicon Valley, and close to two major international airports.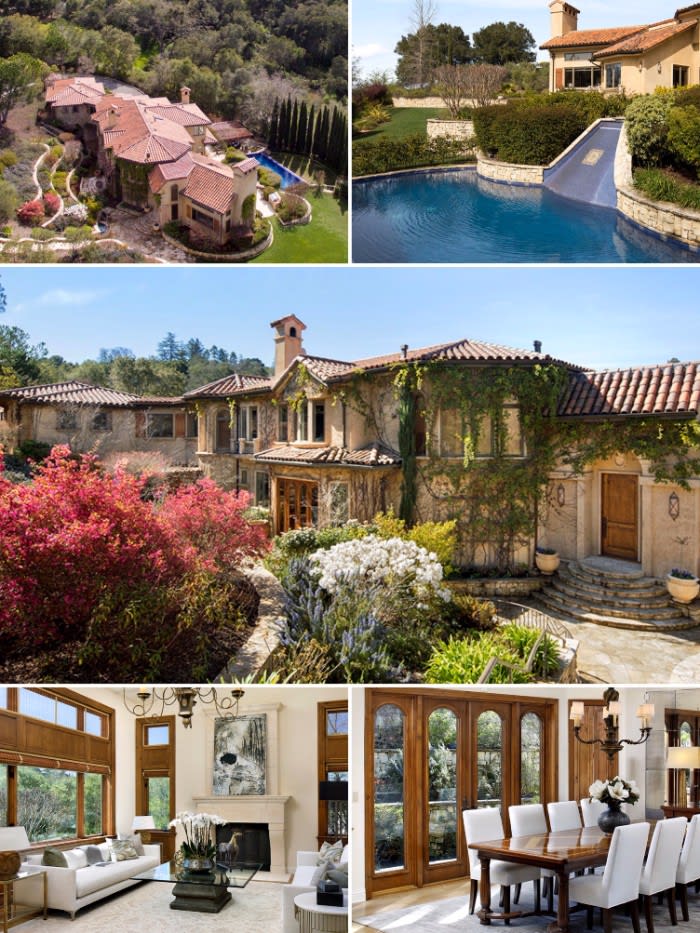 Elegant 4.4 Acre Los Altos Hills Estate for $8.6 Million
www.LosAltosHillsEstate.co

The gated 4.4 acre property, with its picturesque setting, swimming pool, spa, and gorgeous landscaping, is an incredible getaway from the hustle and bustle of Silicon Valley.


The beautiful three-level, six-bedroom home with five bathrooms and three half-baths, includes a library, two offices, two family rooms, a fitness center, home theatre, an au pair or guest apartment, wine cellar, and pool cabana, among its many highlights.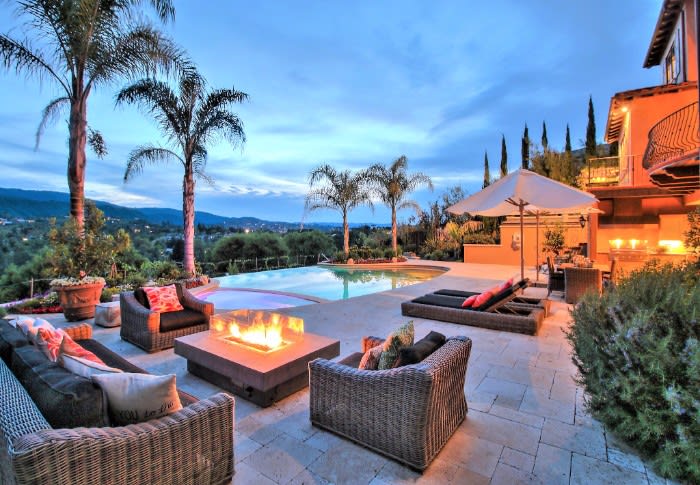 Exceptional Los Altos Estate for $6.85 Million
www.LosAltosLuxe.com

Nearby, I'm also representing a Provence-like villa just 1.5 miles from Los Altos Village.


Located on a gated property of over 1.5 acres, the beautiful home was built in 2008, and features four-bedrooms, five-bathrooms, a library, recreation room, theatre, wine cellar, and detached 2-car garages (one currently finished for a home gym with sauna).


The resort-like grounds include an infinity pool and spa, barbecue center, fireplace, fire pit, and gardens with raised vegetable beds worthy of a farmers' market.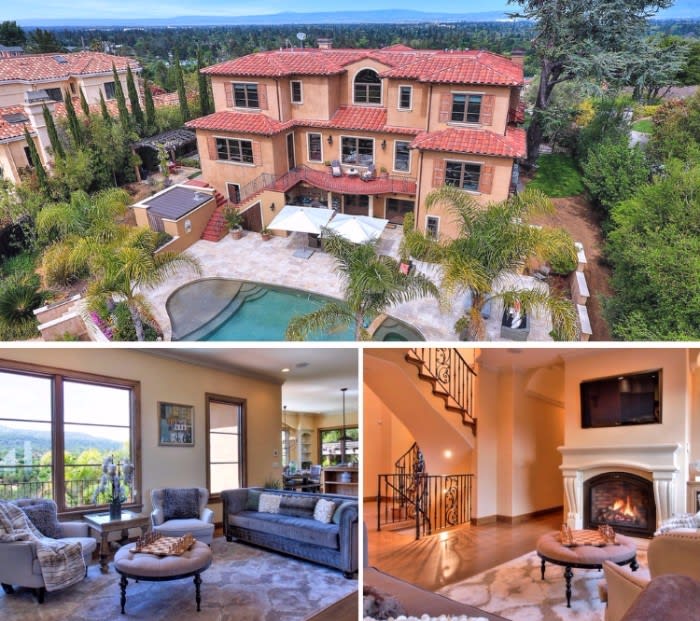 Exceptional Los Altos Estate for $6.85 Million
www.LosAltosLuxe.com

Across the Bay, a stunning home high in the Oakland Hills gives one of the most dramatic vantage points from which to see the entire Bay Area. It's location is truly at the top of the world.


You can enjoy vast clear skies and hills of rich green foliage during the day, then at dusk become mesmerized by the glittering lights of the Bay Bridge and the San Francisco skyline.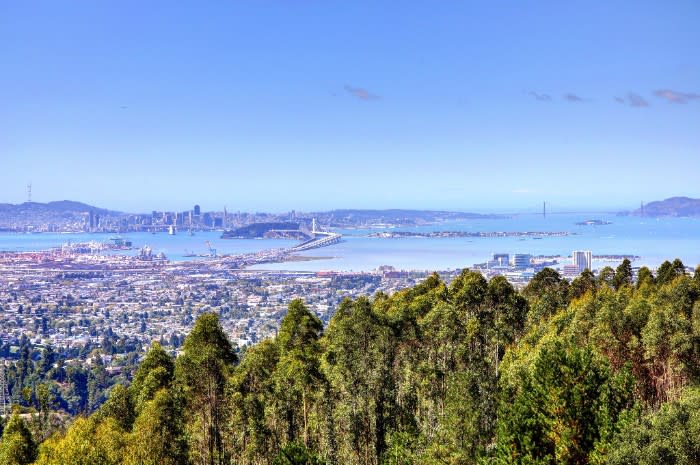 Stunning Skyline Retreat in Oakland Hills for $3.1 Million
www.6033SkylineBoulevard.com
The spacious five bedroom, three bath home designed by David Stark Wilson in an "organic modern style" with exquisite, ultra-high end finishes, and one-of-a-kind views, is serenely nestled in a beautiful greenbelt, high atop the Oakland Hills.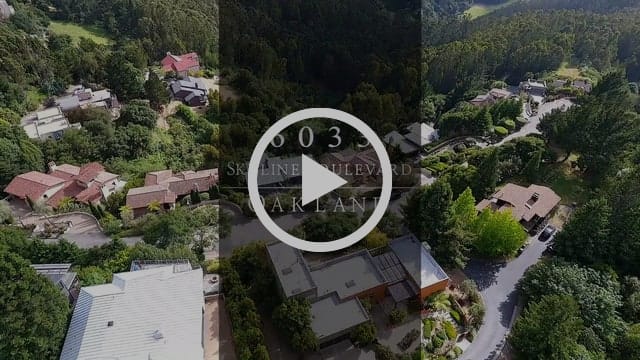 Stunning Skyline Retreat in Oakland Hills for $3.1 Million
www.6033SkylineBoulevard.com
With its fabulous open floorplan which seamlessly transitions to large outdoor living spaces, the stunning home works beautifully for entertaining as well as for a casual contemporary lifestyle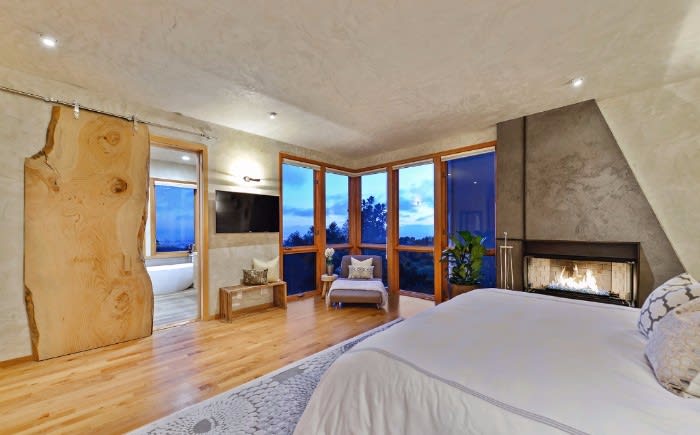 Stunning Skyline Retreat in Oakland Hills for $3.1 Million
www.6033SkylineBoulevard.com

In nearby Piedmont, one of the Bay Area's most charming communities, the gorgeous Hampton House estate is located in an idyllic, 1.13 acre garden setting that provides views of landscaped greenery from nearly every window.


I invite you to watch the video tour of the property below to fully appreciate it!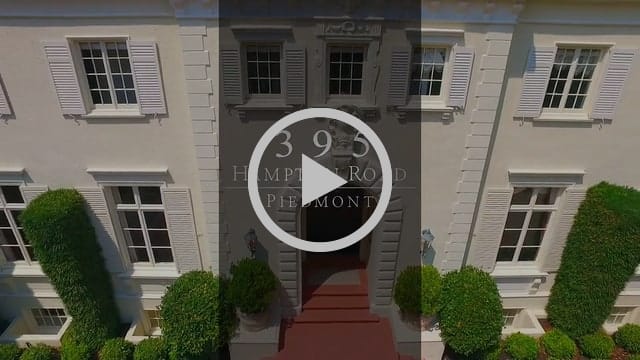 World Class Piedmont Estate for $7,995,000
- www.MagnificentPiedmontEstate.com -
The natural beauty of the Bay Area extends into San Francisco itself, which at last count has almost 700,000 trees and over 220 parks.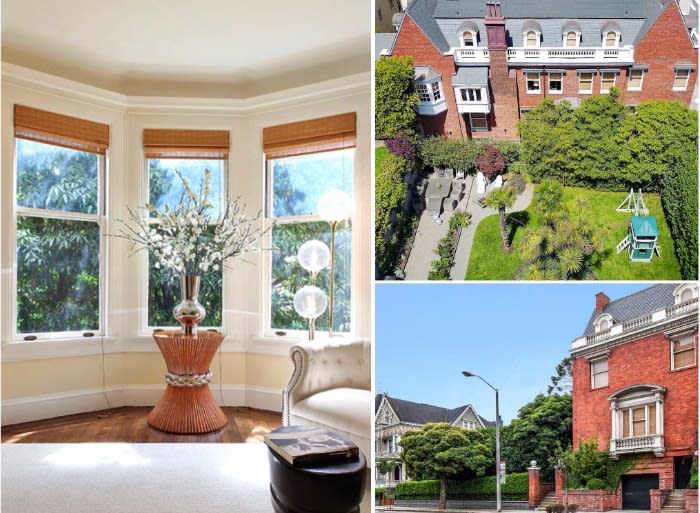 Stately Pacific Heights Mansion for $7,998,000
www.1735Franklin.com
One of my listings in Pacific Heights, a magnificent Georgian-style mansion that has been exquisitely renovated, looks out upon a private, beautifully maintained garden neighboring the property, and the entire kitchen opens to a charming patio, creating a wonderful indoor-outdoor space.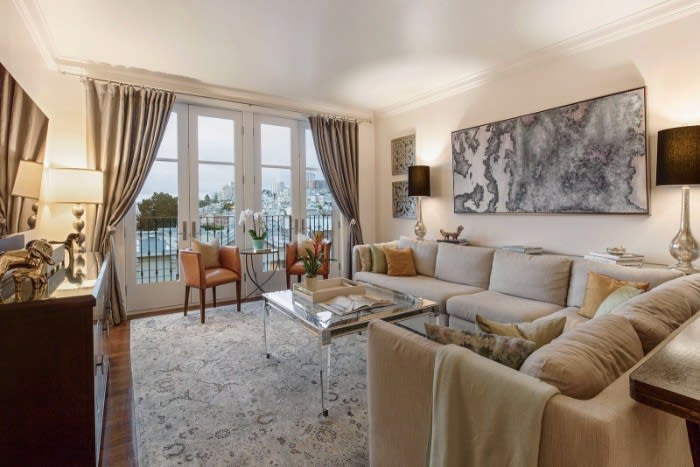 An Elegant Nob Hill Condominium for $2,825,000
www.1645PacificAvenue4g.com

And in the historic Nob Hill section of San Francisco, this super-attractive condominium in a glamorous newer building by London-based Grosvenor Group is a perfect City residence, with one of the best amenities for enjoying life in SF -- a rooftop deck with clear views of our beautiful bay!


The New, Old and New Old in San Francisco
The Skyline in a Few Years
Rendering: steelblue

Underscoring the strength of our economy, the San Francisco Business Times has revealed we're home to 10 of the nation's 50 most valuable brands, including the top two (hint as to who is No. 1 -- it isn't Apple!)


Due to this, SF's highrise building boom continues at full force, with Salesforce Tower having just topped off at 1070 feet. Occupancy is scheduled to start this October.


Marc Benioff, CEO of Salesforce (the City's largest tech employer), recently announced that the top floor of the 61-story tower -- the highest occupiable floor on the West Coast -- will be open for non-profit groups to hold events on the weekend at no charge!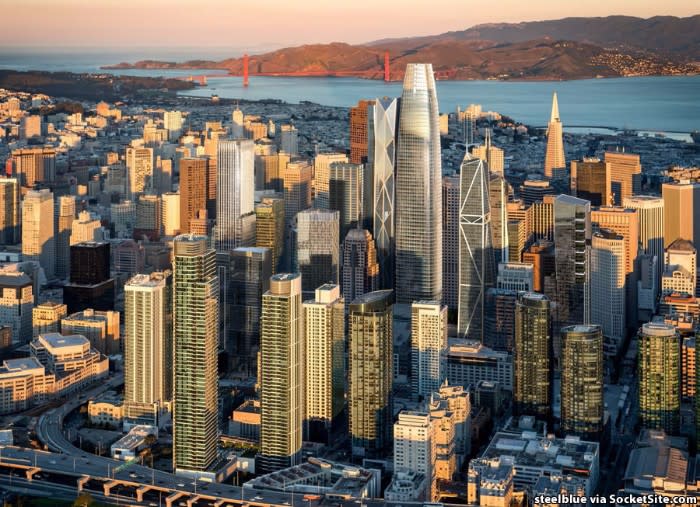 The Skyline in a Few Years
Rendering: steelblue
I'm especially excited to see that preliminary site work has just begun for the twisty "Bay Tower" designed by starchitect Jeanne Gang in the red-hot South Beach district -- with news just breaking that a Chinese developer has bought a 50% stake in the tower.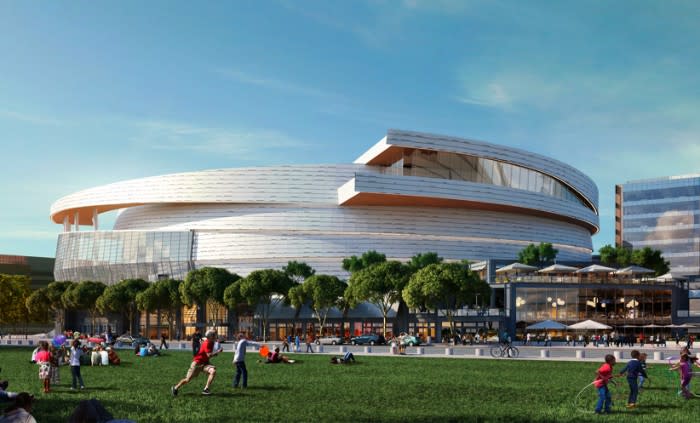 The Golden State Warriors' Chase Center
Another important new project under construction is an Uber campus at the 11-acre Chase Center, future home of The Warriors in the rapidly changing Mission Bay waterfront area.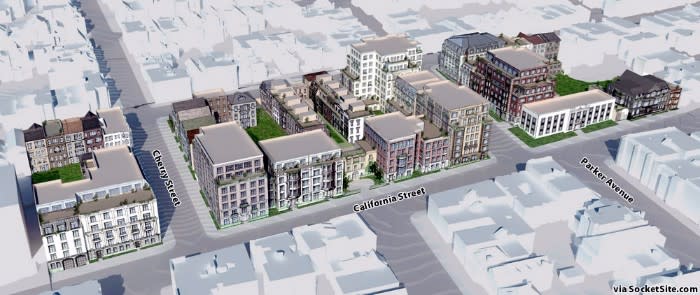 Robert A.M. Stern's Plans for 3700 California in Presidio Heights
The arrival of the "New" Old San Francisco (already heralded by new developments in stately Pacific Heights such as The Pacific), continues with the controversial proposal for up to 240 new residences in Presidio Heights on CPMC's California Hospital Campus at 3700 California -- with plans to completely transform the nearly 5-acre site on the southern border of Presidio Heights.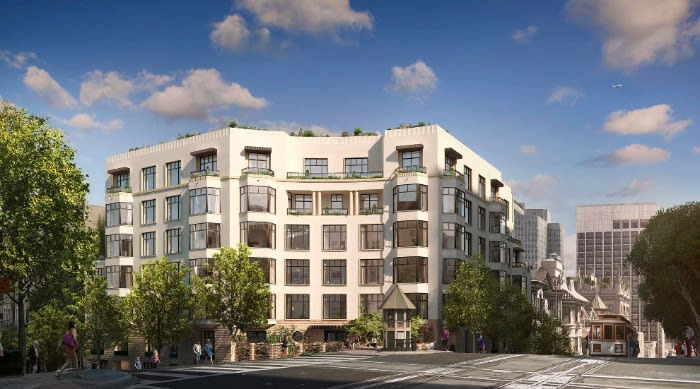 Robert A.M. Stern & BDE Architecture's Plans for 875 California

Designed by world famous starchitect Robert A.M. Stern (whose firm, with BDE Architecture, is also designing Grosvenor's luxury development at 875 California), it would be the most exciting large-scale project in the City's high-end market in decades.


To have 12 new single-family homes, 14 three-story townhouses, and 214 other units spread across 37 new buildings in one of the most coveted historic neighborhoods is absolutely incredible!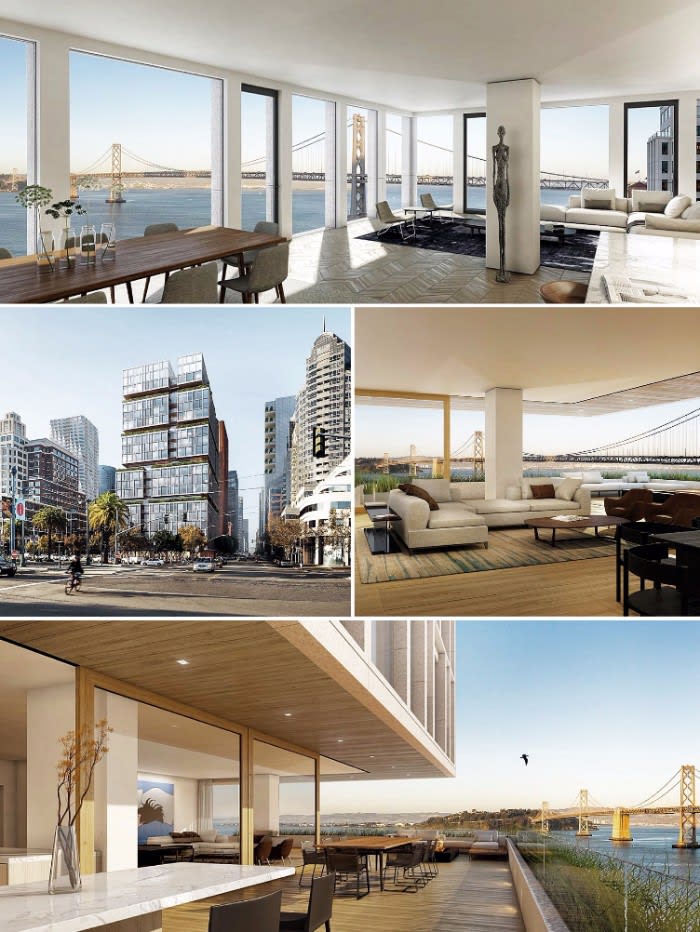 The Stunning, Ultra-Luxe Development at 75 Howard
Renderings: steelblue

National and international investors continue to flock to the City's residential and commercial real estate -- the most recent examples being the purchase of the 44 Montgomery office tower by Boston-based Beacon Partners for $473 million, and Chinese developer SRE Group's $100 million investment in the ultra-luxe 20-story waterfront tower at 75 Howard, designed by Skidmore, Owings & Merrill.


Additionally, rumor has it Seattle-based tech behemoth Amazon is seeking 200,000 square feet of office space.



The Mark Hopkins Hotel Over the Years

Perhaps the most exciting transaction is the sale of Nob Hill's glamorous InterContinental Mark Hopkins Hotel for $205,000,000 to Hong Kong-based Leadwell Global Properties.


For nearly 100 years the hotel has been a San Francisco landmark, with its "Top of the Mark" penthouse (once photographed by the great Ansel Adams), a destination for every visitor to the City.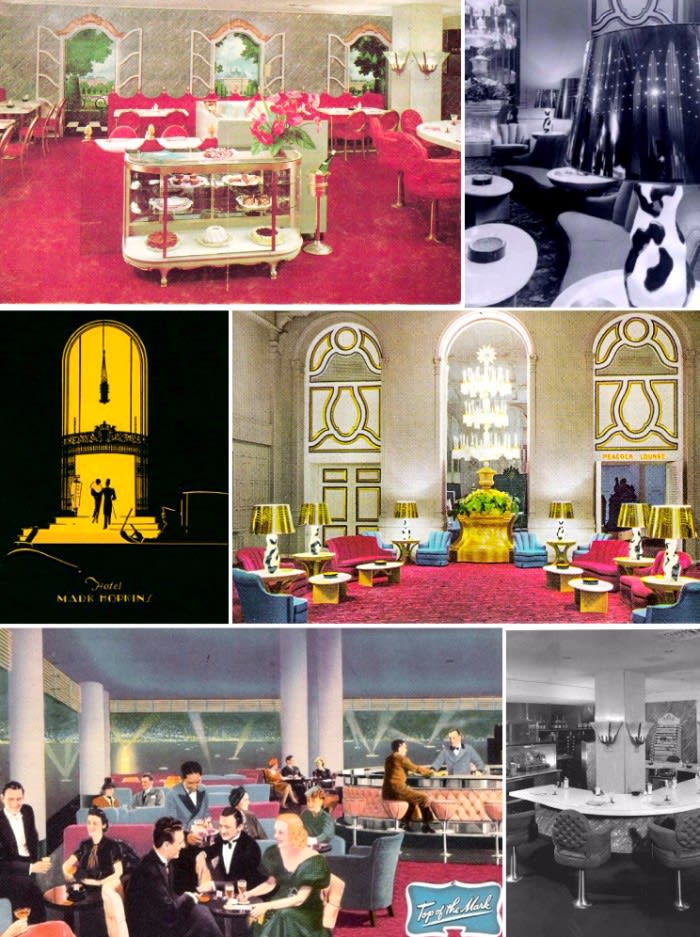 The Mark Hopkins in 1930s & 1940s
Designed by Legendary Decorator Dorothy Draper

Will the new owners renovate the interior (originally designed by the legendary Dorothy Draper)? Can't wait to see!


Who is Buying a $120 Million Home?
In the celebrity real estate world, it's been an active month!


Angelina Jolie is the new owner of legendary director Cecil B. DeMille's Los Angeles estate for $25,000,000, while on the other coast screen icon Greta Garbo's colorful co-op has gone on the market for $5.95 million.



Greta Garbo's Apartment

Located on Manhattan's Upper East at the very exclusive "The Campanile" (once home to English actor Rex Harrison and members of the billionaire Heinz and Rothschild families), the residence still has some of Garbo's own decor, including the red Fortuny silk that lined her bedroom walls.


It will be fascinating to see who the next resident for this glamorous residence will be.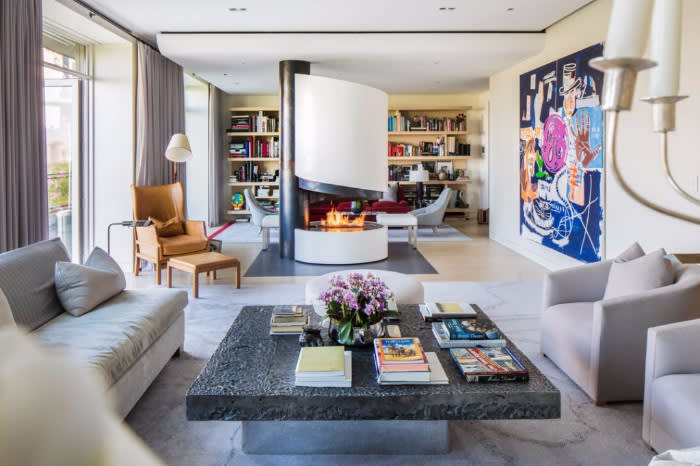 Sting's Duplex Penthouse at 15 CPW for $56 Million

Also for sale, Sting and wife Trudie Styler's duplex penthouse at the iconic 15 Central Park West (designed by Robert A.M. Stern, whom I mentioned earlier), which boasts 140 feet of direct Central Park frontage, for $56 million.


But the biggest celebrity real estate news of the month comes from none other than Beyonce...

Will This Become Beyonce and Jay Z's New Home?

Still to be determined -- will Beyonce and husband Jay Z be successful in their $120,000,000 bid on a stunning hilltop Belair mansion?


The couple hasn't had the best of luck finding a new home. After having lost out on a $70 million bidding war with Minecraft creator Markus Persson for an ultra-modern home in 2014, they were also rumored to have lost out to Tom Ford on Kelly Wearstler's glitzy $49 million Beverly Hills mansion (ultimately, Ford bought Betsy Bloomingdale's estate instead.)


"On the Avenue, Fifth Avenue..."
The Wall Street Journal did a study on the buildings where most New York billionaires live (followed up with a more titillating version by the Daily Mail) -- and while there are the usual suspects such as 740 Park Avenue (you know the building is important when there is a book written about it!) and 834 Fifth Avenue where Susan Gutfreund's magnificent pre-war co-op is on the market for $96,000,000, we see the "New" New York represented by the amazing new supertalls.


For instance, 432 Park Avenue, the world's tallest residential building, is where a penthouse sold for $87.7 million last year to Saudi retail magnate Fawaz Al Hokair.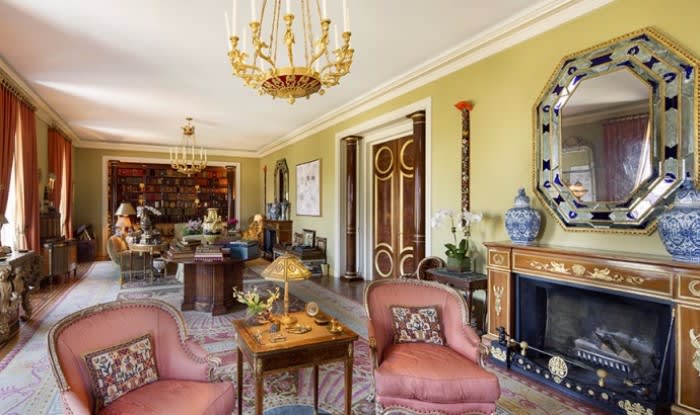 834 Fifth Avenue, for $96 Million
But while design styles of New York's best residences differ greatly today, the most desirable street addresses are pretty much the same as 100 years ago -- with Fifth Avenue still at the top and commanding the highest prices, as seen by two Beaux Arts mansions now on the market.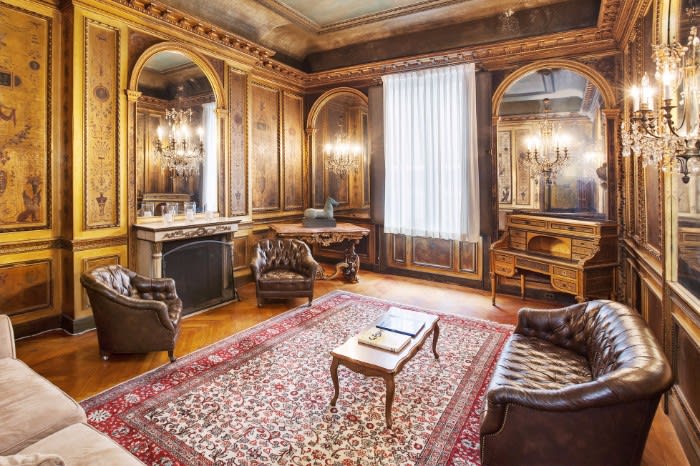 854 Fifth Avenue, for $50 Million

The last of the great Gilded Age mansions on the Upper East Side's storied "Millionaire's Row" has just become available for $50 million.


Built in 1905, the six-story, 20,000 square foot limestone townhouse at 854 Fifth Avenue was designed by the firm that worked on Grand Central Terminal, and was once owned by the granddaughter of railroad baron Cornelius Vanderbilt.



1083 Fifth Avenue, for $78.95 Million

A mile to the north, at 1083 Fifth Avenue, the former National Academy Museum buildings (three in total) are available for $78.95 million.


If purchased together to form a single family home, the 50,747 square foot space, along with the views and location, would make it one of the top five largest homes in New York, and an exquisite jewel of the Beaux Arts style.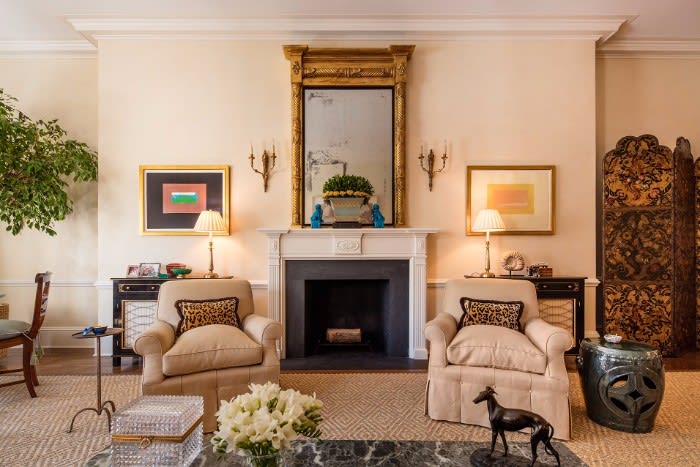 1060 Fifth Avenue, for $5.995 Million

Not all pricing on Fifth Avenue is so stratospheric. A wonderful new listing at the prestigious 1060 Fifth Avenue is on the market for $5,995,000!


Art, Fashion, Music and... Real Estate!
Homes with a breathtaking array of architectural styles are currently on the market – from the classically French style of Maison 613 in Beverly Hills, to the Streamline Moderne style of a Mondrian-inspired house in the Hollywood Hills.



A Mondrian Inspired Home in Hollywood, for $2.8 Million
With checkerboard floors and multicolored exposed beams, it's a striking example of art-meets-architecture, and also highlights the intersection of art with fashion in alluding to Yves Saint Laurent's iconic 1965 Mondrian-style collection.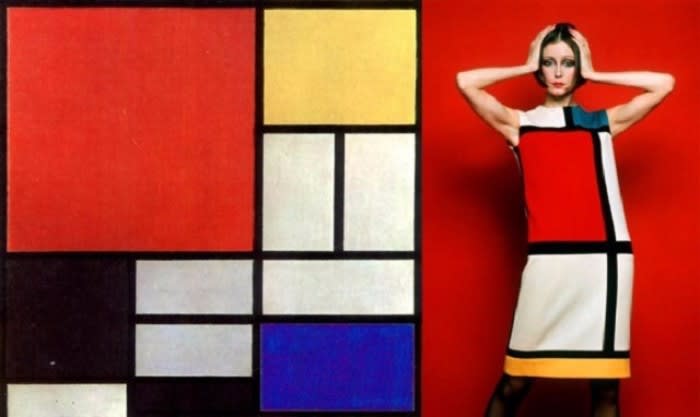 Yves Saint Laurent's Mondrian Dress
Meanwhile, one architectural style has made an incredible comeback (though for some of us it never went out of style!), and a prime example of it is decorator-to-the-stars Martyn Lawrence Bullard's Palm Springs retreat (formerly owned by Playboy founder Hugh Hefner, then James Bond actor Roger Moore).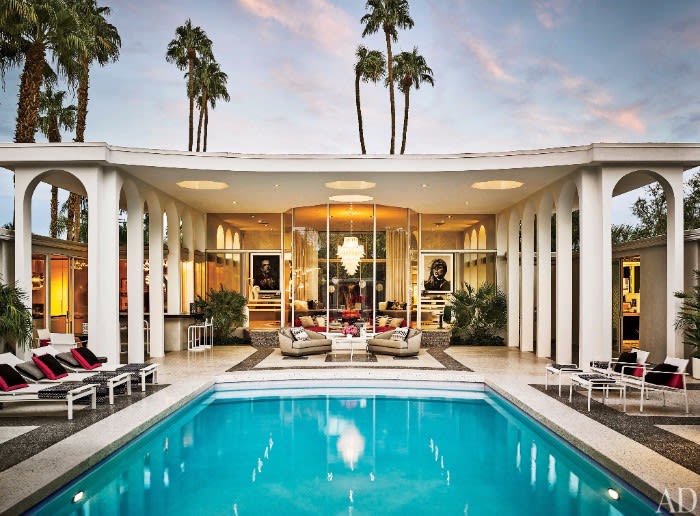 Martyn Bullard's Palm Springs Retreat
Photo: Douglas Friedman for Architectural Digest
Bullard describes the house as "a mix of swinging '60s," including the fantastic conversation pit in the living room, "with a touch of disco '70s."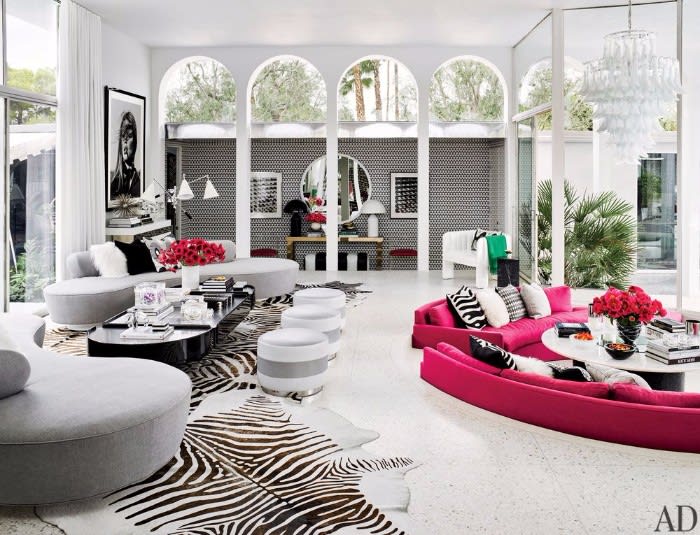 Martyn Bullard's Palm Springs Retreat
Photo: Douglas Friedman for Architectural Digest
And speaking of music meeting real estate, the neo-modernistic penthouse at the top of the Hamburg Philharmonic Symphony Hall is stunning!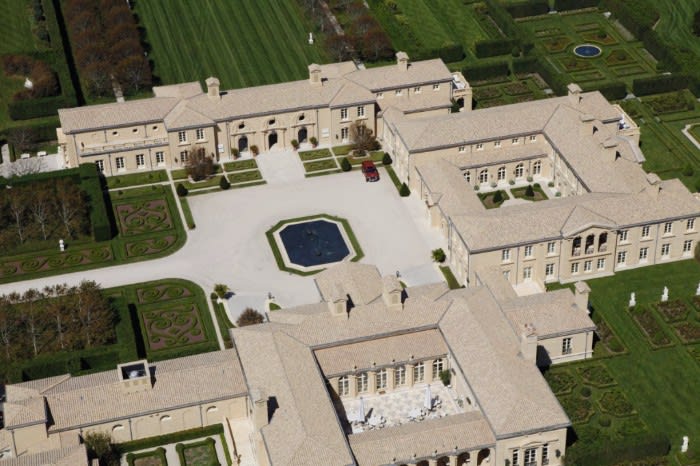 Ira Rennert's $248,000,000 South Hampton Estate

This month I'll leave you with a bit of real estate drama. It looks like the controversial saga of South Hampton's $248,000,000 "Fair Field" continues!


With over 110,000 square feet of living space on 63-acres (the main house is 73,000 sf, plus additional houses on the property -- even two bowling alleys), it is one of the largest private homes in the United States. But that's just the beginning of the story...


Springtime in San Francisco
As we go into the peak of the Spring Social Season, the San Francisco Bay Area continues its non-stop whirl of glamorous fund-raisers, cultural, entertainment, business and sporting events.