A Spectacular San Francisco Penthouse, 2018 Crystal Ball: Real Estate's Newest Megatrend

The Buyer of the World's Most Expensive Estate, Art, Fashion & Luxury Real Estate

Silicon Valley Meets Hollywood, New Year Social Calendar!

Issue 56 - January 2018 by JOEL GOODRICH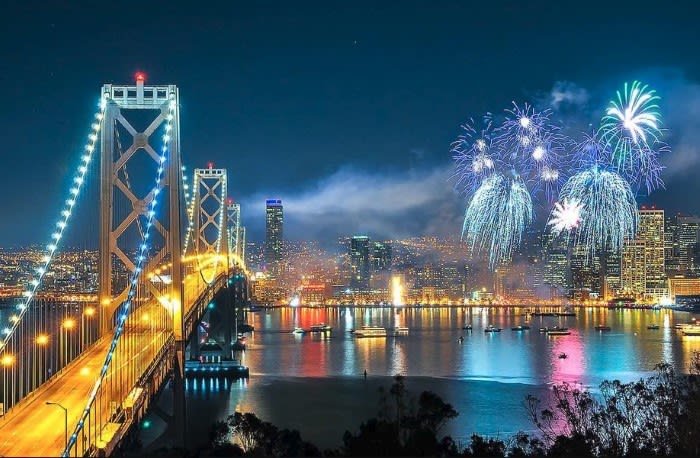 Greetings from San Francisco!

From Christmas decorations to fireworks, San Francisco certainly celebrated the holidays in style!


As we go into the New Year, I would like to wish you and your loved ones a 2018 filled with good health, much joy and lots of success!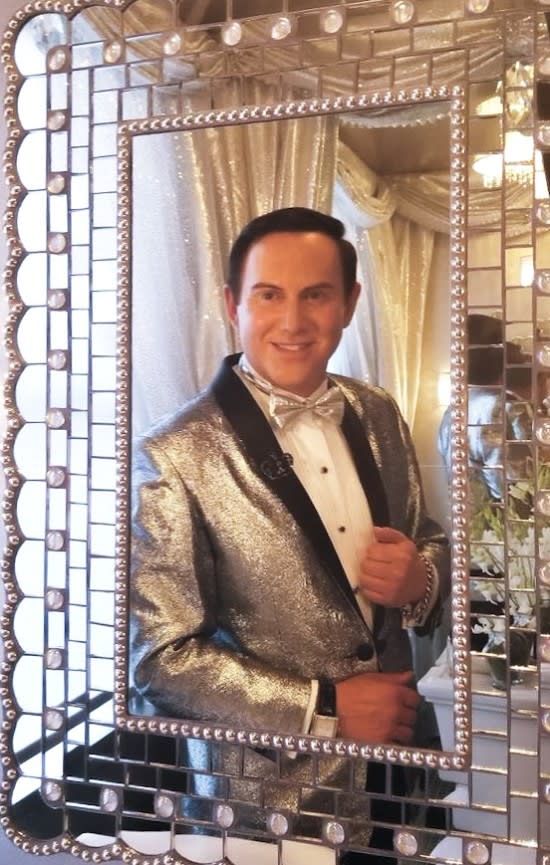 A Sparkling Start to 2018
This month, I am pleased to be listing a fabulous San Francisco penthouse at the Infinity in the super-popular South Beach neighborhood.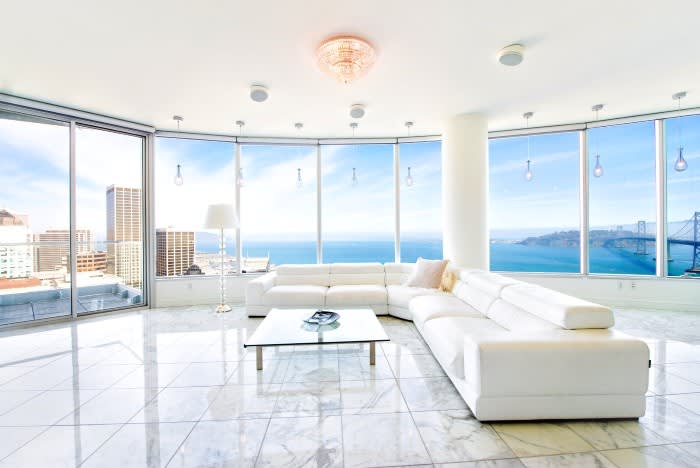 Stunning Bay Views from the Infinity
Penthouse
-
Please contact me for more details -
The ~107 linear feet of window walls showcase some of the City's most dramatic views, including the Bay Bridge, the ever-changing skyline, the historic Ferry Building and a wide expanse of the Bay.Beach neighborhood.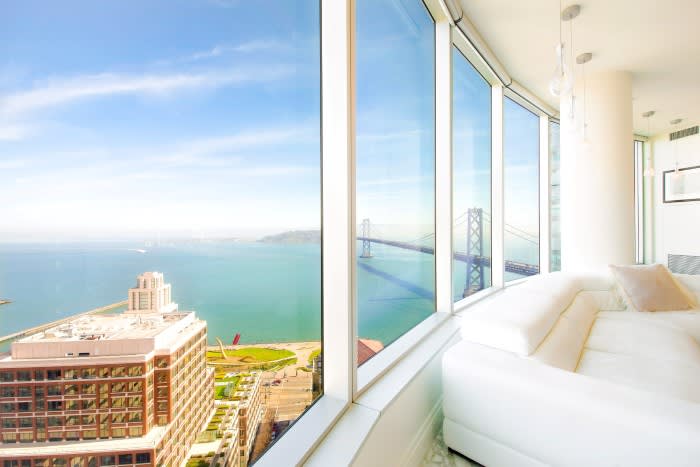 Located Near the World-Famous Embarcadero Waterfront
- Please contact me for more details -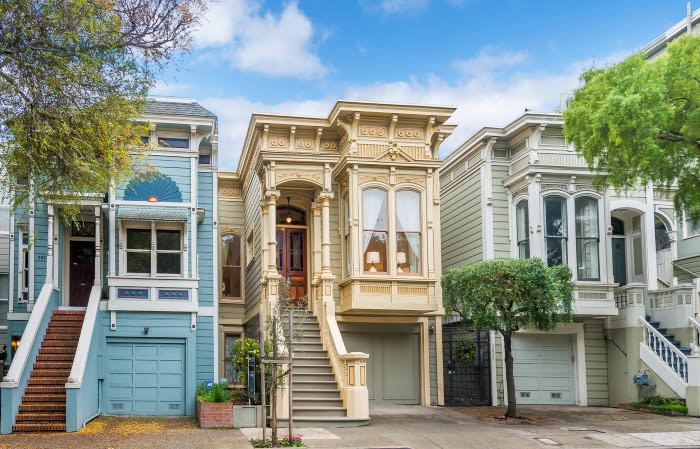 Eastlake-Style Victorian, Asking $2,495,000
- www.2825PineStreet.com -
This is an exceptional example of why the City's famous Victorian homes remain in high demand over 100 years after being built -- truly one of the City's architectural gems.
Record-Breaking Sales of 2017
A Penthouse at 432 Park Avenue
It's the tallest residential building in the world.


The international ultra-luxury market ended 2017 with a bang, especially in New York, with the
most expensive
sale
of the year
closing a few weeks ago -- a trio of penthouses at
432 Park Avenue
to an undisclosed Chinese buyer for $91,125,498.
That transaction was quickly followed by the sale of
two more penthouses
to one buyer for $60.1 million, contributing to a total of over $583.42 million in sales at this one building throughout the year.
A Penthouse at 432 Park Avenue
New York's Highest Sale in 2017



If you feel you missed out on the opportunity to live at the top of the tallest residential building in the world -- Penthouse 95 is still available, asking $82 million (contact me for further details.)
Hillsborough's Majestic De Guigne Estate Sold for $23,364,000
One of nine Bay Area sales over $20 Million in 2017



In the Bay Area, there were nine sales over $20 million in 2017, with the highest being $38 million for a new, modernistic home with magical Bay views on Pacific Heights' Gold Coast, the most expensive home in San Francisco's history.


Just south of the City the highest sales of the year were $30 million, paid for two properties -- a home on Faxon Road in Atherton, and a home in Palo Alto's 'Professorville'. Eight acres of land in Los Altos Hills sold for $25 million.
Nicolas Berggruen paid $40.8 Million for this Delfern Drive Estate



In Southern California, at least 53 homes sold at or above $20 million, with buyers including Beyonce and Jay-Z, Angelina Jolie, Matthew Perry, Kimora Lee Simmons, George Lucas, and Larry Ellison.
Matthew Perry's $20 Million Condo at The Century



Other
buyers included
businessmen
Nicolas Berggruen
,
Sir Tom Hunter
,
Mark Walter
,
Stanley Druckenmiller
, and
Alan Salzman
, heirs and heiresses such as
Karen Lo
,
Kevin Washington
,
Evan Metropoulos
,
Cody Leibel
, and
Jennifer Greenberg Messer
, various investors and developers, and the founders of Matches, Chrome Hearts, Maxfowles, the Bratz dolls, and Alo Yoga.
Cindy Crawford and Rande Gerber's Malibu Compound
Offered by Coldwell Banker's Chris Cortazzo for $50 Million



Of all luxury markets in the US, the most excitement was in Malibu, with 13 sales between $20 million and $85 million (for David Geffen's compound) breaking multiple records.


Last month, real estate broker
Kurt Rappaport's
own Malibu property was
reportedly in contract
for an astonishing $120 million to Canadian billionaire
Daryl Katz
-- the most
recent report
, however, is the deal fell through, leaving Malibu's nine-figure sale record to be broken another day...
The $300 Million Chateau Louis XIV
As they say, some things never go out of style!



Now, to follow up on something I told you about in my
January 2016
report -- the $300,000,0000 sale of the (newly constructed!)
Chateau Louis XIV
, developed by
Emad Khashoggi
(the most expensive residential transaction of all time.)
Eighteenth Century Style, 21st Century Construction
We've just found out who
the buyer
was -- it turns out he's also the buyer of the world's
most expensive painting
, which just sold a few months ago --
Saudi Prince Bader bin Abdullah bin Mohammed bin Farhan al-Saud
.
What a year! Will 2018 break more sales records? Read further...
2018 Crystal Ball

As we go into the New Year, the perennial question is: how will the luxury real estate market perform in 2018?


First, let's look at overall economic conditions.

_______________
On a macro level, it appears the national and world economies will be stable through 2018, barring unforeseen geopolitical events. Here are some key economic indicator forecasts, which are quite positive:
National unemployment is
predicted to drop
to the 3.9% to 4.1% range, from the current 4.4%.
The Bay Area economy continues to break records. Its GDP is
nearly $800 billion
, making it the world's 18th-largest economy.
_______________


Next is the issue of taxes.


There's been much debate about the impact of the new 2018 tax law on the market. Some forecasts, such as that of the Wall Street Journal's
Mansion Global
, predict a dampening effect of up to 10% on prices in the most impacted areas, while also noting it will take some time to see how the various cross-currents play out.
The National Association of Realtors'
latest forecast
indicates a possible 5% price decline in high-cost states such as California and New York.
Will the negatives of the new law (loss of a lot of the property tax, state income tax and part of the mortgage deductions) outweigh the positives (possible repatriations of hundreds of billions of overseas corporate tax dollars, perhaps higher income for corporate employees and more liquidity in the high end)?


_______________


With sales totalling nearly $8 billion, San Francisco's real estate market hit new highs in 2017, ending the year with a median sale price of $1,475,000 for single family homes citywide -- an increase of 13.5% compared to December 2016.


In Pacific Heights and Presidio Heights, the median price for the last quarter of 2017 was $5.4 million, or $1,600 per square foot.


Taking everything into consideration, there are no indications that these trends should reverse in 2018.
New Enthusiasm for New York Townhouses
New York's Most Expensive Townhouse Just Sold for $80 Million
New York luxury real estate just reached a new all-time high with the sale of billionaire
Vincent Viola's
home at
12 East 69th Street
, in contract for $80 million.
The Townhouse at 12 East 69th Street



At that price, the 20,000 square foot residence, built in 1884, will be the City's most expensive townhouse to date!


Can we expect to see more major townhouse sales in 2018? If so, there are some wonderful options currently available.
Neo-Federal Townhouse at 6 East 69th Street
Asking $37.5 million, listed by George van der Ploeg



Only a few feet away, a neo-Federal style mansion at
6 East 69th Street
just went
on the market
last week for $37.5 million. Built in 1925, the six-story, 12,000 square foot property features an 1,800 square foot sunroom outside its master suite.
Beaux-Arts Townhouse at 8 East 62nd Street
Asking $79.5 million, listed by Douglas Elliman



An exquisite
Beaux-Arts mansion
at East 62nd Street, clad with
Hermes
leather walls, is one of the more fashionable properties on the market.
Asking $79.5 million, the five-story, 14,700 square foot mansion, with exquisite 1903 architecture,
features
a spa with plunge pool, a 2,500-square-foot rooftop terrace, temperature-controlled vault for furs, among other luxuries.
A New Townhouse at 34 East 62nd Street
Asking $32.5 million, listed by Nikki Field



One block down, at
34 East 62nd Street
, is an incredible opportunity for a newly constructed Upper East Side townhouse, asking $32.5 million.
The five-story, 9,200 square foot mansion was designed by HS Jessup Architects in a sleek update of the Beaux-Arts style, with French limestone facade, and dramatic slate Mansard roof.
Beaux-Arts Townhouse at 4 East 74th Street
Asking $39 million, listed by Modlin Group
An elegant Beaux-Arts mansion at 4 East 74th Street recently made headlines when it was rumored
Nicole Kidman
and her husband, country music star
Keith Urban
, were
purchasing it
for $39 million (
they weren't.
)
Beaux-Arts Townhouse at 4 East 74th Street
Asking $39 million, listed by Modlin Group

Completed in 1901, the six-story, 12,000+ square foot townhouse owned by hedge fund billionaire Marc Lasry has 16 rooms, a grand oak staircase, private outdoor patio, roof deck, state-of-the-art security system, and 10 fireplaces.


Past celebrity residents have included Michael Jackson and artist Marc Chagall.
A Whirlwind World

Rhode Island's Seafair Estate Sold for $13.5 Million


One of America's most historic estates in one of America's most historic enclaves has just sold to former Tonight Show host Jay Leno and wife Mavis for $13.5 million -- a rare example of the whirlwind world of celebrity real estate extending beyond New York and Beverly Hills.


Built in 1936, Seafair Estate in Newport, Rhode Island is a crescent shaped stone-clad mansion that sits right on the ocean cliffs. The 8-bedroom, 11-bath mansion features a carriage house, pool, tennis court, and private beach.
Elvis Presley's Honeymoon House for $5.9 Million


Meanwhile, across the country, the iconic Palm Springs house where
Elvis
and
Priscilla Presley
honeymooned immediately after their 1967 wedding in Las Vegas has
hit the market
for $5.9 million.
Elvis Presley's Honeymoon House for $5.9 Million


The 5,000-square-foot mid-century spread designed by renowned Mid-Century
starchitect
William Krisel
first appeared in Look Magazine, where it was called the "House of Tomorrow".
Circle shaped living areas and bedrooms give the pad a '60s feel, which is undoubtedly part of its charm -- so if you're an Elvis fan, now's the time!



Gerard Butler's Loft for $5.995 Million


And continuing the old-meets-new trend, where we see a juxtaposition of classic elements with modern accents, the theatrical Chelsea loft of Phantom of the Opera star
Gerard Butler
, with its "modern vintage" flair,
hit the market
for $5,995,000.
Gerard Butler's Loft for $5.995 Million



And continuing the old-meets-new trend, where we see a juxtaposition of classic elements with modern accents, the theatrical Chelsea loft of Phantom of the Opera star Gerard Butler, with its "modern vintage" flair, hit the market for $5,995,000.
Herzog & de Meuron's Penthouse at 1111 Lincoln


And we continue to see amenities for trophy penthouses pushing new boundaries --
such as the
$34 million 7,700-square-foot
Herzog & de Meuron
-
designed
South Beach Florida penthouse with 18,000 square feet of magical outdoor space, and a separate guest house!
Nine Megatrends
After being interviewed in 2007 for an article on the future of San Francisco real estate -- at the time it was titled "Seven Megatrends" -- I've been honored, over the years, to make numerous media appearances and do interviews and presentations on the topic.


Here we are in 2018, and with several speaking engagements coming up for my "2018 Real Estate Crystal Ball," I'm updating the report to "Nine Megatrends: The Next Ten Years in San Francisco".
So, what is the
ninth megatrend...



Technological Convergence!


In a recent series of
fascinating articles
, leading
tech forecaster
Peter Diamandis
(founder of the
X-Prize
, and chairman of
Singularity University
) writes about the unprecedented convergence of eight different technologies in this decade: artificial intelligence interacting with robotics, nano-tech, the Internet of Things, 3D printing, virtual and augmented reality, and new computational systems such as super and quantum computers.
This is very different than anything we've seen in previous decades, where one primary technology drove innovation -- the computer chip in the '70s, personal computers in the '80s, the internet in the '90s, mobile and search in the 2000s.
"The implications of these converging trends are staggering." -Peter Diamandis



His prediction is this will create unpredictable, but also exponential growth and change.


Because Bay Area companies and research institutions maintain a leading role in many, if not all, of these technologies, there will continue to be an increasing influx of intellectual talent and global capital flowing into the region.


This increasing convergence of technologies is great for the Bay Area's economy and, by extension, its real estate market.
Bay Area's $20 Billion Dollar Projects
The $1.6 Billion Oceanwide Center, SF's Most Expensive Project


With demand fueled by tech growth, the Bay Area's construction boom continues to the tune of about $20 billion (
here is
a fascinating look at the 75 largest projects, from airports to hospitals and transportation terminals, as well as office, hotel, residential and retail developments.)
Surprisingly, average Class A office rents, while high at about $80 per square foot, are much lower than other major cities, coming nowhere close to those in central
Hong Kong
--
four times higher
at $323 per square foot!
Microsoft is Revamping its Mountain View Complex


The newest large-scale project was announced a few weeks ago, with Microsoft
planning to revamp
its main 643,000-square-foot Mountain View complex, which should be ready to occupy in December 2019.
It will be their smartest, greenest office yet with one hundred percent of the buildings' non-drinking water coming from rainfall or on-site recycled water -- a first in Silicon Valley.
Start 2018 with a 'Celestial' Even
The SF Ballet Opening Night Gala has a Celestial Theme
- Image: ArtistAndrea, via Etsy -


As we head into 2018, the Bay Area continues its extraordinary tradition of philanthropy. I'm delighted to be supporting the
San Francisco Ballet
at its "Celestial" themed Opening Night Gala this month.
I'd also like to invite you to an event I'm co-hosting with
Sandra Papale
and
Dona Crowder
at The Infinity Penthouse, in celebration of
Joanne Renna Douglas
and
Alfred Renna's
new book, "
Negotiating New York: Life, Love, and the Pursuit of Real Estate
," which Shark Tank star
Barbara Corcoran
calls "a wonderful, life affirming story."
The book is must-read for anyone in the luxury real estate business (or who loves luxury real estate)! The event is on Wednesday, January 10th, 4:30 - 6PM -- please let me know if you'd like to attend.


Below is my calendar of charitable, cultural, entertainment, sporting and business events that I hope you enjoy -- I look forward to seeing you soon around town!




Joel Goodrich | Global Luxury Real Estate Advisor
Coldwell Banker Previews International
10 - Wednesday

Negotiating New York
Meet the authors of "Negotiating New York: Life, Love, and the Pursuit of Real Estate," and enjoy a bi-coastal celebration of luxury real estate over sunset cocktails.


The Infinity Penthouse, 301 Main Street, SF, 4:30 PM to 6:30 PM.


10 - Wednesday
FOG Design + Art
FOG opens with a Preview Gala benefit for SFMOMA. Fairs run from Thursday Jan 11 through Sunday Jan 14.


Fort Mason Center for Arts and Culture, 2 Marina Blvd., SF.


Preview Gala: Sold Out
Fair, January 11 - 14: $25


10 - Wednesday
Joanne R. Douglas and Alfred Renna
Authors Joanne R. Douglas and Alfred Renna discuss their eye-opening book, "Negotiating New York: Life, Love and the Pursuit of Real Estate."
Books Inc., 601 Van Ness Avenue, SF. 7:00 PM.
Admission: Free
booksinc.net
View the latest Naeem Khan collection.


Neiman Marcus
, Couture Salon, Third Floor, 150 Stockton St., SF, 10:00 AM. Runs through Jan 12.
12 - Friday
Untitled, San Francisco 2018


The art fair features galleries, artist-run exhibition spaces, and organizations as well as film and video screenings, workshops, and more.


Palace of Fine Arts
, 3601 Lyon St., SF, runs daily Jan 12 through 14 beginning at Noon.
New exhibition from
Ryan McGinley
.
Ratio 3,
2831A Mission St., SF, 11:00 AM. Runs through Feb 24.
18 - Thursday
Celestial Gala
SF Ballet Opening Night Gala, "Celestial."
SF War Memorial and Performing Arts Center
, 301 Van Ness Ave., SF, 5:00 PM.
23 - Tuesday
Oscar de la Renta Preview
View the latest Oscar de la Renta collection.


Neiman Marcus
, Couture Salon, Third Floor, 150 Stockton St., SF, 10:00 AM. Runs through Jan 24.
24 - Wednesday
Niall Ferguson Appearance
Niall Ferguson speaks to Google's Quentin Hardy about his new book, "Politics, Power and Networks."


Marines' Memorial Theatre
, 609 Sutter St., 2nd floor, SF, 5:30 PM.,
26 - Friday
Noir City 16
Film Noir Foundation presents a program of 12 genuine "A" and "B" double bills, spanning the breadth of the original film noir era.


The Castro Theatre
, 429 Castro St., SF, runs through Feb 4.
Chenery House, Available for $11,000,000
World Class Piedmont Estate for $7,995,000
The Bransten House for $7,495,000
Three Mendocino Inns & Residence $5,385,000
Beautiful Pacific Heights Home for $3,895,000
- Financial District High Rise, $3,195,000
Eastlake-Style Victorian, Asking $2,495,000
Financial District High Rise $1,250,000