If there's a rainbow after every storm then nowhere is this more true than today in San Francisco.


After a series of record-breaking rains (providing much-needed relief to our drought ridden state!), the "city at the end of the rainbow" is starting 2017 with the kind of hope, vigor and determination that has made it an international destination for adventurers, inventors, artists and fortune seekers for 250 years.


A Modern Beauty in a Historic Setting



The Presidio, Painted by Louis Choris in 1817


With the start of Spring just weeks away, it's a wonderful time to explore The San Francisco Presidio -- one of the most beautiful settings in the world.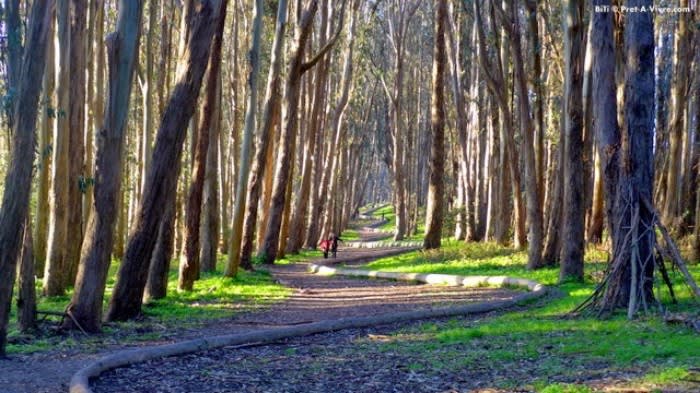 A Stunning Eucalyptus-Lined Path in the Presidio


The 1,491-acre park, a national Historical Landmark, now has a brand new Visitor's Center (210 Lincoln Blvd) that opened last week, useful for tourists and locals alike.


After a $5 million renovation by architect David Andreini, the site, formerly a jail, is where you can find the best places to visit in the park, get a map of the area, and learn all about its fascinating history.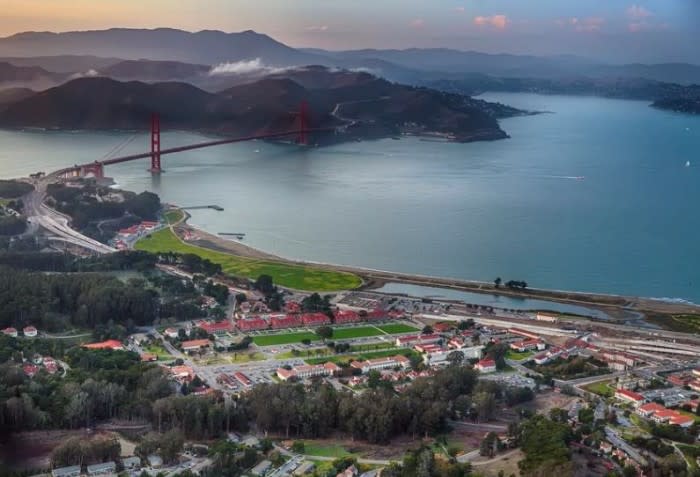 What better way to enjoy the Presidio than to actually have it right outside your door?


Residences along the so-called Presidio Wall are among the most coveted in the City for precisely that reason -- and I'm delighted to now be representing the best home I've seen there in years.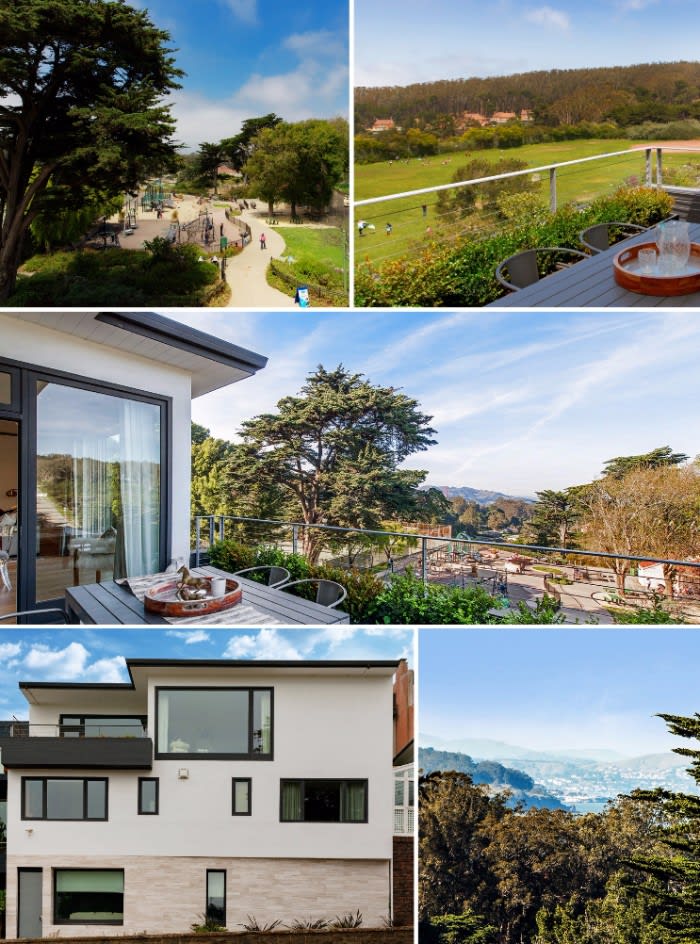 A Modern Masterpiece in Presidio Heights
The ultra-luxurious, five-bedroom, Mid-Century
modern residence
has been recently updated, expanded and enhanced with the most sophisticated amenities of the twenty-first century.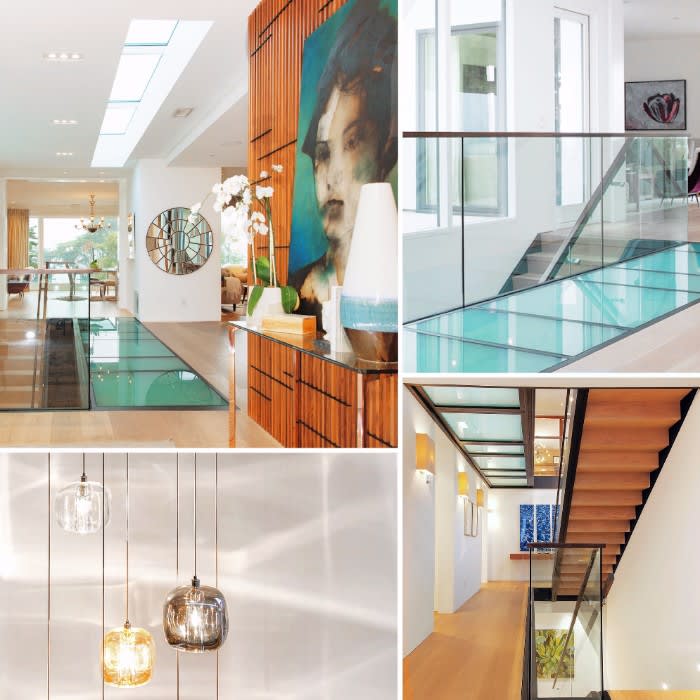 A Modern Masterpiece in Presidio Heights
Nest Thermostats, Lutron Maestro series digital dimmers, wireless Video Security System, a Netgear 24 port ethernet switch, and of course wiring for 5.1 surround sound in the family, living media and master bedrooms are just a few of the touches that make this beautiful home fully functional for today's lifestyle.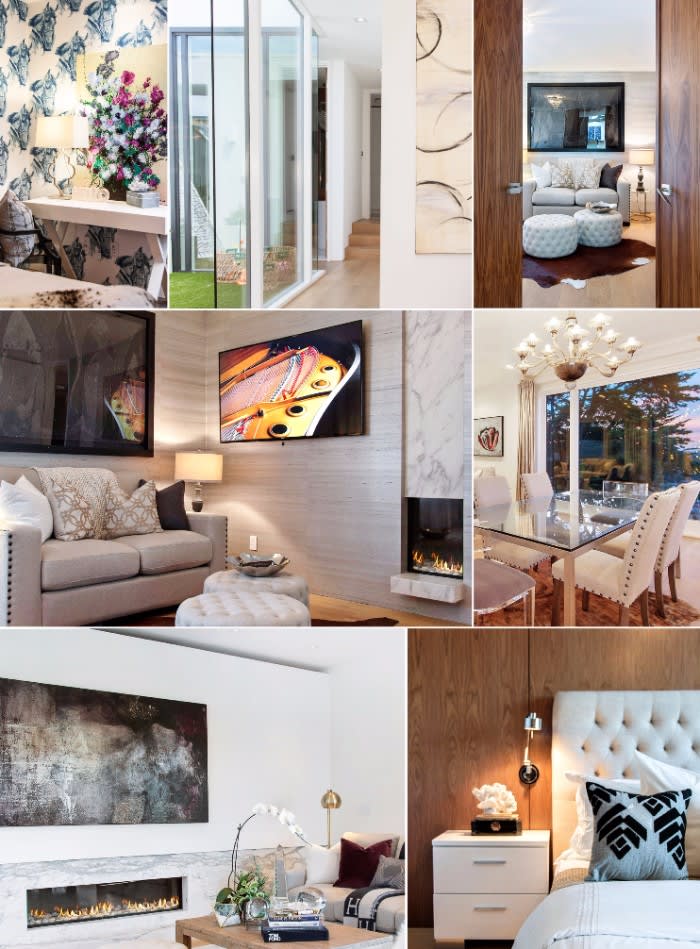 A Modern Masterpiece in Presidio Heights
- www.16SpruceStreet.com -


The home's classic California architecture focuses on the surrounding views of Julius Kahn Park and the beautiful Presidio with walls of glass that blur the lines between inside and out. Window locations have been strategically chosen to bring the most natural light and best views into every room.


It is priced at $10.5 million and can be shown by appointment.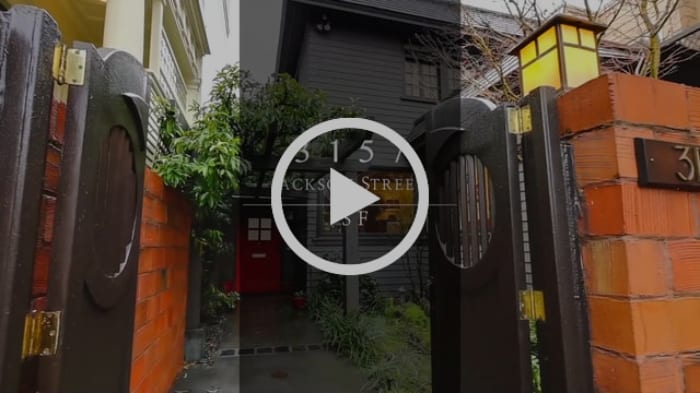 3157 Jackson Street, San Francisco - Presented By: Joel Goodrich - www.3157JacksonStreet.com
Click Here for a Virtual Tour of a
Wonderful Arts & Crafts Style Residence in Pacific Heights


Just a few blocks away is another wonderful residence I'm pleased to be listing.


Reflecting the extraordinary diversity of architectural styles in San Francisco, this home was designed in the great Arts & Crafts style of the early 20th century, and has a rare Thomas Church garden that's absolutely enchanting.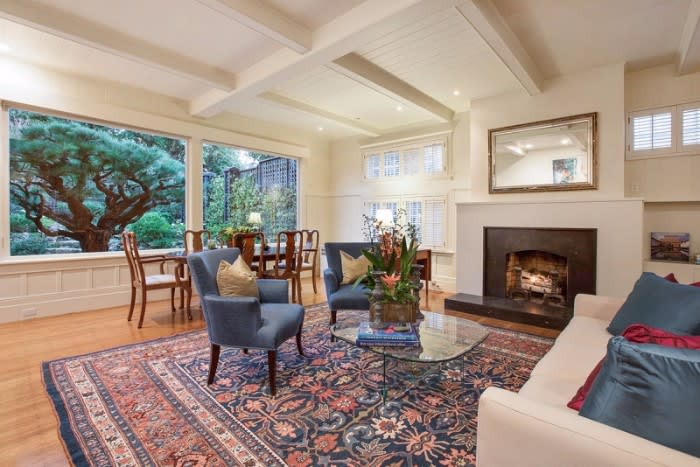 Arts & Crafts Style in Pacific Heights
- www.3157JacksonStreet.com -


With a shingled exterior, beamed ceilings and wood plank walls, the two-bedroom home (which also includes a dining/family room and den/office), is truly a wonderful oasis in the midst of one of the most desirable neighborhoods! It is priced at $3.5 million.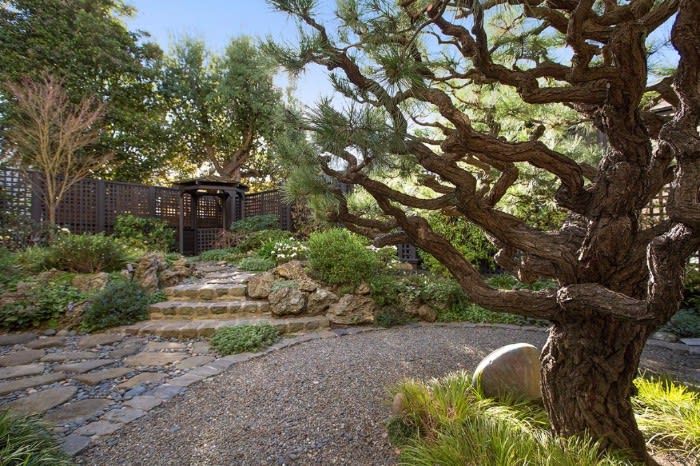 Magical Thomas Church Garden in Pacific Heights
- www.3157JacksonStreet.com -


The third new listing for this month is of yet another completely different style -- and neighborhood.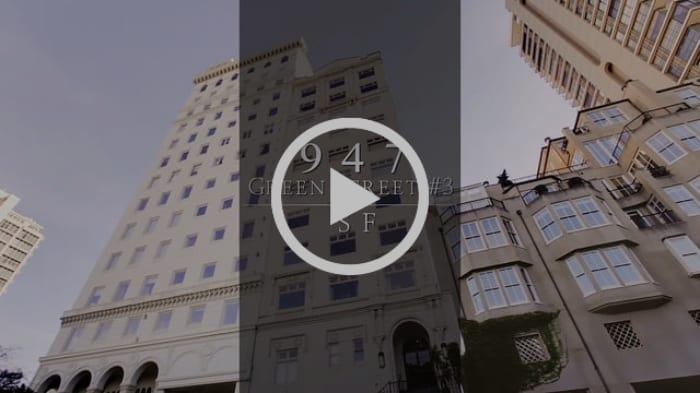 Click Here for a Virtual Tour of an
Elegant Russian Hill Cooperative Apartment


Located on one of Russian Hill's best blocks, this super-elegant, full-floor cooperative apartment at 947 Green Street, with three bedrooms and three baths, features incredible original architectural detailing set against sweeping views.


The Bay, Alcatraz, Richmond Bridge, Treasure Island, City Skyline, Bay Bridge, Coit Tower, and East Bay Hills are all on view - and incredible rarity for any residence in the City.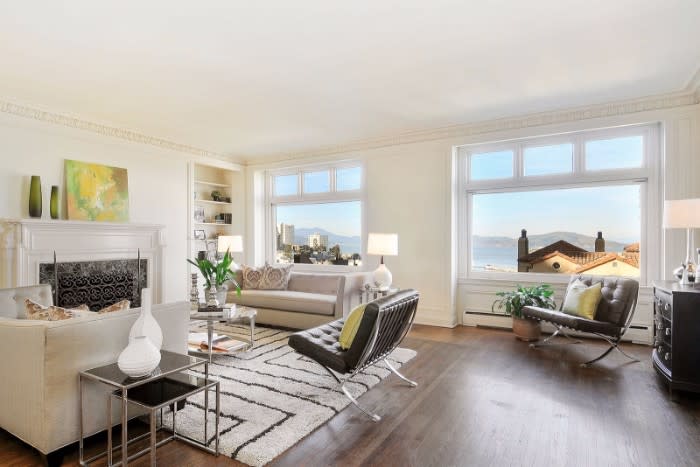 A Full-Floor Cooperative Apartment on Russian Hill
- www.947GreenStreet3.com -


The floorplan is elegantly laid out with a long gallery hall with fabulous wall space for an art collection leading to the private wing of the apartment.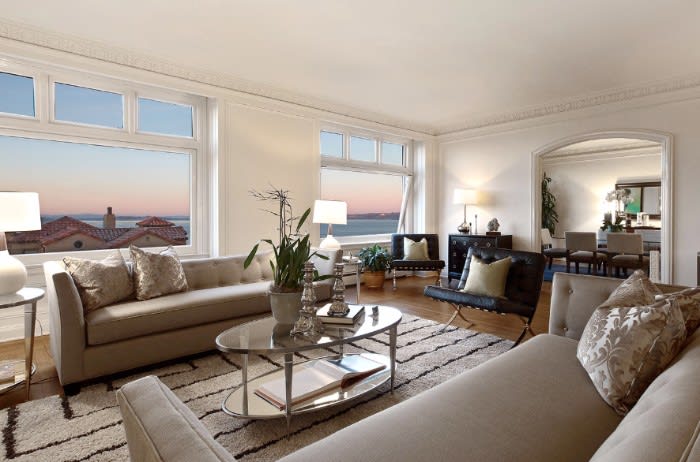 A Full-Floor Cooperative Apartment on Russian Hill
- www.947GreenStreet3.com -


It also features a 3 level deck from which to enjoy the City's dramatic views. The asking price is $3,695,000.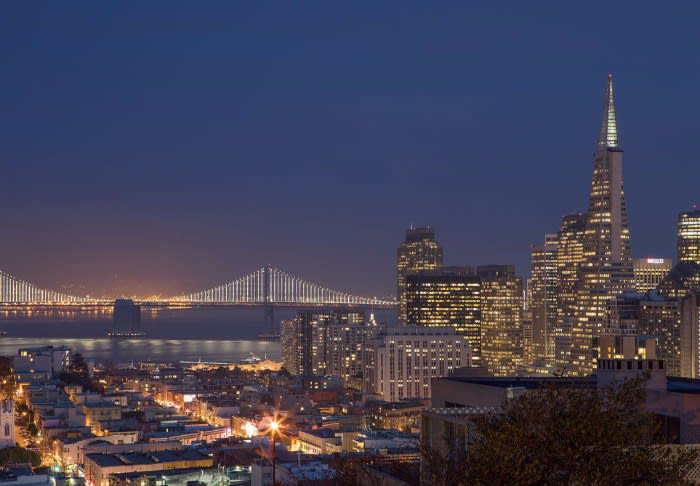 A View From the Apartment
- www.947GreenStreet3.com -


Pelli and Piano to Transform Howard Street



Here is a fun map of the 20 most prominent highrises under construction


San Francisco's skyline continues to expand, with the completion of several new towers scheduled in 2017, and with more yet to break ground.


Plans have recently been revealed for two important new projects at the 500 block of Howard Street, both designed by internationally known "starchitects", and both to include hotel rooms as well as residential condos.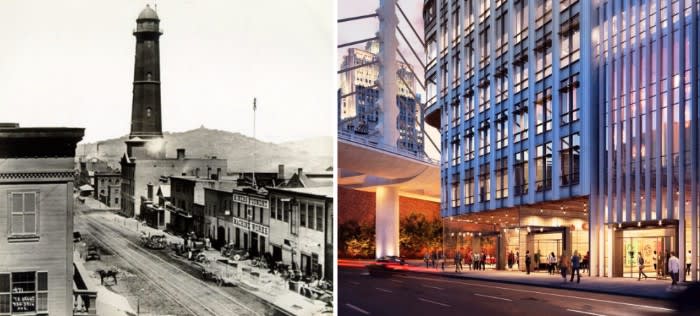 L: The 500 block of Howard St. in 1868
R: Plans for the City's 4th tallest building, at 550 Howard
(approximately where the wooden tower is located on the left)



César Pelli, along with local HKS Architects, will be responsible for 550 Howard, a 64-story building connecting to the Transbay Transit Center's rooftop park and featuring a 13-story hotel and 200 residential homes. Argentine-American architect Pelli also designed the the rapidly rising Salesforce Tower, and some of the world's tallest (as well as most futuristic) buildings.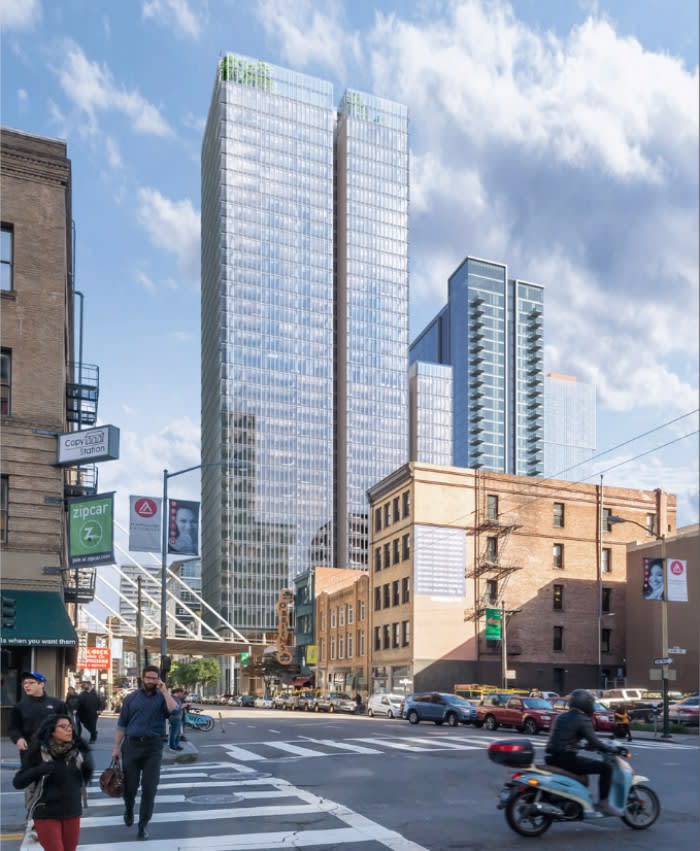 Renzo Piano Building Workshop's Plans for 555 Howard
Steelblue / Renzo Piano Building Workshop


Meanwhile, Italian architect Renzo Piano is working with local practice Mark Cavagnero Associates in designing the high-rise directly across the street at 555 Howard. It will feature 69 residences and the Langham Place Hotel, the latest luxury hotel to be coming to the city. Piano is renowned for such iconic buildings as The Shard in London and the Centre Georges Pompidou in Paris.


With strong demand for hotel rooms in SF, another super-luxe project by Heller Manus is slated for the Financial District, at 447 Battery -- interestingly, there will only be eight condominiums above the 182 hotel rooms, including a penthouse with two private terraces.


The Most, The Biggest, The Best



The Most Expensive US Home Listing Ever


On the global luxury real estate front, the most expensive home ever listed in the US recently came on the market.


The $250,000,000, 38,000 square foot ultra-modern Bel Air mansion has six bars (one by the pool), three kitchens, a bowling alley, and a James Bond-themed home theater with 40 reclining leather seats.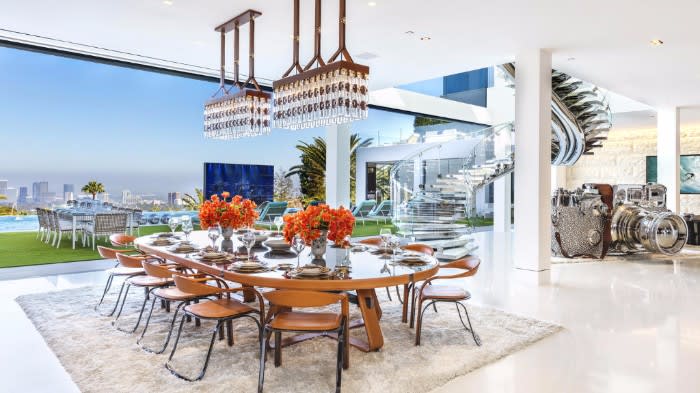 The Most Expensive US Home Listing Ever


Additionally, there are 12 super rare, super expensive cars in the "auto gallery" worth $30 million, and seven full-time staff members (including a chef, chauffeur, and masseuse), paid-for for two years.


Certainly one of the most amenity-laden single family homes in history!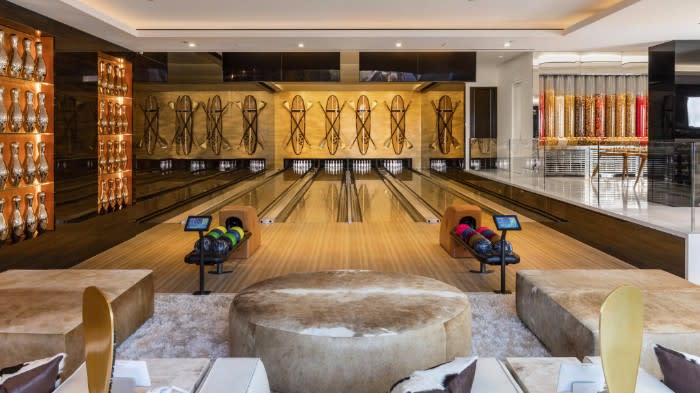 The Most Expensive US Home Listing Ever


Here's a fascinating video tour though the property.


This places it at the top of the current list of 25 most expensive properties in America, including an $88 million Silicon Valley estate and Cher's former Beverly Hill mansion for $85 million.


It also includes a property Beyonce and Jay Z are said to have recently toured, the $200 million, 123-room (!) Holmby Hills estate originally built by late television producer Aaron Spelling and his wife Candy (all of these properties have been featured in my previous newsletters.)


One major Beverly Hills property no longer on the the market is the palatial estate that was once owned by Fifties funnyman Danny Thomas. It just closed for roughly $65 million (don't miss this fun video!)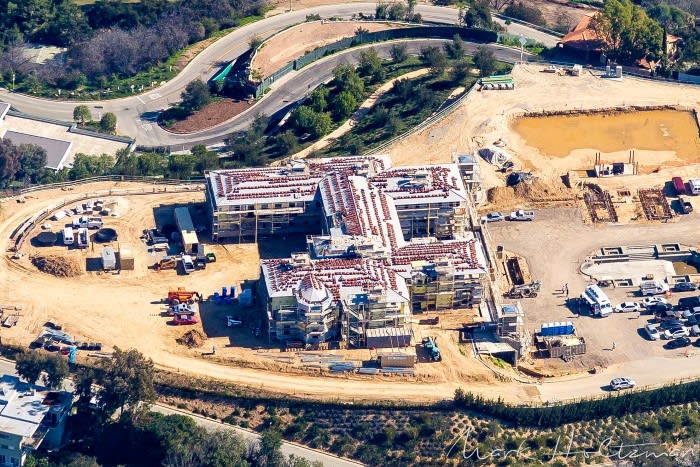 A 77,000 Square Foot Home Under Construction in Bel Air


But these will all be eclipsed by the under-construction 77,000 square foot Bel Air mega-mansion, with a fascinating choice of designer-to-the-fashion-stars Peter Marino, who has created some of the world's chicest interiors, including the iconic Christian Dior boutique on Paris' Avenue Montaigne.
Peter Marino is the Designer Behind an Astonishing Bel Air Mansion


It will be interesting indeed to see the fusion of ultra-modern architecture with the world's most renowned designer of fashion interiors, so stay tuned for the latest developments -- LA's ultra-luxe real estate is always full of surprises! (Thanks largely to the area's most famous developer Mohamed Hadid, father of Bella and Gigi, and reigning king of Bel Air real estate, according to this fascinating article!)


Incidentally, Thomas J. Barrack Jr., the investor behind this record-breaking estate, is partly an owner of Michael Jackson's Neverland Ranch, which has been renamed the Sycamore Valley Ranch, and just went on the market for $67 million.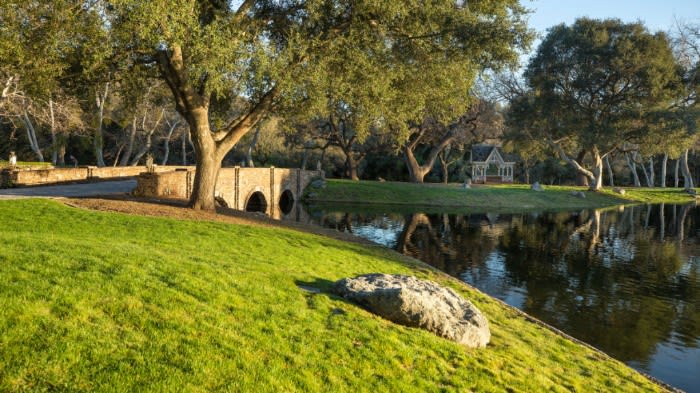 Sycamore Valley Ranch (Neverland) Available for $67 Million


I'm so happy for Joyce Rey, my Coldwell Banker Previews International colleague in Beverly Hills, for getting the listing for one of California's most iconic estates.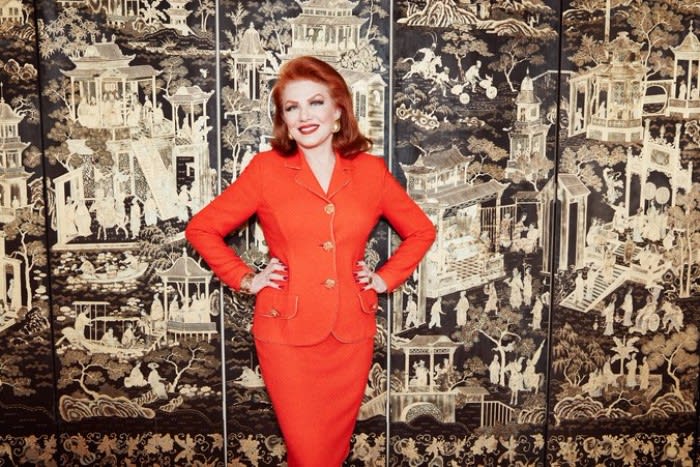 Georgette Mosbacher in her Fifth Avenue Home
Photo: Katie Thompson for W Magazine


In the Manhattan market the most expensive sales are generally concentrated in the newer buildings (particularly 432 Park Avenue, which had three of the 20 most expensive sales of 2016), but a prominent new listing in a building constructed in 1924 might soon serve as an exception.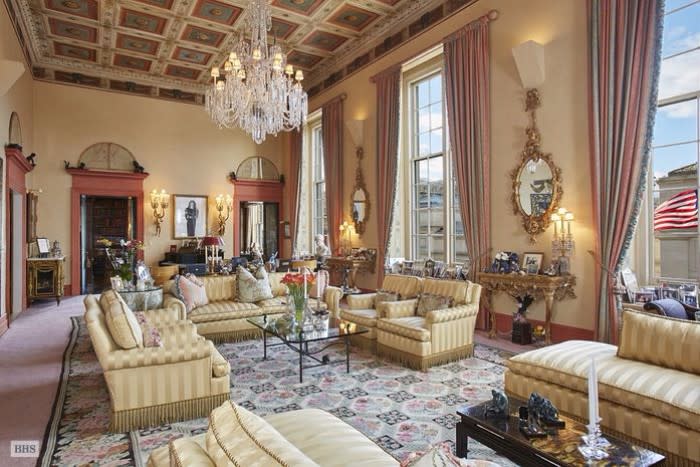 Georgette Mosbacher in her Fifth Avenue Home


The legendary Fifth Avenue apartment of international socialite, author and entrepreneur Georgette Mosbacher, home to many a glittering soiree for the world's elite, is now available for $29.5 million.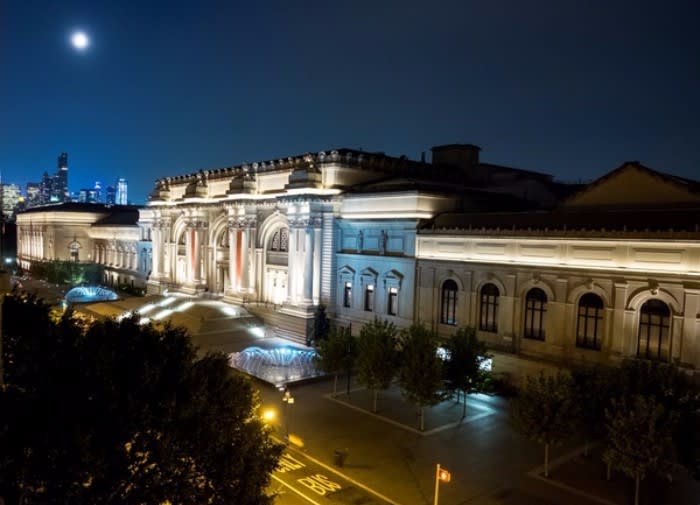 Views of The Met from 1020 Fifth Avenue


With 20' high ceilings and dramatic 14' windows overlooking The Metropolitan Museum of Art, and classic pre-war architectural detailing, the elegant residence at 1020 Fifth Avenue shows that, as they say, fashions may come and go, but true style remains eternal!


A Palace in Paradise



Fondation Louis Vuitton


Speaking of museums, I think you'll enjoy Curbed's recent one-of-a-kind look at the US and the world's most extraordinary museums (San Francisco has two on the list!)
The Bundeswehr Military History Museum
Libeskind's addition of steel and glass slices through the heart of the old structure


From Frank Gehry's Fondation Louis Vuitton in Paris' Bois de Boulogne to the Bundeswehr Military History Museum in Dresden (an 1870s arsenal that was extended in 2011 by American architect Daniel Libeskind -- a perfect example of how to unite modern and historic architectural styles), these buildings are among the most awe inspiring ever built.
The Jordan Staircase at the Hermitage Museum


One of my favorites is the extraordinary Hermitage Museum at the Winter Palace in St. Petersburg, where Yours Truly had the amazing experience of attending the recreation of the Czar's Ball on New Year's 2002 at the Catherine Palace.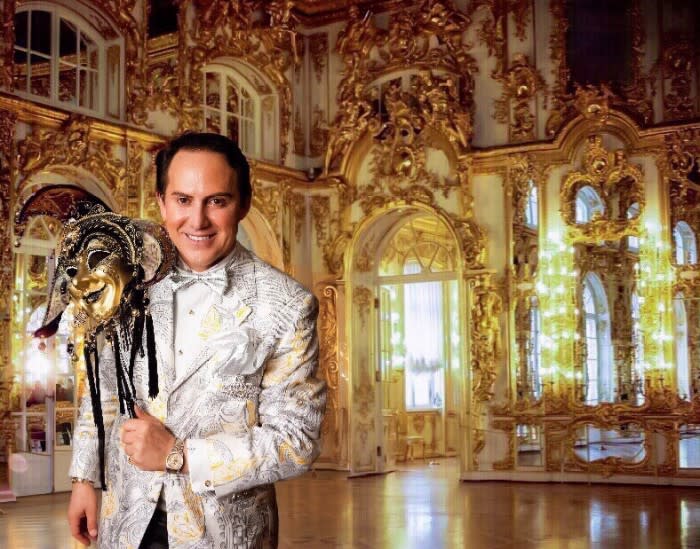 Speaking of palaces, fashion designer Pierre Cardin's striking "Bubble Palace" on the French Riviera, built in 1989 by Hungarian architect Antti Lovag, is now on the market for a phenomenal $384,000,000.


The price is more than the $321,000,000 needed for the newly planned renovation of the iconic Eiffel Tower (including an update to its extraordinary light show), though a bit less than the $460,000,000 renovation of Buckingham Palace that I told you about last month.


The cost of palaces these days...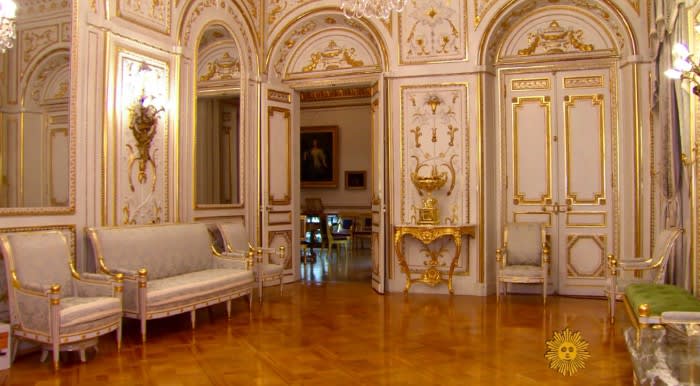 Formal Reception Room at Prince's Palace of Monaco


One palace not available at any price is that of the Principality of Monaco. Prince Albert recently gave a rare televised tour of the palace, whose most famous resident of its over 800 year history was the legendary Princess Grace.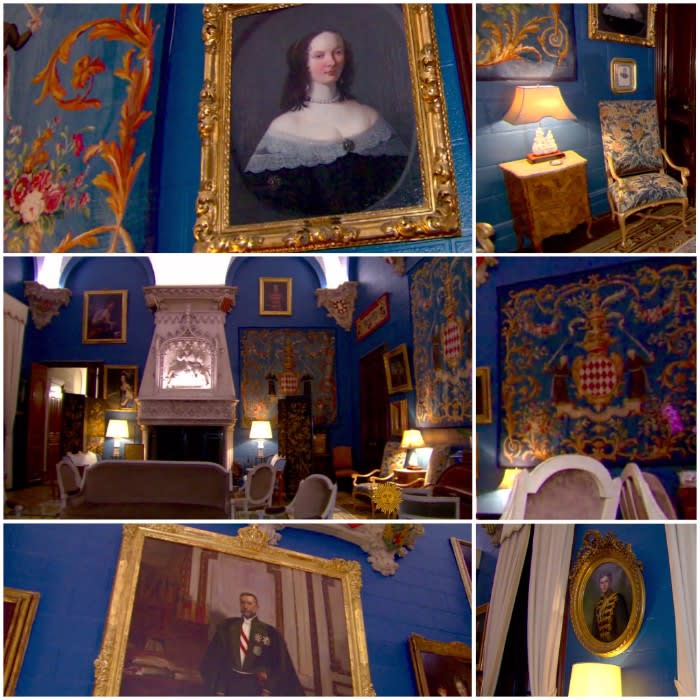 The Family Room at Prince's Palace of Monaco


The monumental structure started off as a 12th century fortress, and has evolved with a series of design styles over the centuries, uniting aspects of the 16th century Renaissance, 18th century Versailles, and 20th century Hollywood.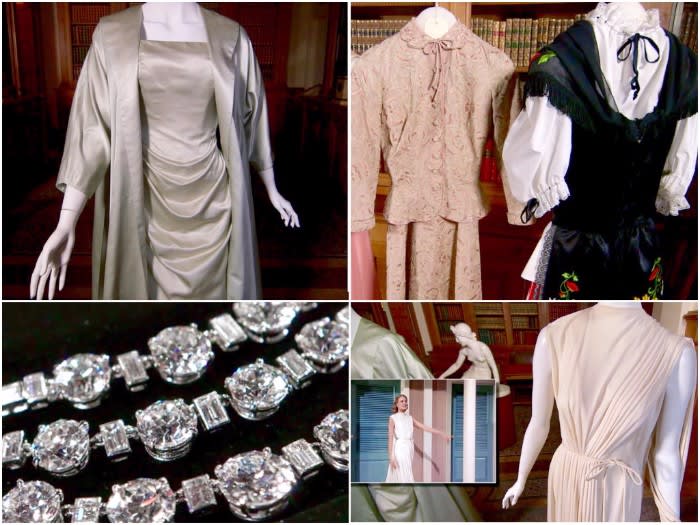 Inside the Prince's Palace of Monaco


Jewelry and special pieces from the late princess's wardrobe are on display inside (such as the satin Edith Head gown she wore to the 1955 Oscars, and the Grecian gown she wore in "High Society.")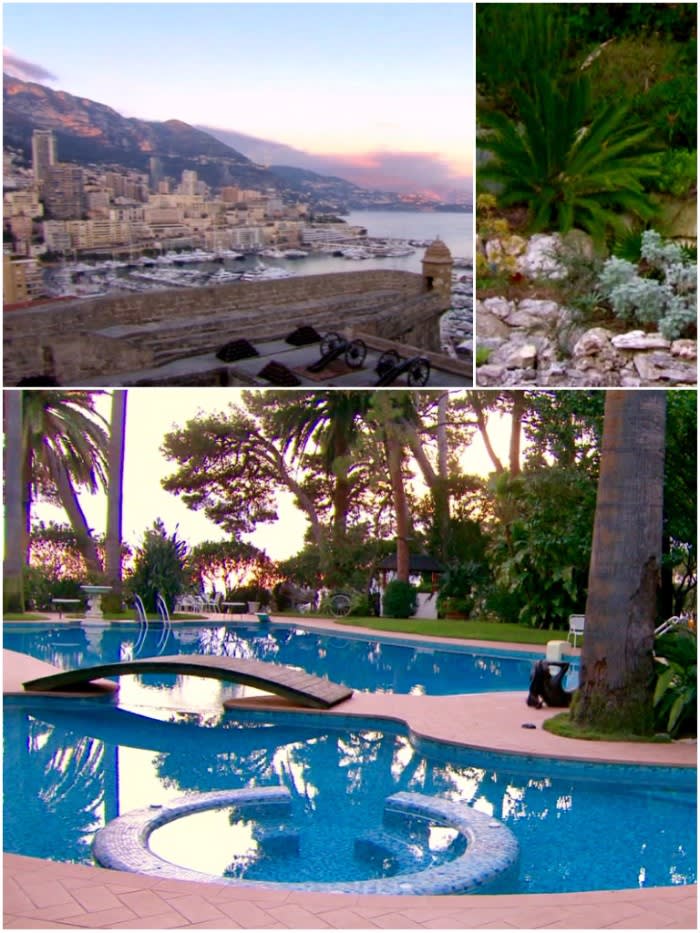 Grace Kelly Designed The Pool


An international tastemaker, Grace Kelly's influence can still be seen throughout the palace -- she painted the family room a striking royal blue, and designed the ground's enchanting swimming pool, set in a garden near the sea -- a private oasis set in the middle of paradise.


Never Too Rich or Too Thin



The Duchess of Windsor


When the Duchess of Windsor lived at New York's Waldorf Towers, she famously had a needlepoint pillow on her couch with the phrase, "You can't be too rich or too thin."


That oft repeated phrase could also apply to today's super-tall, super-skinny, super-expensive highrises.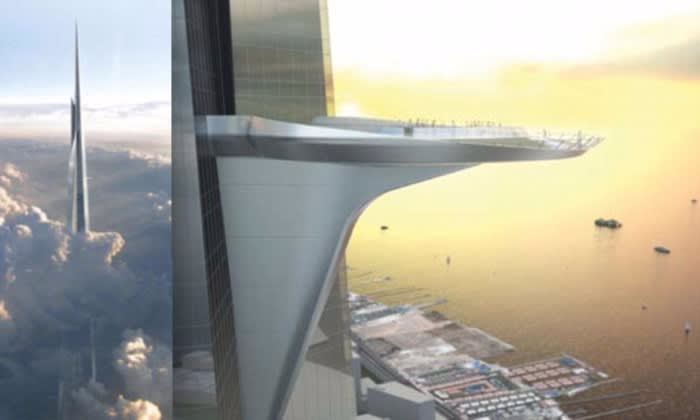 Jeddah Tower is Under Construction in Saudi Arabia


Around the world, supertalls are going ever-skyward. with the anticipated 2020 completion of the 3,281 foot high(!) Jeddah Tower in Saudi Arabia designed by Adrian Smith, whose career highlights include the Hancock Center and Burj Khalifa.


The over $1.5 billion tower is so thin, that the top 85 floors will be completely unoccupied because they're too narrow. Added drama comes from a perch on the 157th story that's being proposed as a helipad. It's an action movie director's dream setting!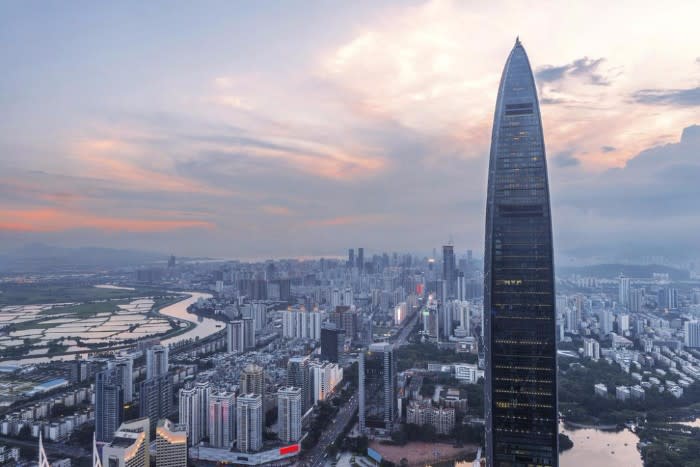 Ping An Finance Center, Shenzhen


Two supertalls are scheduled to begin receiving occupants this year -- the 1,965 foot Ping An Finance Center in Shenzhen (currently the world's 3rd tallest), and the 1,819 foot Lotte World Tower in Seoul.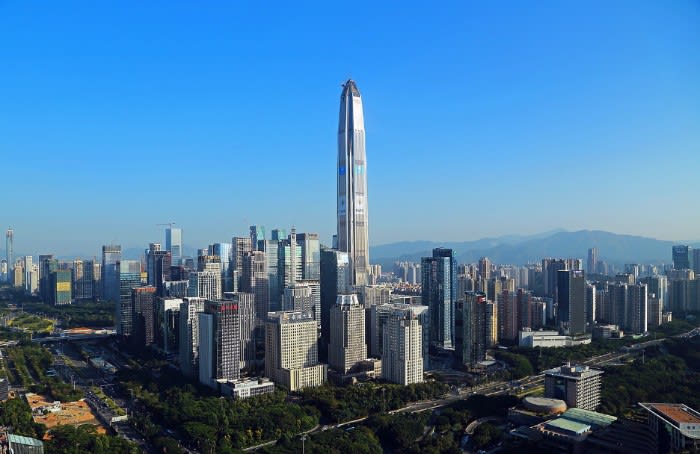 Lotte World Tower, Seoul


Here is a look at the 10 tallest skyscrapers under construction.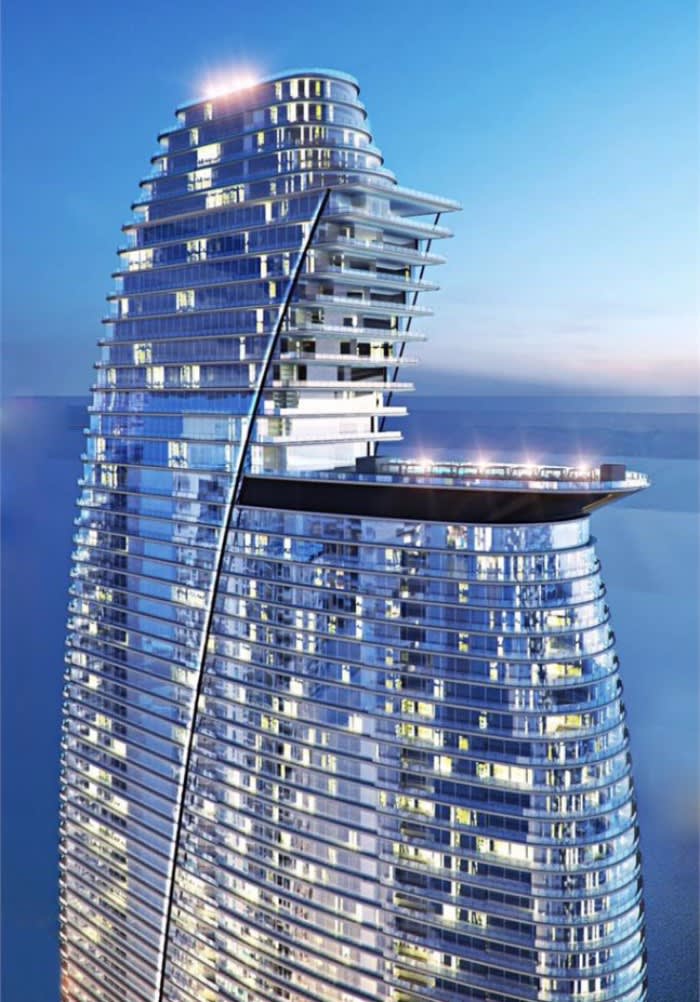 Aston Martin Residences, Miami


In the latest pairing of a luxury brand with an elegantly designed high-end condominium high-rise, the Aston Martin residences in Miami are now selling, ranging up to $35 million.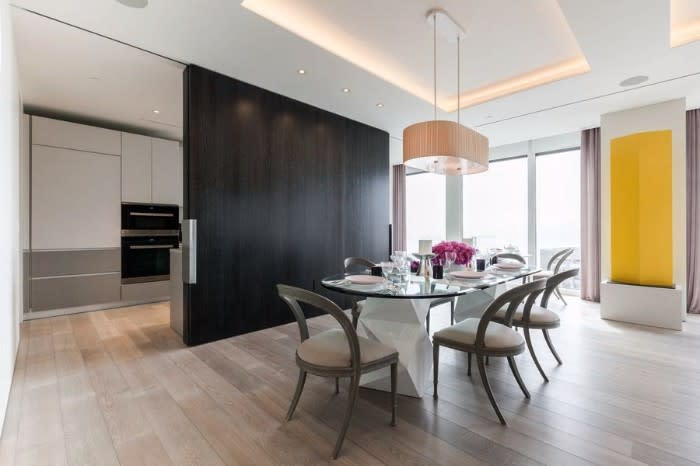 Model Residence for 181 Fremont, San Francisco


In San Francisco, some of our newest condo towers are selling at a brisk pace, as seen in a recent snapshot of San Francisco's 19 most active new luxury condominium developments, from the super-luxury 181 Fremont on floors 53-70 to Pacific Heights' new ultra-luxe The Pacific.


As far as who is buying? The Chinese are still a major factor amongst international buyers, accounting for $27.3 billion in residential purchases in the US last year (down slightly from 2015's $28.6 billion), followed by Canada, India, UK and Mexico. In New York there has been a sudden resurgence of Russian buyers, after having left the market for several years.


From Hacienda to Superhouse



Clint Eastwood's Hacienda Esta Madre


Celebrity real estate also continues to offer a dazzling array of fascinating properties, from actor Johnny Depp's quirky Art Deco penthouse in Downtown Los Angeles, with its rooftop pool and iconic clocktower, to Clint Eastwood's rustic Pebble Beach estate, "Hacienda Esta Madre."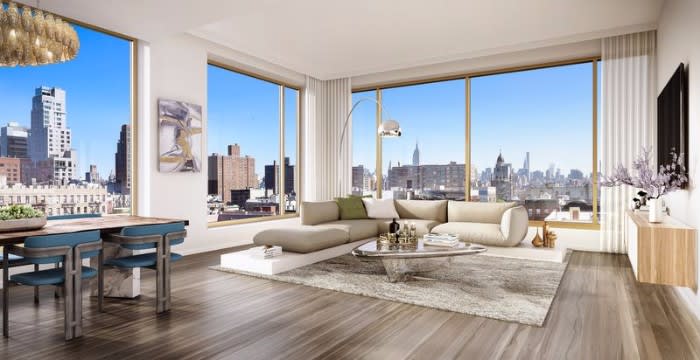 Condos at 75 Kenmare Designed by Lenny Kravitz


In New York, Gwyneth Paltrow has reduced the price of her Tribeca Loft to $9.95 million, while in the Nolita neighborhood rockstar Lenny Kravitz has just designed several condos for a chic new condo tower. But the biggest news in bold name transactions comes by way of Starbucks CEO Howard Schultz, who paid $40 million for a Greenwich Village penthouse.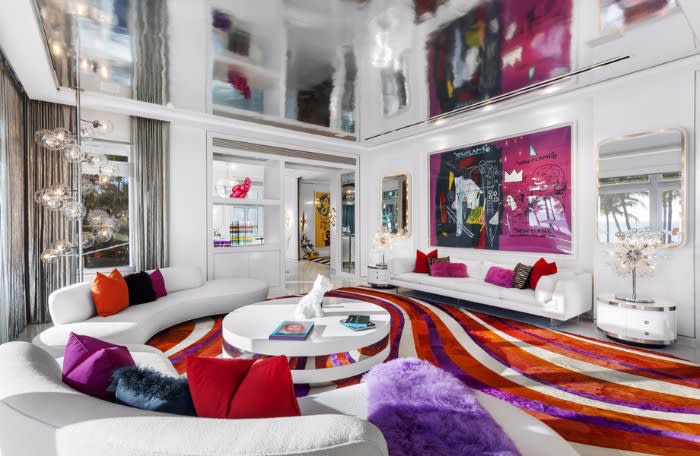 Tommy Hilfiger's Golden Beach Home


Selena Gomez's Fort Worth, Texas home is now on the market for $3 million, while over in Florida fashion designer Tommy Hilfiger has listed his psychedelic waterfront estate on Miami's Golden Beach for $27.5 million, and Celine Dion is selling her Bahamian-style Jupiter Island estate for $38.5 million.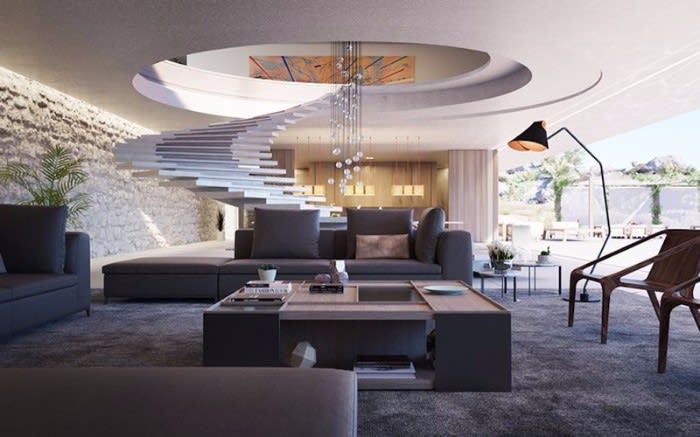 Magnus Strom's Superhouse


Designwise, the latest development in the ultra-luxury market is Magnus Strom's limited edition of 30 "Superhouses" which are to be built in some of the world's most stunning settings.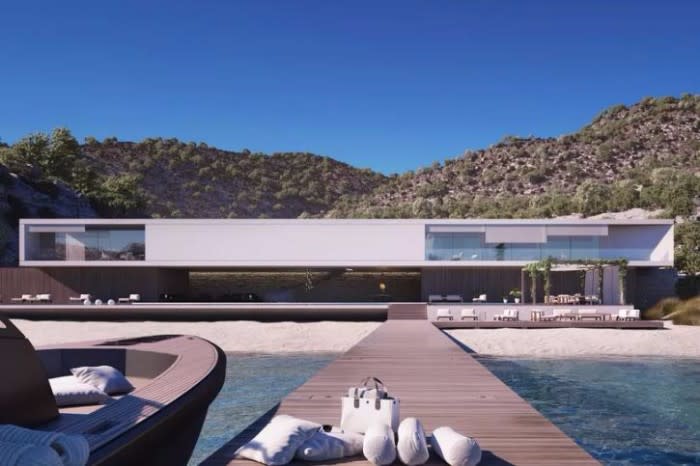 Magnus Strom's Superhouse


The first has just been designed for a private Spanish isle and features a 165' infinity pool and private beach.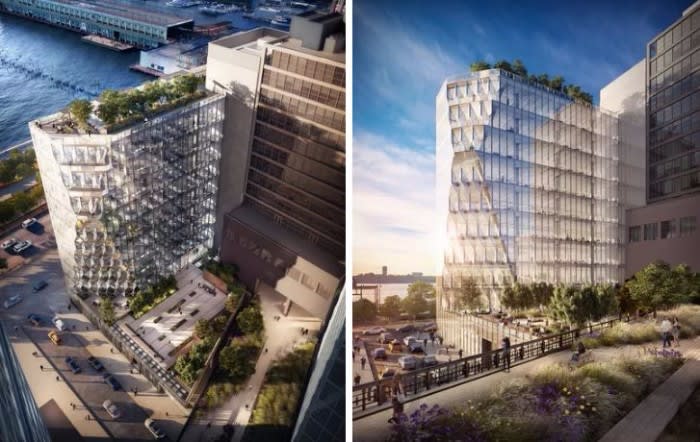 A New Project by Jeanne Gang


Another architect breaking new ground is Jeanne Gang. Studio Gang's newest office building in New York derives its shape from the "geometric relationships between the building and the Sun's path." Gang will also be designing the twisty Folsom Bay tower in San Francisco's South Beach that I told you about in a previous newsletter.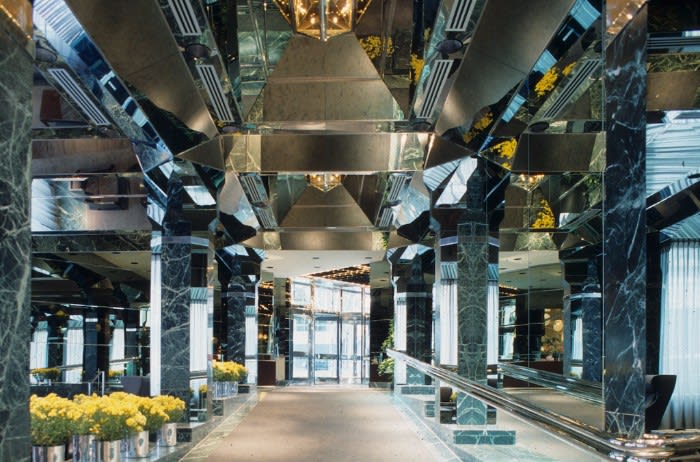 United Nations Plaza Hotel


Will the inventive new structures of today become the historical landmarks of tomorrow?


While we're used to seeing buildings before the 1950s receive that designation, the iconic epitome of Postmodern architecture, the lobby of New York's United Nations Plaza Hotel which was built in the disco era has just achieved landmark status.


We will have to wait and see which buildings stand the test of time, so stay tuned for my update in 40 years!


Real Estate's Final Frontier


With so much attention paid to household names like Facebook, Google, Apple, Uber and Lyft, it's easy to overlook other business sectors becoming dominated by Bay Area tech firms.


The growth of FinTech, for instance, has recently led to San Francisco being named, for the first time, to the list of the Top Six Cities in the World for finance on the 20th semiannual Z/Yen Global Financial Centres Index with only London, New York, Singapore, Hong Kong and Tokyo ranking higher.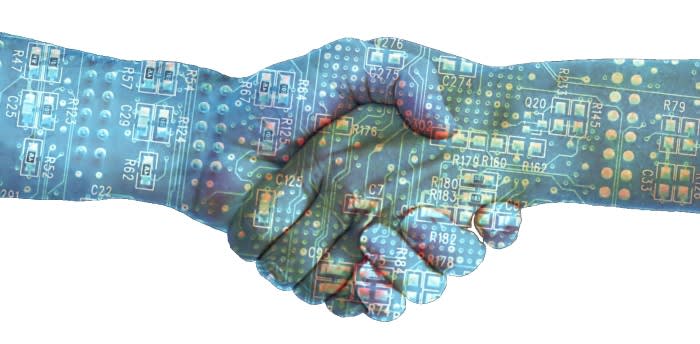 And startups working with "Blockchain" technology may revolutionize how real estate (as well as every other industry) conduct transactions.


Blockchain is the technology underlying various cryptocurrencies, the most famous of which is Bitcoin, which I wrote about last April when the very first real estate transactions were transacted in Bitcoin rather than US Dollars.


Bitcoin is now more valuable than gold.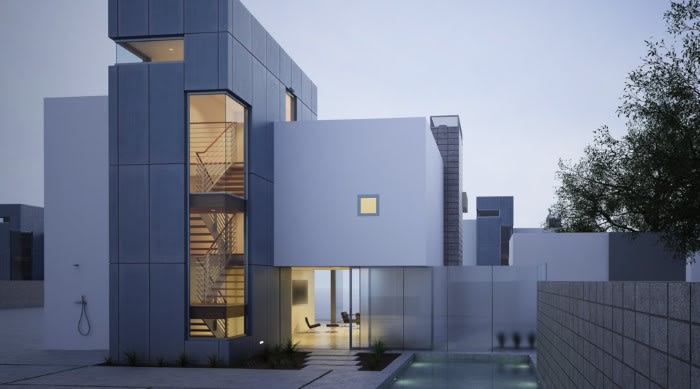 Bitcoin Payments in Real Estate


A man in Southern California unintentionally made $1.3 million last month just by using bitcoin to buy a home.


So, what are the advantages of a blockchain transaction for the consumer? TechCrunch reports that expediting the process, reducing fraud and total transparency will be the main effects, with a side effect being reducing the cost to the consumer -- we definitely like that!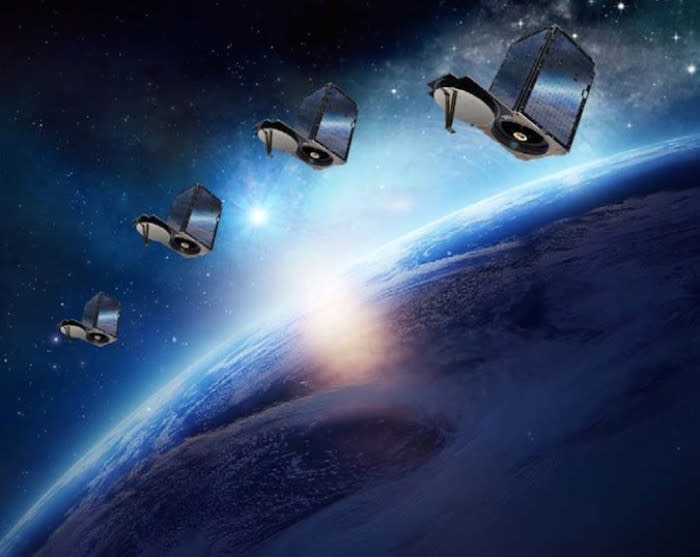 Planet Lab's Satellites


Another field now dominated by a San Francisco startup is the small-satellite industry, thanks to Planet Labs, which by this summer will have over 150 satellites in space, mostly the size of a shoebox.


The largest private satellite constellation ever built, it will be able to create a 50-trillion-pixel image of the entire Earth's surface, updated every day!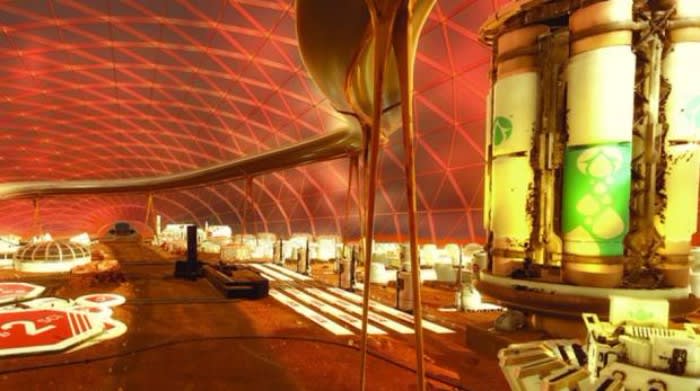 Dubai's Vision of Mars in 2117


Speaking of space, the Ruler of Dubai and the Crown Prince of Abu Dhabi announced last week that the United Arab Emirates is embarking on a 100-year plan to build the first city on Mars, constructed by robots. They plan to land a spacecraft on the Red Planet in 2021.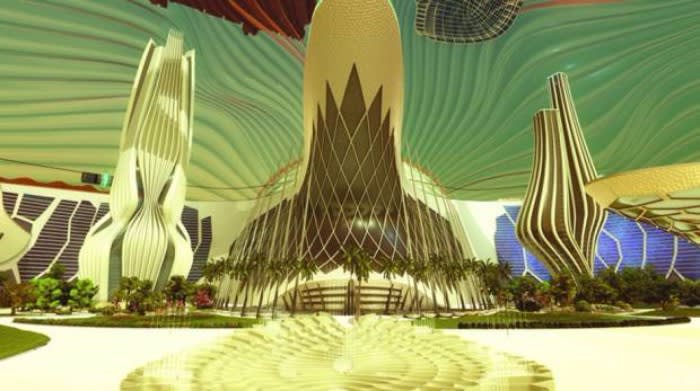 Dubai's Vision of Mars in 2117


Is this the beginning of a new international space race? If so, it seems increasingly likely it will be boosted by technology created right here in the Bay Area. So with much to discover and a long way to go in a universe of at least 2 trillion galaxies, let the race begin!


Springtime in San Francisco

Bouquets to Art 2017


In our wonderful San Francisco Bay Area, the non-stop whirl of fabulous fundraisers, world-class dining, cultural, entertainment, sporting and tech events continues.


This month I'm honored to be supporting the de Young Museum's Bouquets To Art to benefit the Fine Arts Museums' special exhibitions, conservation projects, and education programs.


I'm also looking forward to the Richmond/Ermet Aid Foundation's upcoming event starring legendary San Francisco songstress Paula West supporting HIV programs, feeding the needy as well as supporting underprivileged youth programs.