The global ultra-luxury market saw a number of fascinating properties around the world become available on the open market this month -- but none announced their presence as dramatically as the Ritz-Carlton's new residences in Bangkok.


Thailand's tallest highrise, looking straight out of the hit video game Minecraft, celebrated its completion with one of the world's most amazing light shows!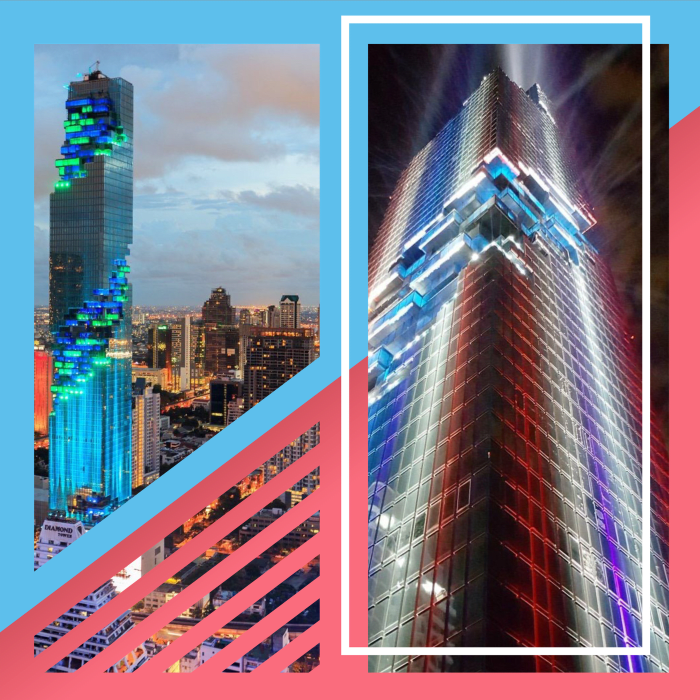 MahaNakhon in Bangkok, Thailand, Opened With A Fantastic Light Show


Featuring the world's first VOGUE Lounge (even magazines are getting into real estate!), the development features Ritz-Carlton hotel rooms and condos, with residences on the top floors selling for up to $17 Million -- a veritable bargain compared to the price of other penthouse residences making news around the world.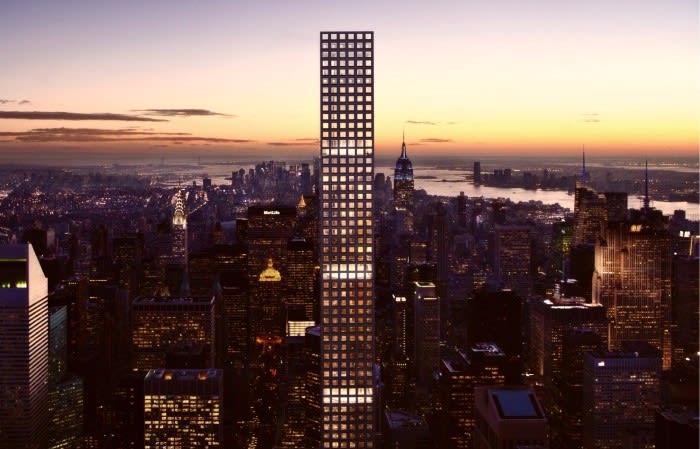 Penthouses at 432 Park Avenue are Higher than the Empire State Building


There were no light shows to mark the sale, but one of the world's highest closings this month was the $87.7 Million penthouse at 432 Park Avenue in New York to Saudi Arabian retail titan Fawaz Al Hokair, amounting to $10,632 per square for the full floor residence.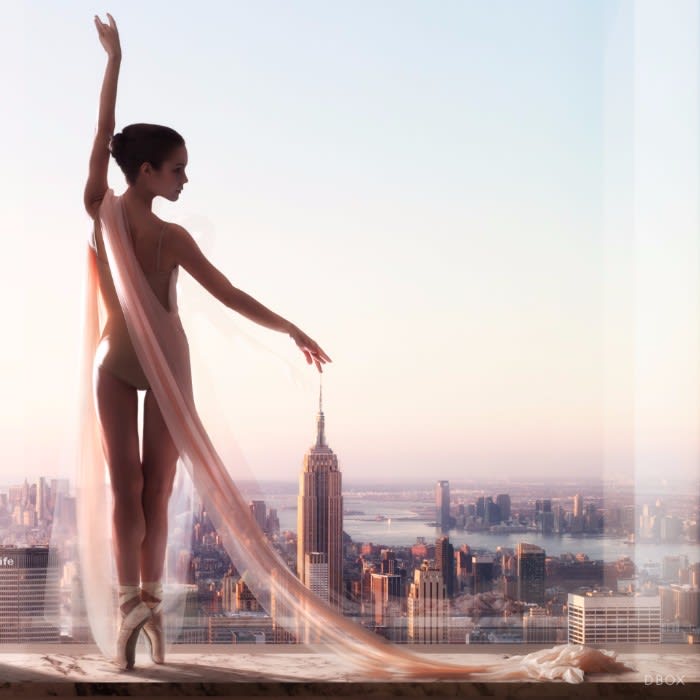 Penthouses at 432 Park Avenue are Higher than the Empire State Building


Though not the priciest, the 96th story dwelling is -- for now -- the highest level condo in North America.


The Sky's The Limit!



The Penthouse at 212 Fifth Avenue Available for $68.5 Million


Around the world there's currently a collection of fascinating penthouses on the market. Here are a few that caught my eye.


This week, the 10,000 square foot penthouse at 212 Fifth Avenue in New York (which is being called The Crown) became available for $68.5 Million. The Madison Park apartment is in a dramatic 1912 high-rise designed in the "New-Medieval" style. One of the City's first skyscrapers, it's currently being converted to luxury residences.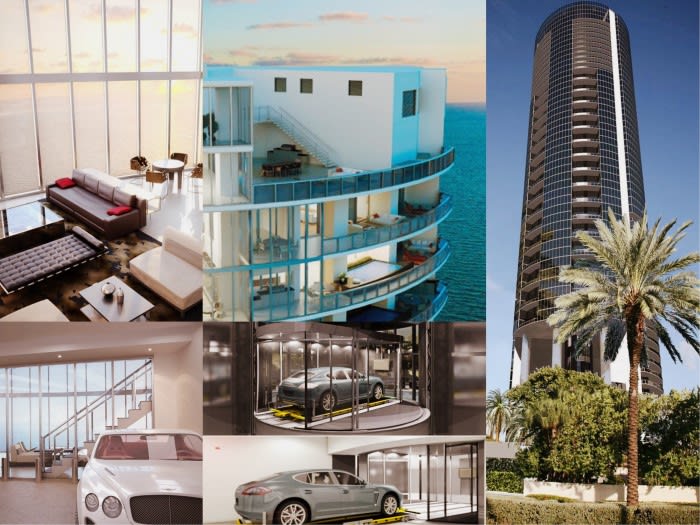 The Porsche Design Tower Penthouse is Available for $32.5 Million


Miami's Porsche Design Tower features a sleek 4-level $32.5 Million penthouse with two rooftop terraces, pools and an exclusive four car sky-garage!


Also in Miami the Jade Signature penthouse features its own lawn, among many other amenities.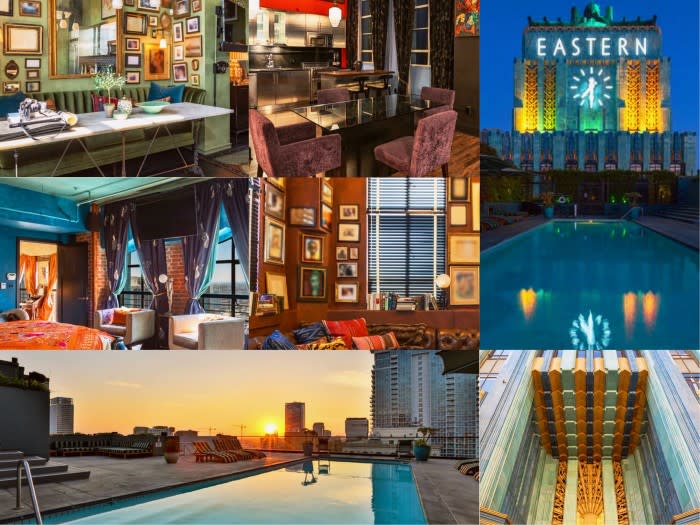 Johnny Depp is selling 5 Penthouses in Downtown LA!


In downtown Los Angeles, actor Johnny Depp is selling his collection of five penthouses atop the Eastern Columbia Building, the iconic Art Deco high-rise built in 1930, for a total of $12.78 Million. One of the five just sold for $2.545 million, so four to go!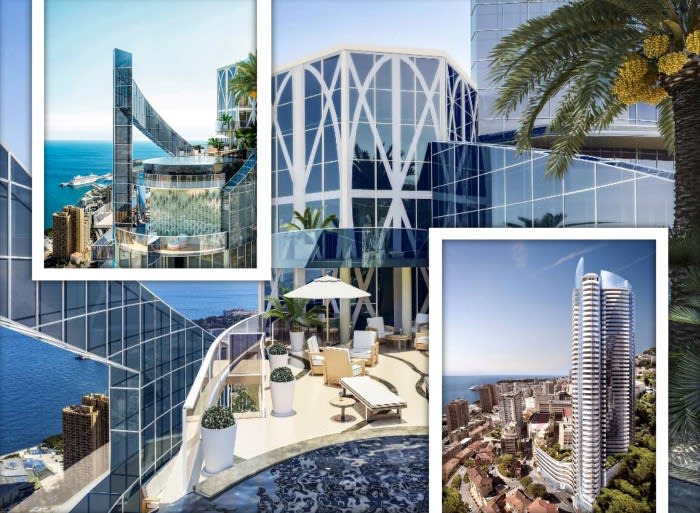 Monaco's Tour Odeon Penthouse Now Available for $335,000,000


Across the Atlantic is the true pièce de résistance of penthouse living -- Monaco's Tour Odeon Penthouse (which I first wrote about in March 2013) is now officially on the market for $335,000,000!


The 31,500-square foot, five-floor palace in the sky occupies the 45th through the 49th floors of the tower and includes a rooftop deck and pool, with its own water slide that descends one story from the dance floor (disco ball not included, LoL!) directly into the infinity pool!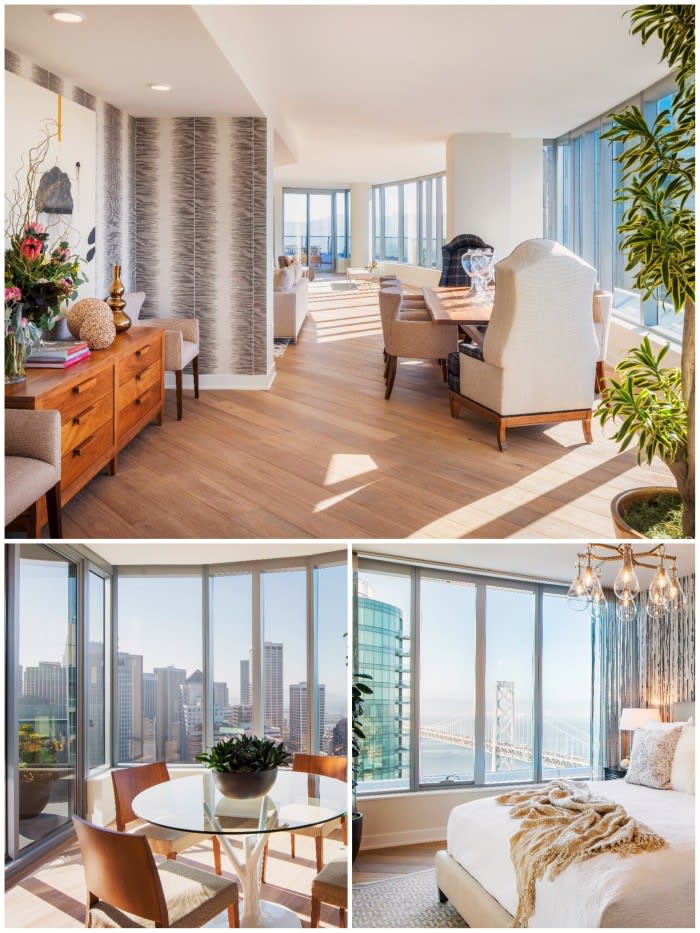 A Penthouse at Lumina in San Francisco for $8,895,000


San Francisco is not without its share of spectacular penthouses for sale, from the Lumina penthouses in South Beach, with their stunning views of the City and Bridge (starting at $8,895,000), to the elegant Grand Penthouses at The Pacific, the new ultra-luxury Pacific Heights development.
The Penthouse at 1201 California Street in San Francisco


Over the years, I've been thrilled to sell some of the City's most architecturally significant penthouses, including the South Penthouse at Cathedral Towers (1201 California), designed by Charles Weeks and William Day of Weeks and Day, the architectural duo responsible for the Mark Hopkins Hotel, the Huntington Hotel and the Brocklebank Apartments on Nob Hill.


Featured in "Architectural Digest," it is one of over 20 apartments I've sold at this great San Francisco landmark over the years, which is famously said to be the home (apartment 1001) of the crafty adventuress Brigid O'Shaughnessy in Dashiell Hammett's classic novel and film, "The Maltese Falcon."
Humphrey Bogart at Brigid O'Shaughnessy's SF Apartment in "The Maltese Falcon"


With City and Bay views that are truly "the stuff that dreams are made of," the 1927 high-rise is in the beautiful Spanish Revival style for which California architects such as Julia Morgan (a colleague of Charles Weeks) are known.


By the way, since Halloween quickly approaches, here's an amusing side note. After architect Weeks died in 1928, it wasn't long before his wealthy widow, Beatrice Weeks, found another mate -- and the man she wed was legendary spooky actor Bela Lugosi!
Bela Lugosi as Dracula; with wife Beatrice Weeks in SF (below).

Lugosi had a Scandalous Affair with Clara Bow (top right)


They met while he was staying at the Mark Hopkins during a stage production of Dracula, and in a period of 10 days were married, lived together at the Huntington AND divorced! She blamed the break-up over Bela's "monstrous" behavior at home... and his affair with "vamp" Clara Bow.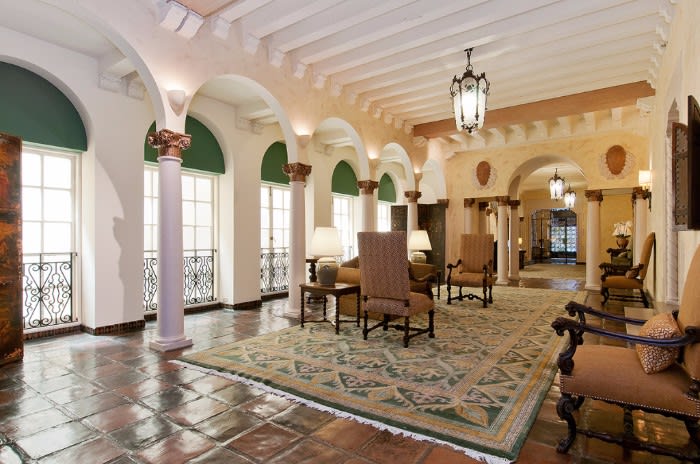 The Lobby of The Francesca on Nob Hill

www.850Powell106.com


While The Francesca at 850 Powell Street, another venerable Art Deco classic, has not yet figured in a major novel or Hollywood love triangle, it is also nonetheless one of Nob Hill's important buildings with top floor condos that are among my favorite in the City.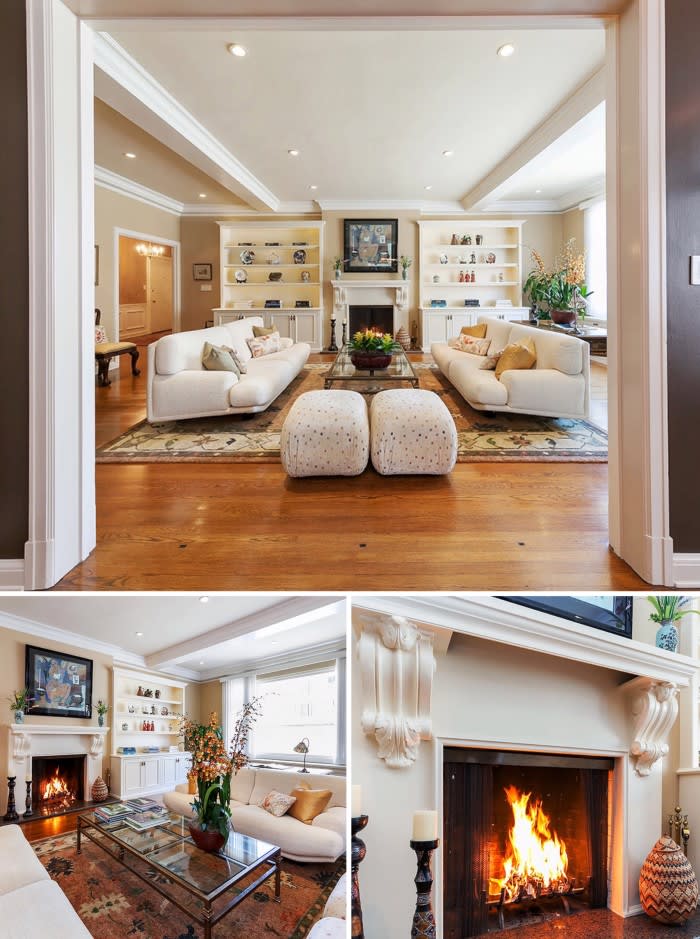 A Grand Park Avenue Style Residence at The Francesca on Nob Hill, $1,795,000
www.850Powell106.com


When I sold the Northeast Penthouse at The Francesca, which was also featured in "Architectural Digest", I had the shortest commute of my career -- it was originally part of the adjoining residence which Yours Truly happens to live in!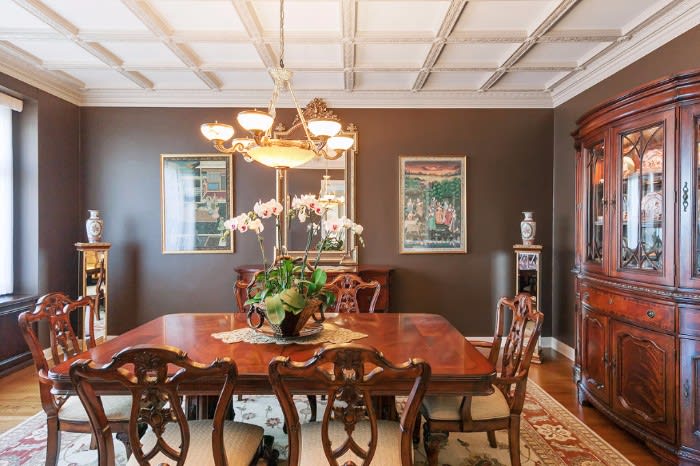 A Grand Park Avenue Style Residence at The Francesca on Nob Hill, $1,795,000
www.850Powell106.com


Currently I'm delighted to be selling another impressive residence in the building -- on the ground floor, a beautiful 3-bedroom, 3-bath with formal dining room (it still has the original 1920s coffered ceiling!), a den, storage pantry, and beautiful hardwood floors, making up just some of its charms.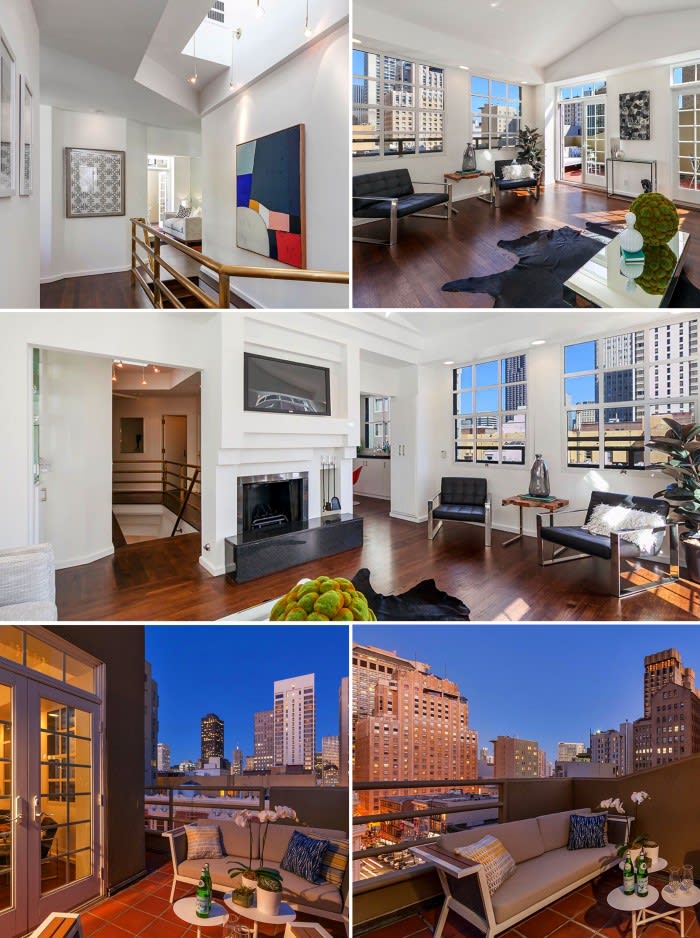 Two-Level Downtown Penthouse With Terrace for $1,695,000
www.611MasonStreet708.com


Another exciting penthouse apartment I've just put on the market, with fellow listing agent David Barrett, is a sophisticated, two-level residence in downtown SF with spectacular skyline views, and a large wrap-around terrace.


The living room, with cathedral ceilings, large windows and a woodburning fireplace, is fantastic.


Absolutely love it!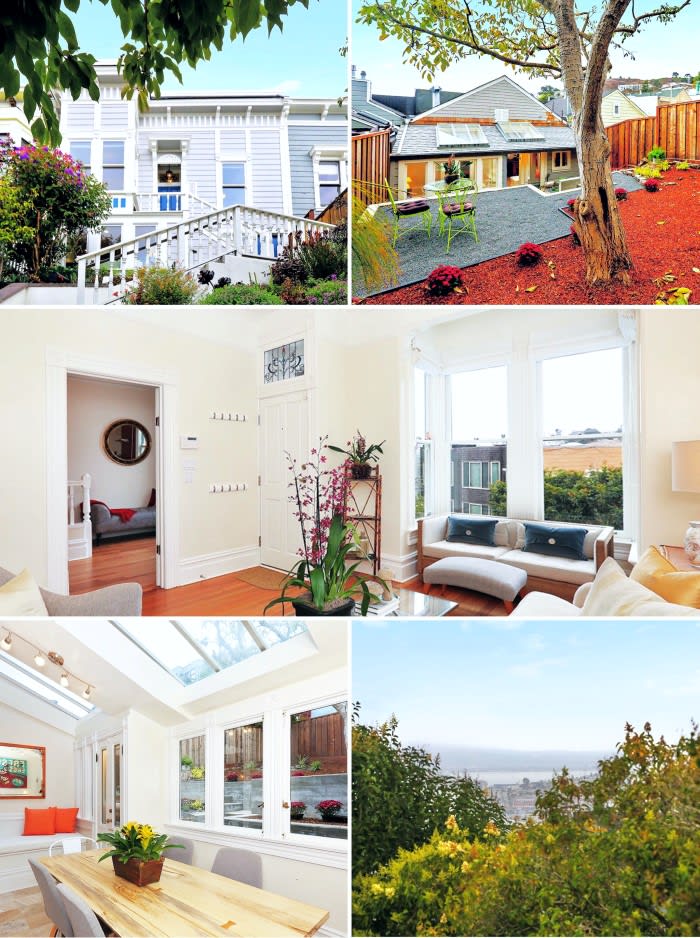 A Corona Heights Remodeled Victorian for $1,595,000
www.242Corbett.com


As high-rise living isn't for everyone, San Francisco provides a fantastic variety of neighborhoods and architectural styles to suit practically anyone.


In Corona Heights, a tree-lined neighborhood with panoramic views in the hills above The Castro, I'm currently selling a wonderful 2-bedroom, 2-bath Victorian home that combines classic architectural elements with a contemporary remodel.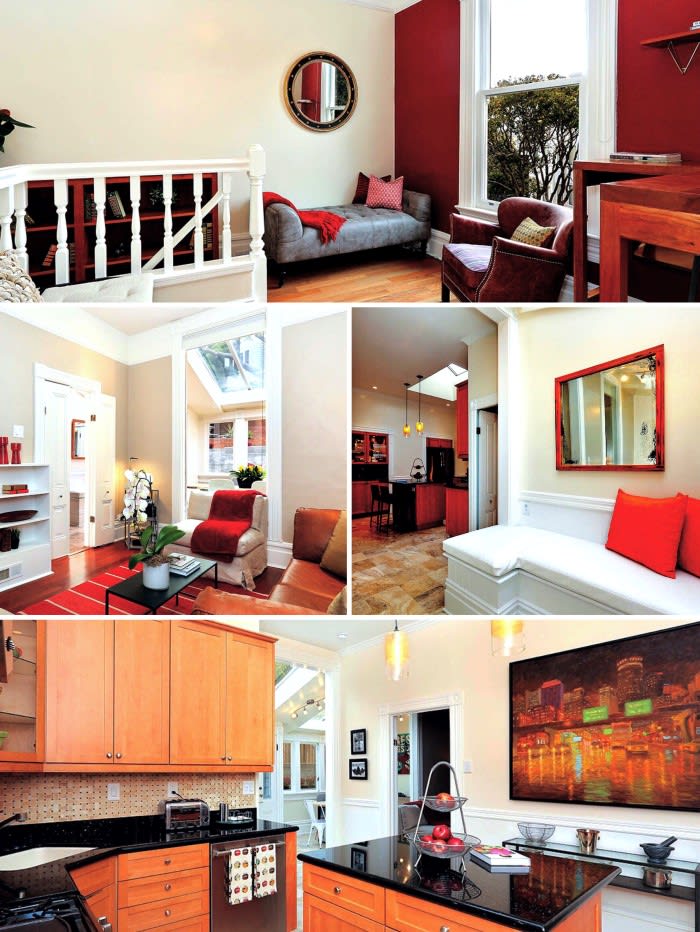 A Corona Heights Remodeled Victorian for $1,595,000
www.242Corbett.com


The home also has a gourmet kitchen, solarium/dining room, office, storage room, laundry room, and a neatly manicured backyard with garden and patio!


A $200,000,000 Bargain? Plus, Cher!



Tom Perkins' Exquisite Belvedere Home for $16.5 Million


In the United States ultra-luxe market, there are four exciting properties that have just become available.


In the San Francisco Bay Area, the exquisite 1928 Julia Morgan-designed Tudor estate in Belvedere of late venture capitalist Thomas Perkins (called "The founding father of Silicon Valley") has been listed for $16.5 Million, with its world-renowned views of the Golden Gate Bridge and San Francisco.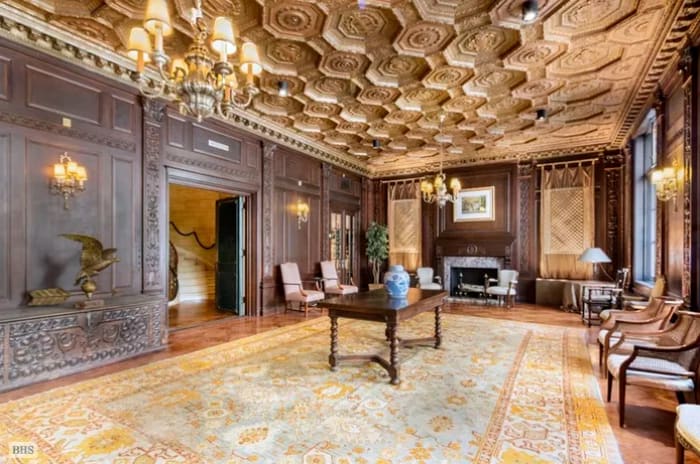 The Dommerich Mansion at 50 East 69th Street for $72 Million


In New York, a $72 Million Beaux Arts-era 7 story limestone mansion on the Upper East Side features extraordinary, original architectural detailing, including the intricate coffered ceiling in the ballroom-sized living room, an elegant limestone facade, and original 1917 curved staircase that stretches all the way to a stunning stain glass dome at the top.


The house also comes with 14(!!) marble fireplaces, 3,350-square-feet of outdoor space, and two elevators.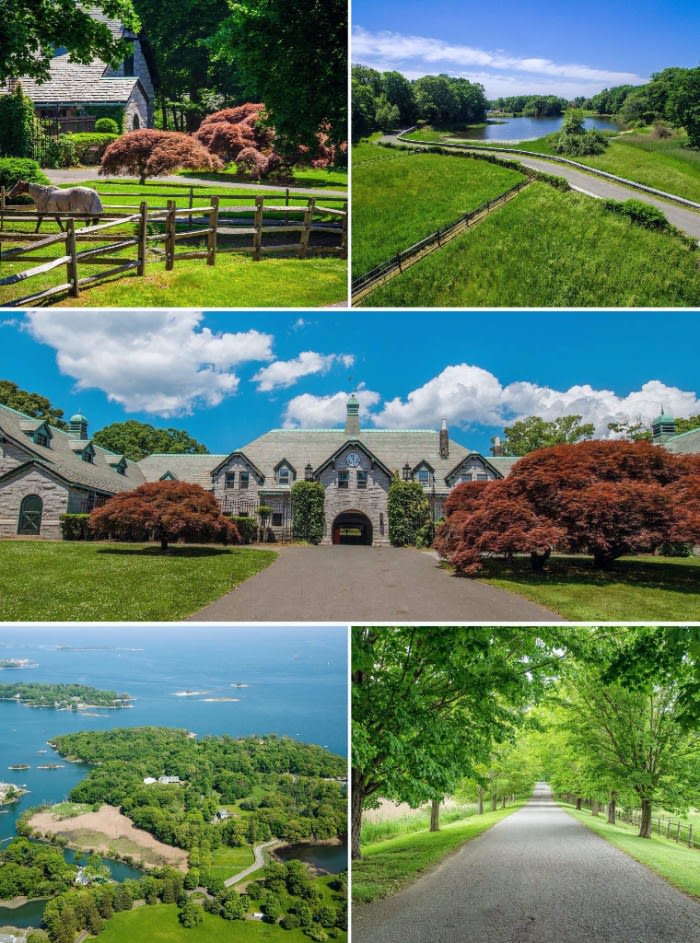 Great Island in Connecticut for $175 Million


Just 55 miles from Manhattan, a private 63-acre Connecticut island facing Long island Sound, with a land-bridge to Darien, and a driveway half a mile long, just hit the market for $175 Million.


If it sells for anywhere near that price it would dwarf the current record of $147 Million for the Hamptons residence that sold in 2014, and rank as the most expensive residential sale in the United States.


Unless Petra Eccelstone Stunt's home breaks that record first...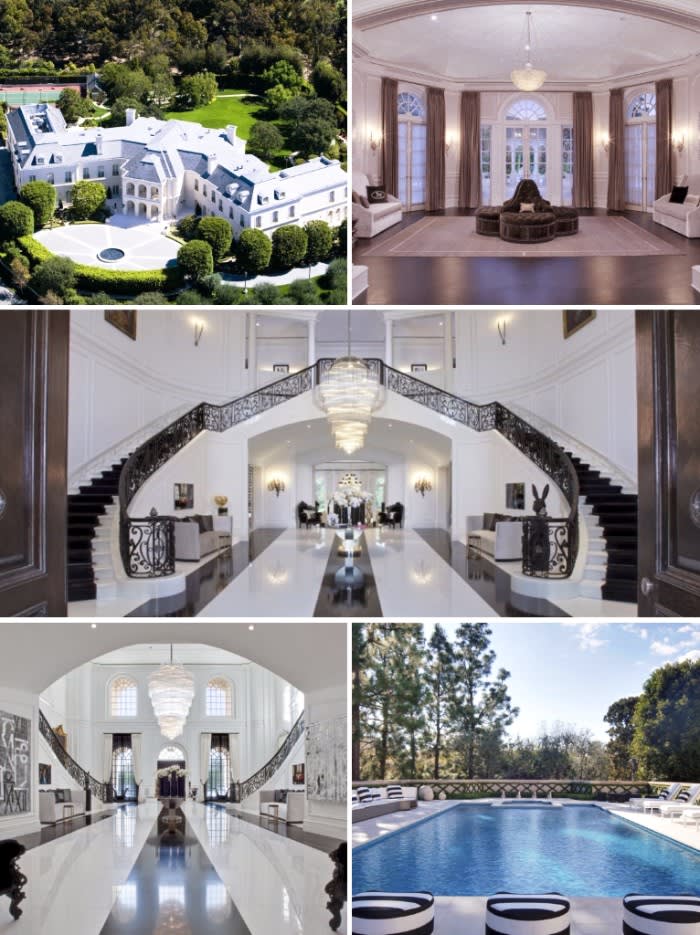 The Manor in Holmby Hills for $200 Million


On the other side of the country The Manor in prestigious Holmby Hills, the largest private residence in Los Angeles, just hit the market for $200 Million. The 56,500-square-foot mansion owned by British heiress Petra Ecclestone Stunt is listed at roughly $3,500 a square foot.


The number is certainly jaw-dropping -- yet, if the property sells for its listing price, it would be a price-per-square-foot bargain compared to the Playboy Mansion (which sold to Daren Metropoulos over the summer for $5,250 a square foot), and other properties from San Francisco to New York to Hong Kong which have sold from $5,300 to $27,000 (!) per square foot.


With a sleek, contemporary renovation, it also looks quite a bit different than when it was built by legendary television producer Aaron Spelling (well-know for Dynasty, Charlie's Angels, and other popular TV series) and wife Candy. Having been bought in 2011 for $100 Million it will be an interesting barometer of the super-luxury market to see the new sales price, so stay tuned!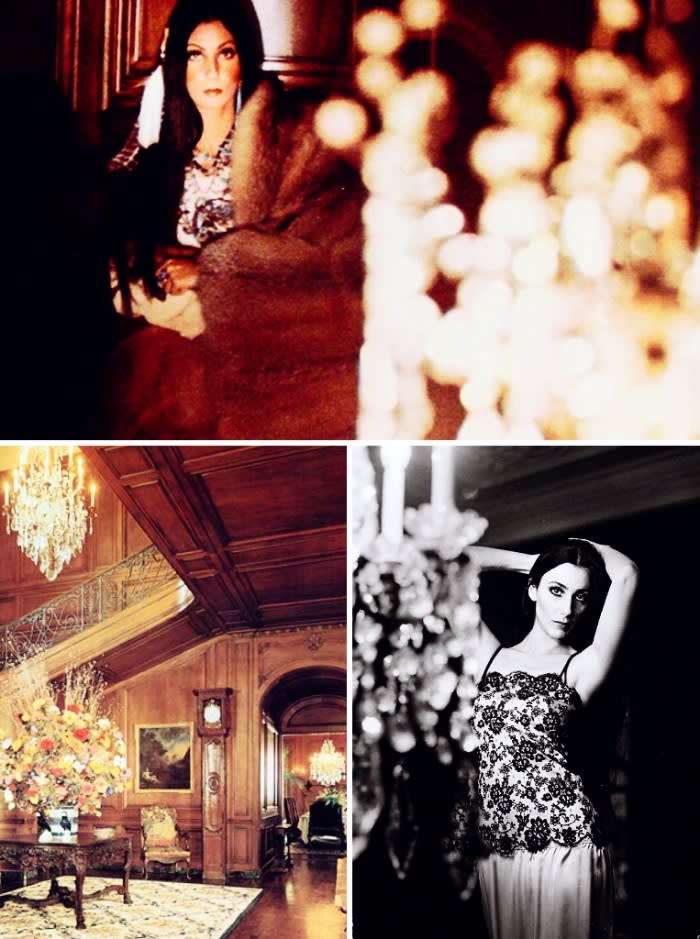 Cher at Owlwood, 1974 -1975 (beautiful chandeliers!)


The Los Angeles ultra-luxe market has been quite active this year, with the most recent sale being the historical 1930s Owlwood Estate -- also in Holmby Hills -- selling for $90 Million.


In addition to its incredible architectural pedigree, it has been home to music and movie stars such as Cher, Tony Curtis, the Hotel Bel-Air founder Joseph Drown, and Joseph Schenck, co-founder of 20th Century Fox.
Owlwood Just Sold for $90 Million


From Passive to Massive, New Architectural Developments


Across the US and around the world, the current economic cycle's massive building efforts are reflected in the launch of New York's Hudson Yards' first condo sales, with much more to come.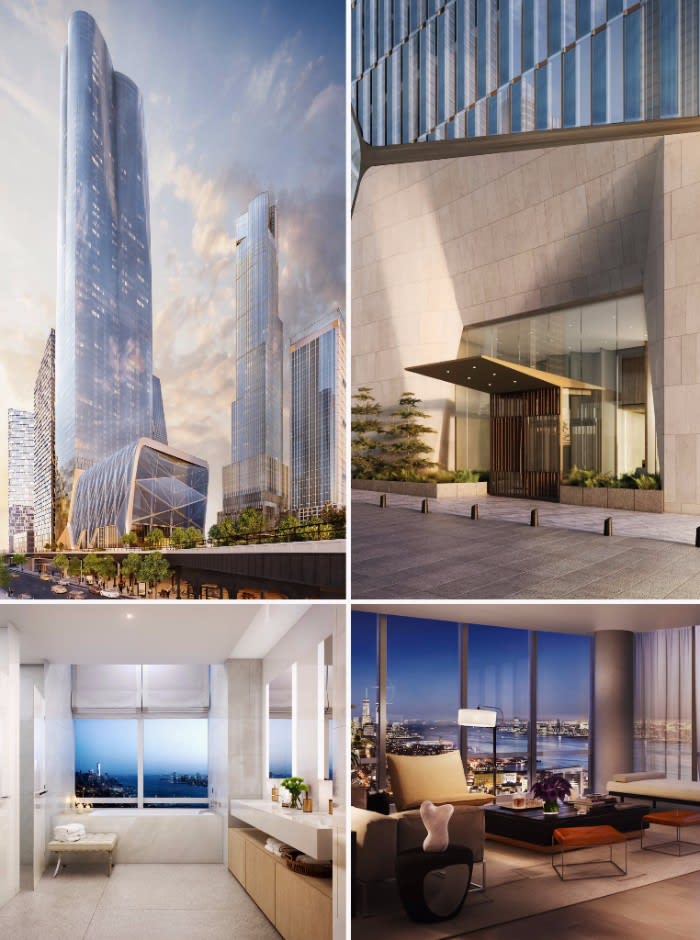 New York's Hudson Yards


The 26+ acre development currently under construction over the West Side Rail Yard is the largest of its kind -- expected to consist of 16 skyscrapers containing more than 12.7 Million square feet of new office, residential, and retail space!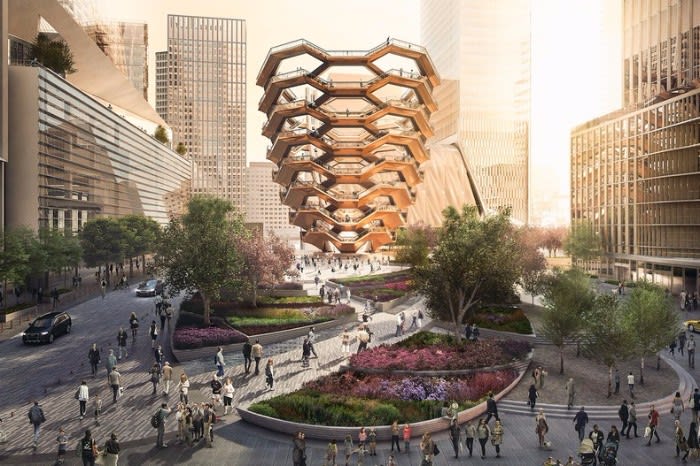 "The Vessel" by Thomas Heatherwick at Hudson Yards


In an interesting convergence of sculpture, architecture and public spaces, the new landmark at Hudson Yards (working title, "The Vessel") is already being called "one of the great public squares of New York City."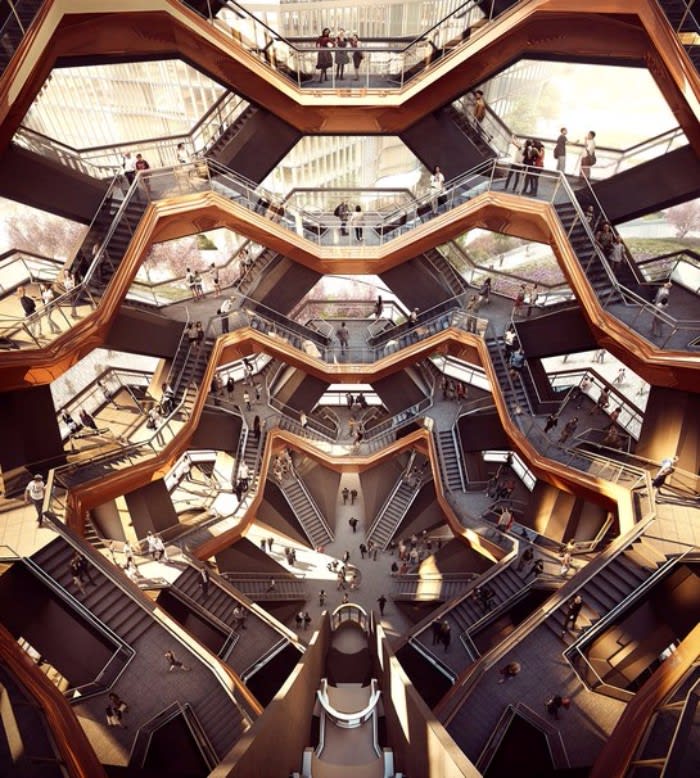 "The Vessel" by Thomas Heatherwick at Hudson Yards


Designed by British starchitect Thomas Heatherwick, it will feature 154 interconnected staircases that altogether will offer a mile's worth of pathway rising up above the Gardens, intended to "lift people up to be more visible and enjoy new views and perspectives of each other."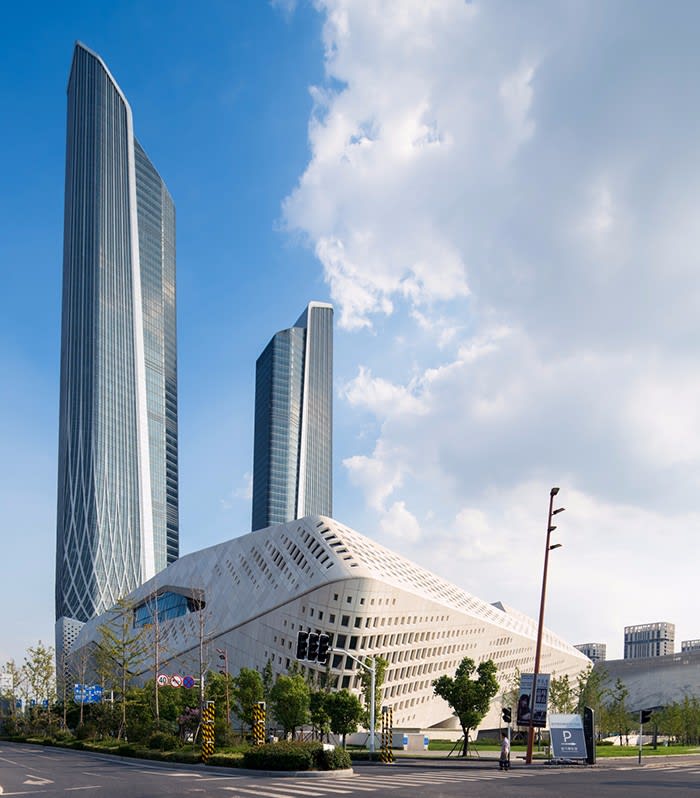 Zaha Hadid's International Youth Culture Center in China


The convergence of futuristic architecture juxtaposed with classical buildings continues with the preliminary approval of the Natural History Museum's expansion in New York. And the completion of the late starchitect Zaha Hadid's swooping and undulating International Youth Culture Center in China further cements her status as one of the great architects of all time.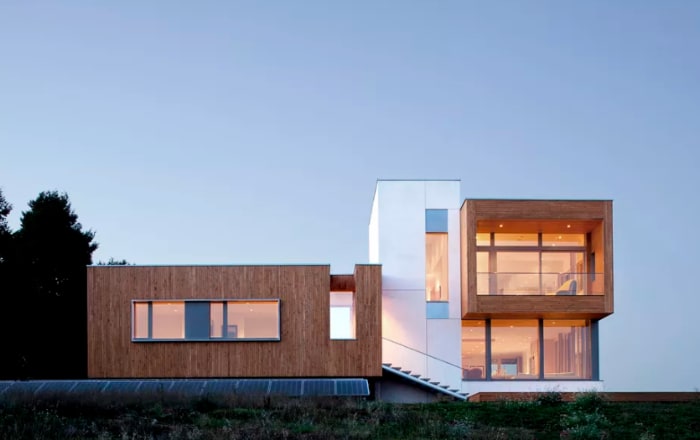 A Passive House by Holst Architecture in Oregon


On the green building front, we are seeing an increasing number of "passive houses." Essentially, a passive house is designed to be extremely energy-efficient so that it doesn't take a lot of power to heat or cool. To be designated as a passive house, a building must embody a set of specific best practices that seal it from outside temperatures while maintaining a stable inside temperature and high air quality.


High Prices for High Fashion Property: Gucci & Tiffany in SF


Meanwhile the seemingly never-ending San Francisco building boom continues with the development of the largest single commercial development in the City: the 5,000,0000 square foot San Francisco Shipyard, along with the nearby Candlestick Park redevelopment, spans about 760 acres and also has approvals for a total of 12,000 homes.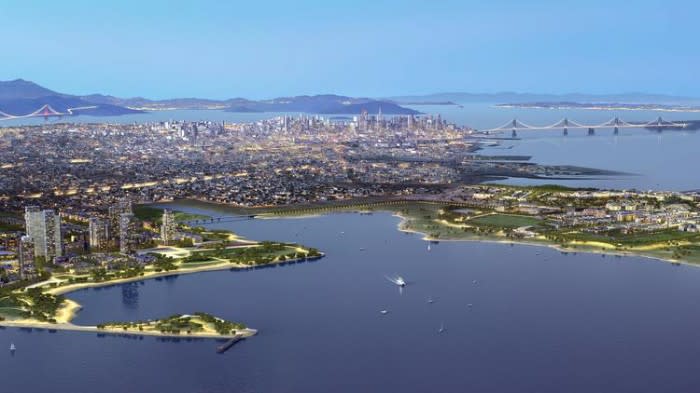 A Rendering of the Hunters Point Shipyard


One question is: how will all this new construction be filled up in the future?


The latest employment numbers are certainly encouraging, with a record 543,400 people now working in San Francisco and other parts of the Bay Area, now essentially becoming a giant Silicon Valley, are at or near record highs!


I will be tracking this closely, so assuming these trends continue, we should be in great shape. (I was delighted to be quoted this month in Forbes as well as the Financial Times regarding the latest developments in the San Francisco luxury market, and will have more info in my upcoming 2017 Real Estate Crystal Ball Report!)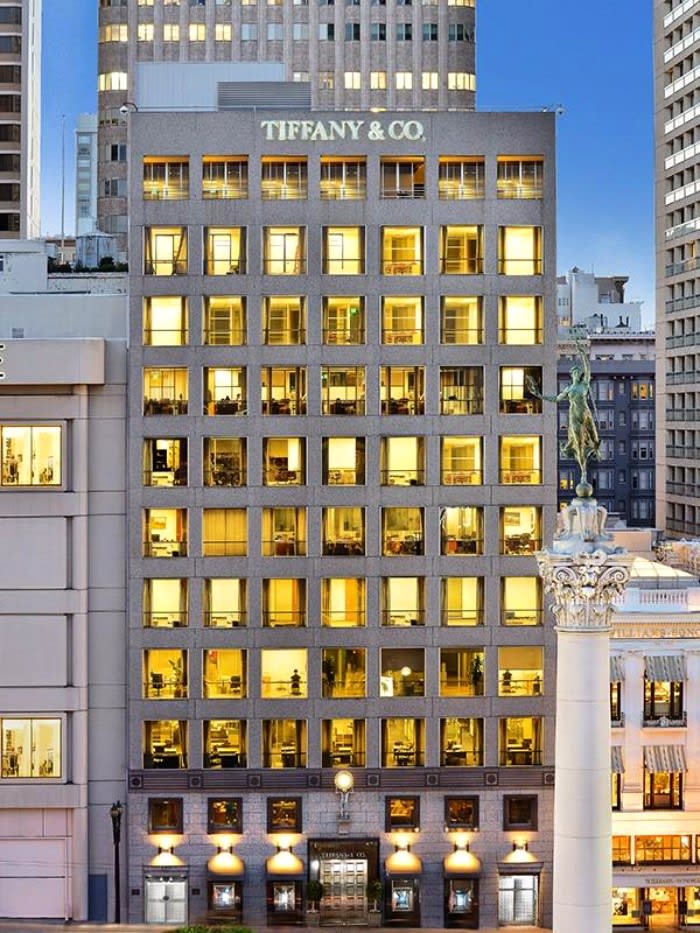 The Tiffany Building Just Sold for $135 Million


Investment in the City also continues strong with the sale of the Gucci building on Union Square to Grosvenor Americas, and the sale of the Tiffany Building to a European investor -- two very rare sales of prime Union Square real estate.


Live Like Jackie, Bette and Marilyn!



Jackie Kennedy's Childhood Home for $38 Million


The celebrity real estate world features some fascinating properties this month, including the iconic Jackie Kennedy's childhood home in East Hampton "Lasata".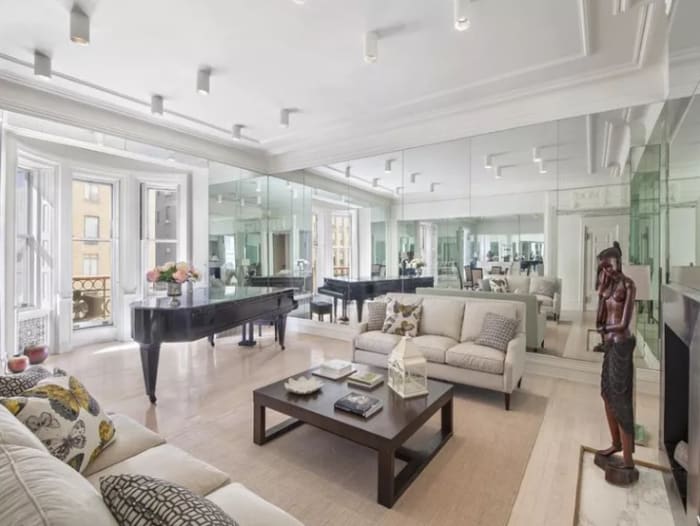 Roberta Flack's Apartment at the Dakota for $7.5 Million


Pop superstar Roberta Flack's all-white apartment at the one and only Dakota on Manhattan's Central Park West, home to countless celebrities, is now on the market.


And an Upper East Side townhouse, formerly home to Marilyn Monroe, as well as Bette Davis and Irving Berlin is now available for rent for $26,500 per month.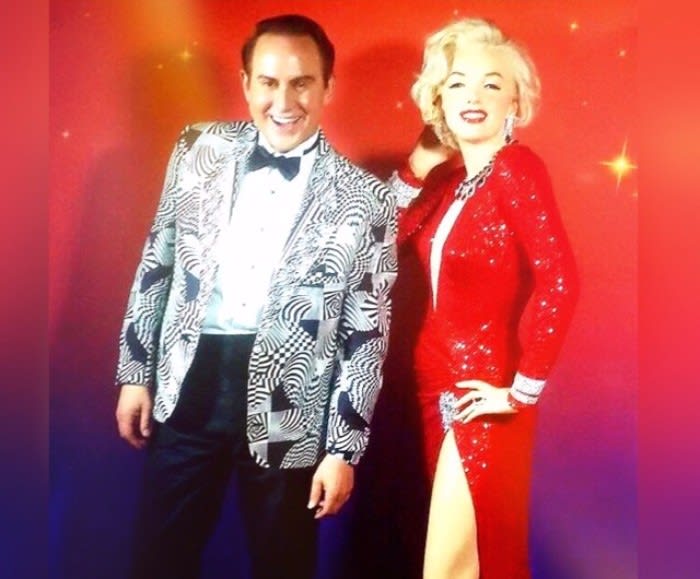 Yours Truly with the One and Only Marilyn Monroe!


The Month Ahead


In a stunning piece of philanthropic news, Mark Zuckerberg and Dr. Priscilla Chan just donated an extraordinarily generous $3 Billion to the University of California San Francisco's Mission Bay biomedical research hub, further cementing its status as one of the world's premiere medical research centers.


Truly in the San Francisco/ Silicon Valley/ Bay Area spirit -- what a place to live!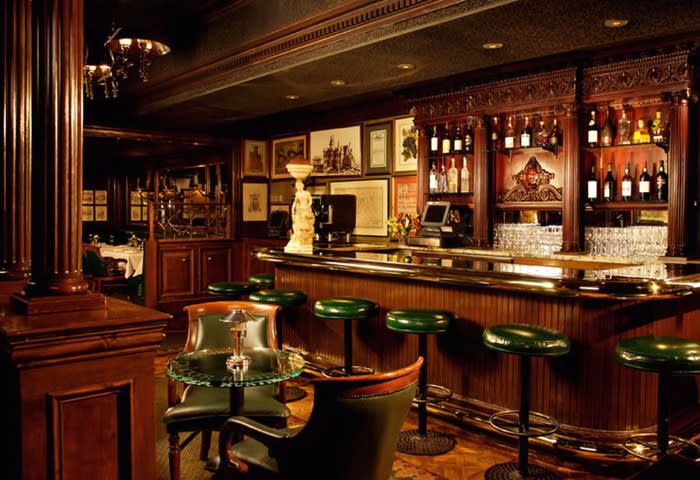 The Big Four on Nob Hill is now 40 Years Old!


Meanwhile the Fall/ Winter social-go-round continues in full swing. The iconic Big Four restaurant in Nob Hill's historic Huntington Hotel, originally decorated by the legendary Tony Hail, and an integral part of the City's social life and history over the decades, is celebrating its 40th birthday, so be sure to put that on your list!


And as a preview of November events, look for the "Evening Under the Sea" gala benefiting WildAid's efforts to end the illegal wildlife trade, the opening of Serenity MedSpa's new, enlarged space, and appearances by Bjarke Ingels, Francis Ford Coppola, Joseph Hartig, Jeremiah Tower, Marina Abramovic, and others!


Wishing you and your loved ones an enjoyable month- and I look forward to seeing you around town!