With glittering opening night galas for our Symphony and Opera, a slew of fashion events, cocktail parties, and glamorous black tie benefits, the Fall social season has arrived in San Francisco!


And with it, the Fall real estate season is taking off at breathtaking speed, with a wonderful selection of properties going on the market throughout the Bay Area.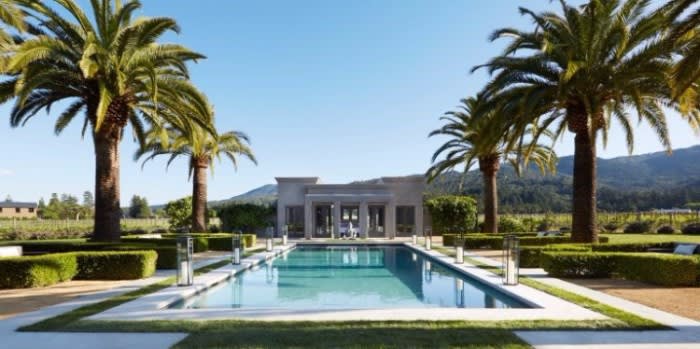 RH Residence in Napa for $10.5 Million


The first property to catch my eye is the Wine Country residence of Restoration Hardware CEO Gary Friedman. Completely designed by the RH design team, every item in the $10.5 million home is from Restoration Hardware... including the wine!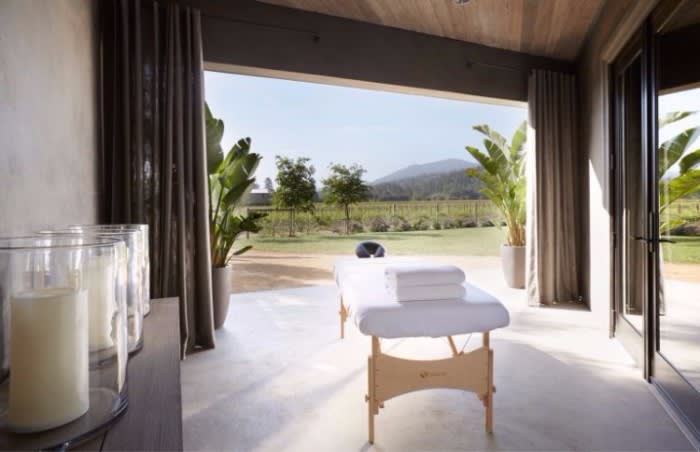 The Yoga Room at RH Residence in Napa


In the East Bay is a beautiful home I gave you a preview of last month, and now I am pleased to put it on the market for $8,385,000.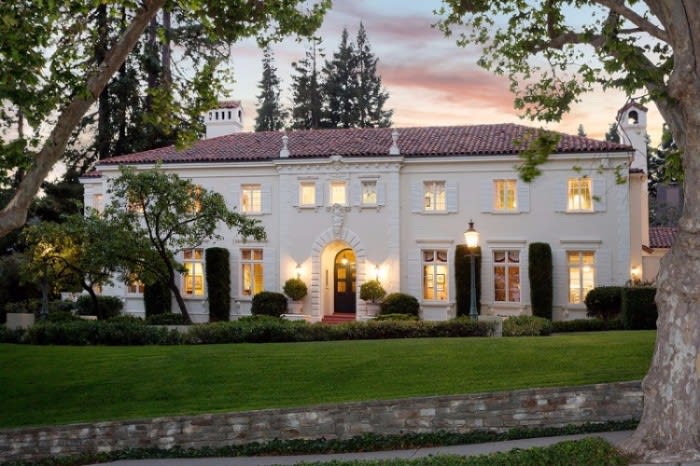 Delighted To Be Listing Piedmont's Iconic Hampton House!
-- www.MagnificentPiedmontEstate.com --


Designed by starchitect of the 1920's Albert Farr, the iconic Piedmont's estate known as Hampton House has been featured in "Architectural Digest", and "Town & Country" magazines, and now nearly 100 years later -- with its exquisite Italianate Mediterranean style, fabulous architecture, indoor-outdoor living and award-winning gardens -- remains a perfect residence for a modern California family!
Beautiful Beaux Art Penthouse on Nob Hill
-- www.1242Sacramento5.com --


This fall, I'm also delighted to be representing several super-exciting properties throughout San Francisco. Located in the most desired neighborhoods, my current and upcoming listings represent a wonderful selection of design styles and wide range of prices. Variety is the spice of life, and we certainly have it here!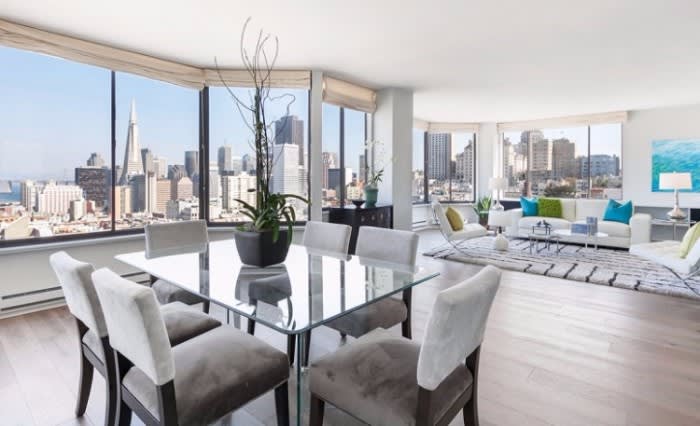 Spectacular Views From This Nob Hill Penthouse
-- www.NobHillPenthouse.com --


On Nob Hill, there's a a beautiful Parisian-style penthouse in one of the City's great Beaux Arts-style buildings, and a sleek, light-filled penthouse with incredible panoramic views.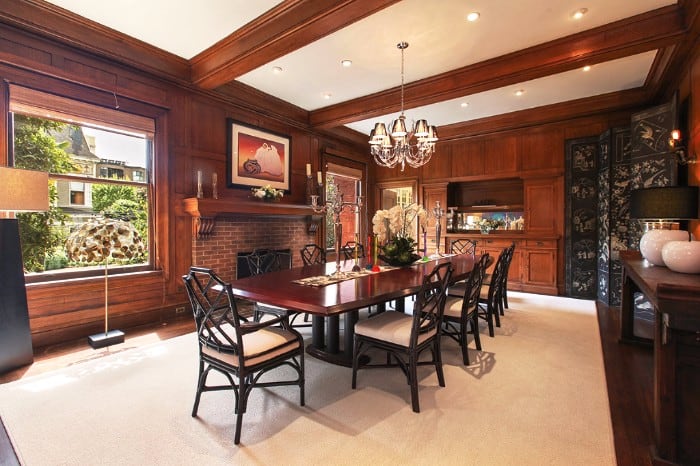 A Pacific Heights Georgian Manor
-- www.1735Franklin.com --


In Pacific Heights I'm representing a historic Georgian manor, and a very rare Pacific Heights development opportunity (call or email me for details!)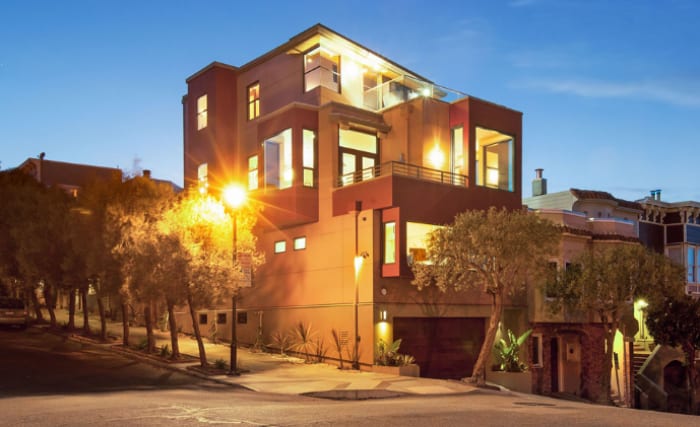 Panoramic Views From This Potrero Hill Townhouse
-- www.398PennsylvaniaAve.com --


In Potrero Hill I'm pleased to present a modernistic, multi-level townhouse with private terraces and panoramic views of the Bay and skyline, in SOMA a penthouse loft in the coveted Stanley Saitowitz-designed 855 Folsom, and in the Financial District, an exquisitely-designed 41st floor condo with glittering views.


Truly a reflection of the San Francisco Bay Area's extraordinary architectural diversity!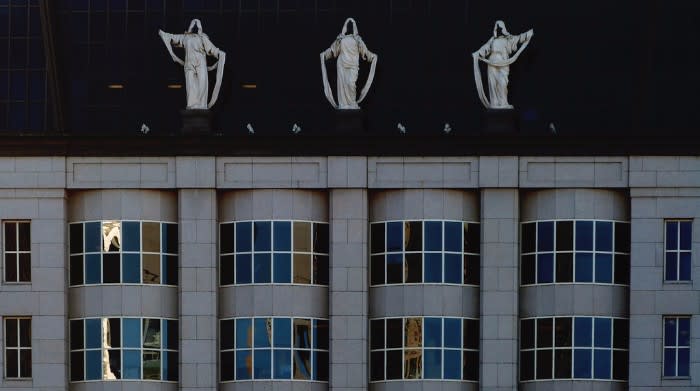 Muriel Castanis' Corporate Goddesses Atop 580 California Street


And speaking of the financial district, here is a rarely-seen look at the ornamentation atop many of its highrises, from 580 California's "Corporate Goddesses," to the Federal Reserve Building's eagles, and many others.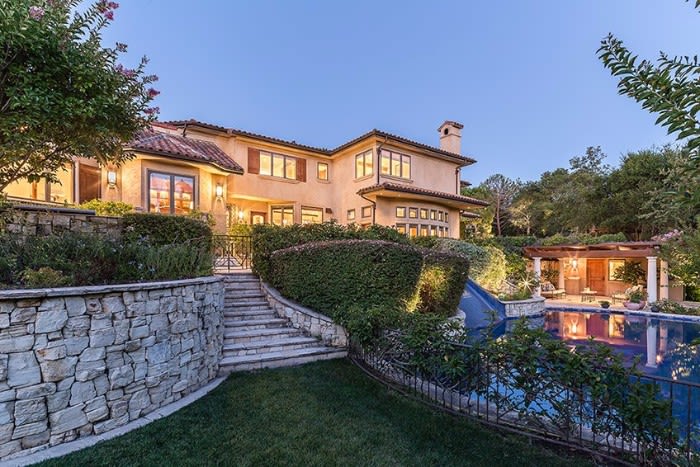 Luxurious Mediterranean Estate in Los Altos Hills for $9,988,000


Looking at exciting properties south of San Francisco, I particularly like a listing in Los Altos Hills that's now on the market for $9.988 million.


Subtly evoking an elegant Tuscan estate, the luxurious, custom built residence has clearly been designed to enhance its owners enjoyment of the idyllic hilltop setting -- a private, 4.4 acre property with beautifully landscaped grounds and a pool. This home is a prime example of why Los Altos Hills is considered one of the most desirable communities in the United States.
A Beautiful 6 Acre Estate in Woodside for $39.5 Million


Other noteworthy listings within the last two weeks include a 6 acre estate in Woodside which provides beautiful views of the hills and an ideal setting for $39.5 million, a 4.42 acre ranch in Portola Valley for $22.8 million, and an elegant Atherton estate for $13.995 million designed by the great Andrew Skurman.



Atherton Estate by Andrew Skurman for $13,995,000


So as we begin the Fall, overall real estate inventory throughout the Bay Area is up, with a strong start in the luxury market beginning with excellent sales at The Heights ($3,750/ square foot) and at LuXe ($2,642/ square foot), Pacific Heights' first new ultra-luxury developments in decades.


Meanwhile the City's venerable Russian Hill neighborhood may also see a new boutique development, also the first in many years, as changes inexorably come to San Francisco's most historic areas.


AbFab Design from Cardin, Valentino, and Bowie!



The "Absolutely Fabulous" Bubble Palace, for $450 Million


Over the Summer I enjoyed the comedy, "Absolutely Fabulous," which in a fun convergence of movies, fashion and real estate, provided a cameo appearance by Pierre Cardin's "Bubble Palace," in the South of France -- a home I first told you about in my August 2014 issue, and now on the market for $450,000,000!



India Mahdavi Designed The New Red Valentino Store in London


Meanwhile in London, the latest Red Valentino boutique designed by the wonderful India Mahdavi is a stunning intersection of fashion and design-- in fact, you might even get some great ideas for your own walk-in closet!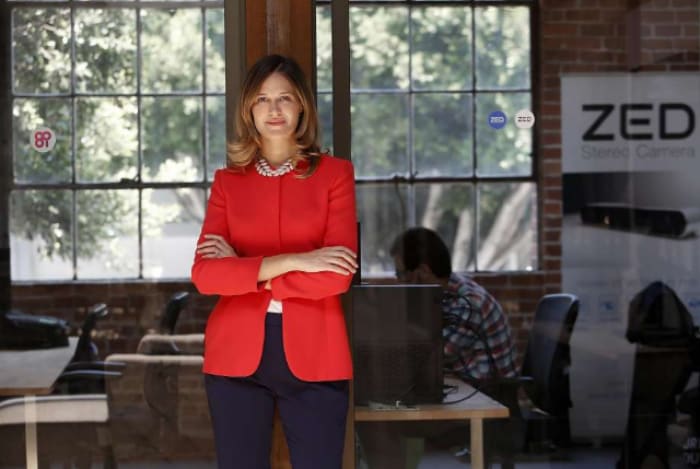 San Francisco Tech CEO Cecile Schmollgruber is Part of a New Giorgio Armani Campaign
Photo: Liz Hafalia, The Chronicle


In San Francisco, another example of the meeting of fashion and technology can be found in Carolyne Zinko's profile of Stereolabs 3D CEO Cecile Schmollgruber, whose office is on Mission Street and who was recently selected by Giorgio Armani to join Cate Blanchett, Helena Rizzo, Kee-yoon Kim, Yuja Wang, and Charlotte Ranson in launching the new "Sì Intense" perfume with a campaign encouraging women to say "yes" to their dreams.


Schmollgruber is at the forefront of emerging virtual reality technologies, so we'll be hearing more from her in coming years!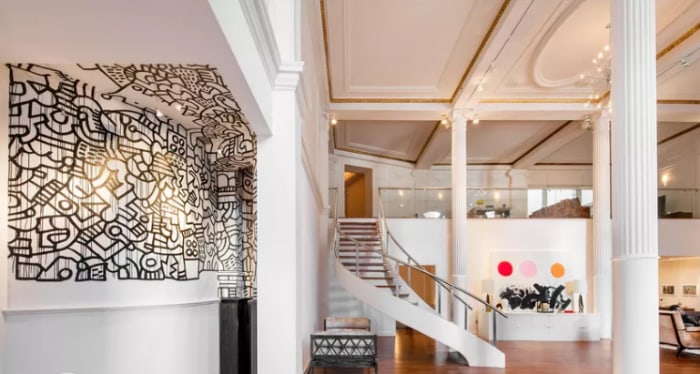 Tribeca Triplex With Keith Haring Mural for $11.995 Million


Great homes deserve great art, but in the case of one new listing, art is part of the home! One of the most intriguing properties on the market is a spectacular Tribeca triplex, currently on the market with Douglas Elliman for $11.995 million, which includes an original Keith Haring mural painted on the wall (valued at $1 million.) Talk about a unique amenity!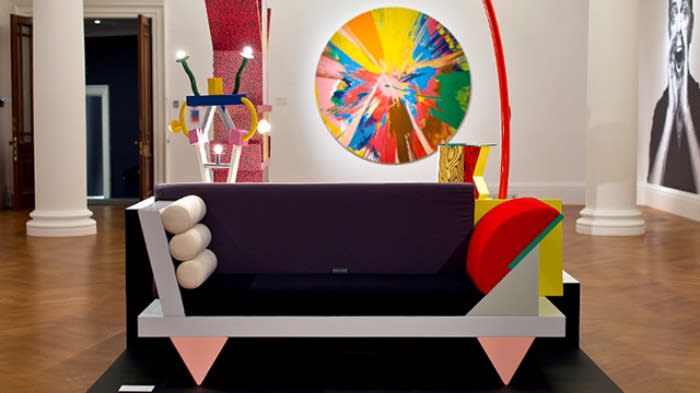 Highlights from the Upcoming David Bowie Auction


Speaking of art, one of the most highly anticipated art auctions of the Fall is the David Bowie collection, to be sold by Sotheby's in London on November 10th and 11th.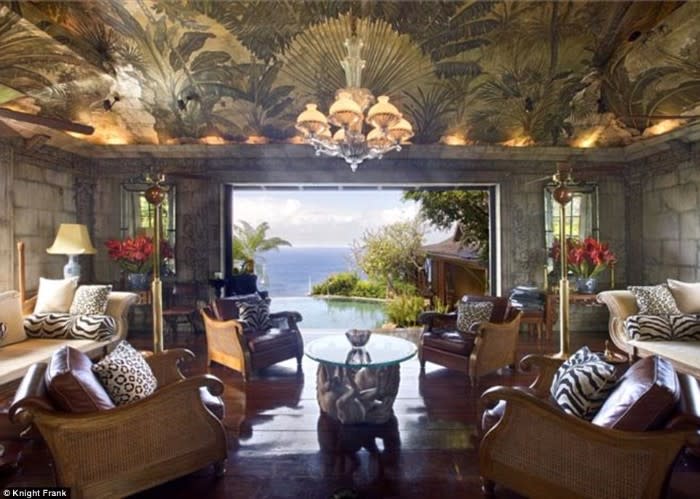 David Bowie's Caribbean Mansion for $20 Million


If his art collection isn't enough, you can even buy one of his many homes. Designed for Bowie by Swedish architect Arne Hasselqvist in 1989, his mansion on the island of Mustique is now available for approximately $20 million.


Keeping it Modern



The Absolute Towers in Mississauga, Canada


With the ever-evolving futuristic trends in current architecture predominating in this century, I'm glad to see that the Getty Foundation is making important progress in preserving some of the more daring works of the last century, giving them a much-needed 21st century renovation through the newly created "Keeping it Modern" grant.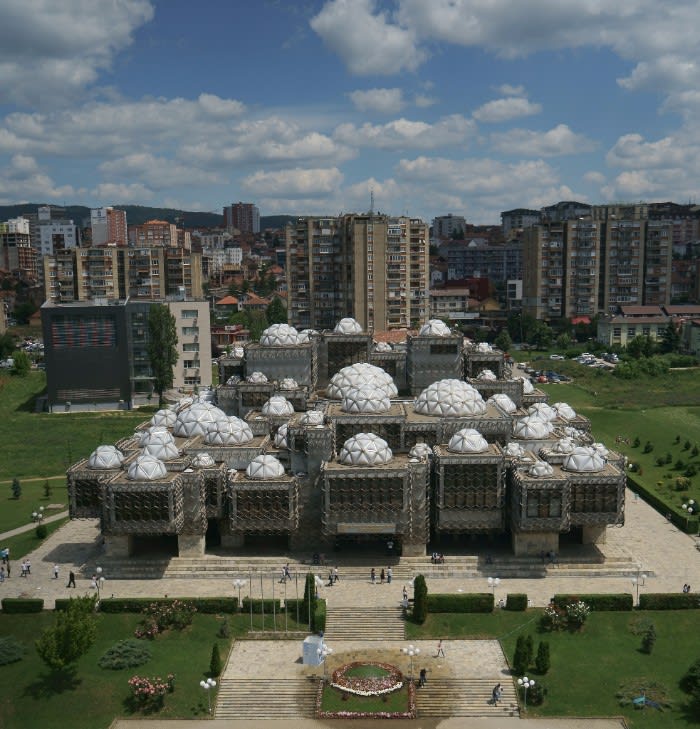 Andrija Mutnjakovic's National Library of Kosovo


This year the foundation has selected nine buildings to work on, from the extraordinary National Library of Kosovo masterpiece built in 1971, to the mesmerizing Wallace Harrison-designed First Presbyterian church in Connecticut (nicknamed "Fish Church" due its unique shape.)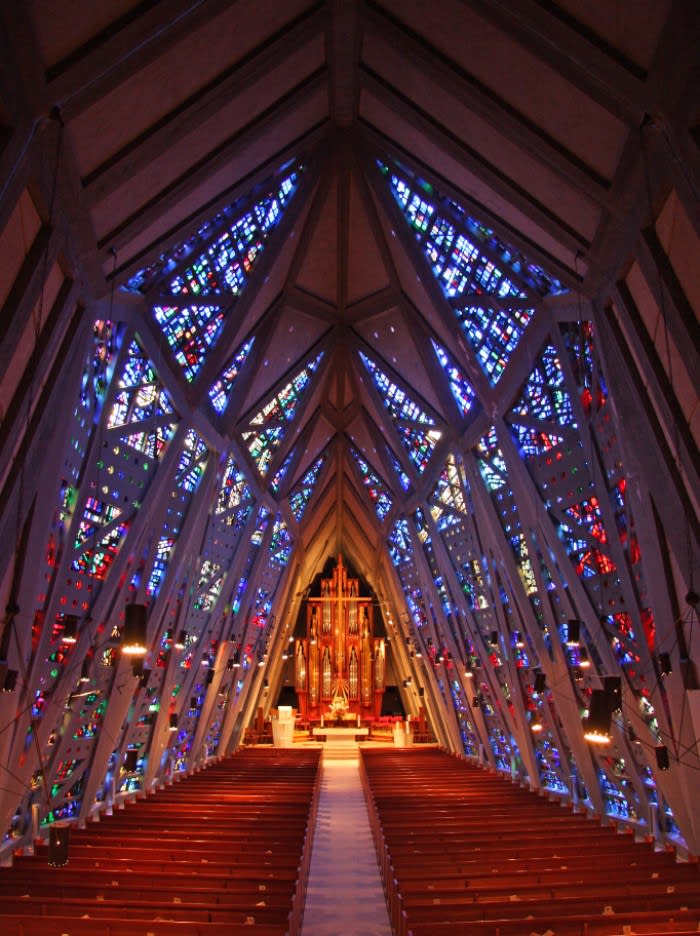 Wallace Harrison's First Presbyterian Church (1958)


Using an astonishing 20,000 pieces of amber, emerald, ruby, amethyst and sapphire glass, Harrison's Church literally sparkles inside, taking the concept of the stained glass wall to a level never seen before.
A Rendering of Ken Griffin's New Palm Beach Residence


Glass walls today are of quite a different style -- not made of amber, emerald and ruby, but designed to be seamless and invisible, as in the sleek "disappearing walls" in hedge fund trader Ken Griffin's new "Billionaire's Row" manse designed by Atelier Ugo Sap in Palm Beach.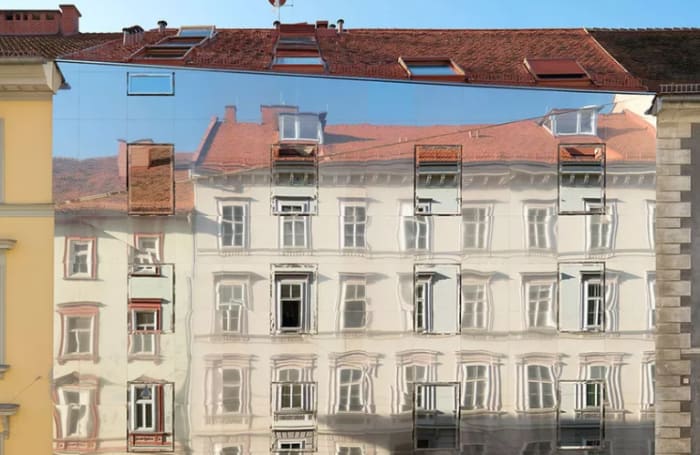 Hope of Glory's Mirrored Building of Stainless Steel in Graz, Austria


At the opposite end of the spectrum, a building made not of glass but of steel. Rather than looking into the building, the building reflects back to you!


That's the case with the steel mirrored surface of Hope of Glory's award winning building in Austria, which leaves our fascination with structures of the past unabated by a clever reflection (no pun intended!) of the historical architecture of the surrounding area onto a new building. What an ingenious melding of the old world with the new!


Billion Dollar Listing



China's Taohuayuan is approximately $154 Million


One of the world's most expensive residential projects is now on the market for $154,000,000. The 72,000 square foot architectural masterpiece, with a a replica of the famous Classical Gardens of Suzhou on its grounds, is marketed as "Taohuayuan," meaning "Utopia" (but translating literally to "Peach Blossom Land.")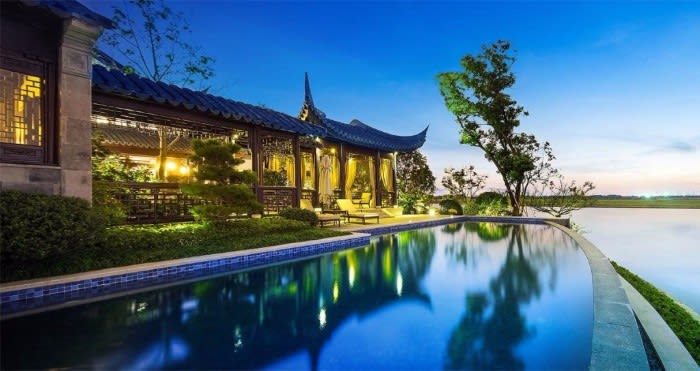 China's Taohuayuan is approximately $154 Million


The home sits on a private island on the south shore of Suzhou's Dushu Lake, China's biggest lake by surface area. It has a total of 32 bedrooms and 32 bathrooms, with all the bedrooms facing south, desired by many for optimal natural light. It is China's first "Billion Yuan" estate.
Villa Les Cedres for €1 Billion / $1.1 Billion


Meanwhile, the world's first billion dollar listing has just hit the market in St. Jean Cap Ferrat, on the French Riviera.


The 19th century property was purchased in 1904 by King Leopold II, who had it expanded and renovated by Aaron Messihah, then renamed it Villa Les Cedres.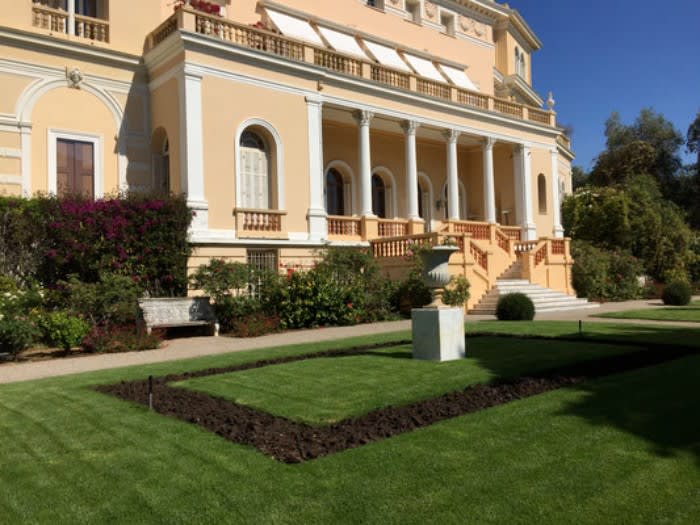 Villa Les Cedres for €1 Billion / $1.1 Billion


It became a site of scandal when Leopold moved his 18 year-old mistress, a former Parisian prostitute, into the villa with him and gave her the title of Baroness de Vaughan. Leopold owned the villa for only five years, but over 100 years later it is still retains the timeless design work that he commissioned.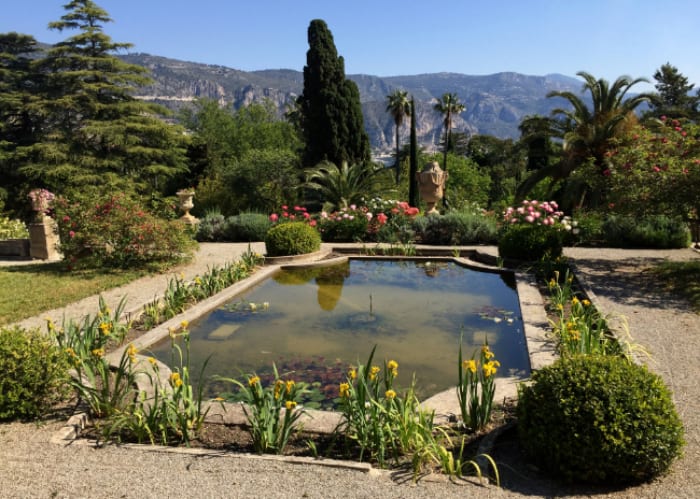 Villa Les Cedres for €1 Billion / $1.1 Billion


Villa Les Cedres is said to boast one of the most beautiful gardens in Europe, landscaped by Harold Peto and Jules Vacherot (Vacherot was responsible for the gardens at the Eiffel Tower and the Champs Elysées!)


With 35 acres of manicured lawns, 15,000 plants, and 20 greenhouses with rare tropical vegetation, it's the largest botanical garden in the world, a verdant paradise along the sea.


Another spectacular feature is the outdoor swimming pool, which is carved directly into the rocks below. The palatial home also has a ballroom and stables for up to 30 horses.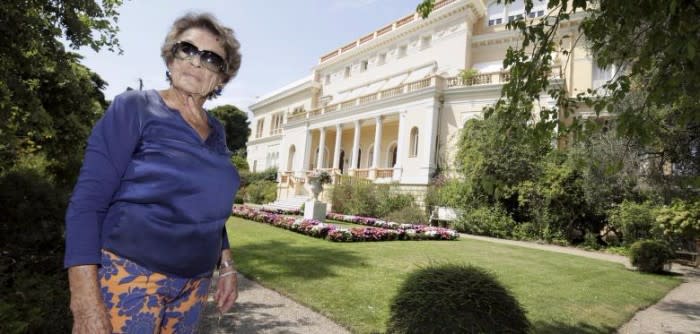 Villa Les Cedres for €1 Billion / $1.1 Billion


Current owner, Suzanne Marnier-Lapostolle, heiress to the Grand Marnier liquor dynasty, is selling in hopes of downsizing.


Neighbors include Andrew Lloyd Webber and Microsoft co-founder Paul Allen, whose "Villa Maryland" is also among the very best at Cap Ferrat, and has over the past 100 years hosted luminaries ranging from Winston Churchill to Angelina Jolie.

Highrises, High Prices and High Art



A Bjarke Ingels Design for New York


Meanwhile, back in San Francisco, the flood of international capital pouring into the Bay Area isn't slowing down, with the $452,000,000 purchase by the Norwegian Wealth fund of stakes in two FiDi higrises, and Atlanta-based Invesco's purchase of San Francisco's historic The Piers for $103,000,000.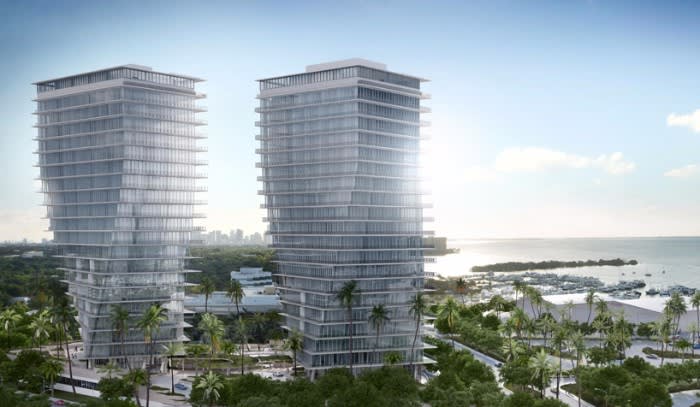 Bjarke Ingels Design for The Grove at Grand Bay, Miami


The influx of starchitect-designed highrises also continues, with the announcement that Bjarke Ingels will be designing Tishman Speyer's new SOMA highrise at 655 4th Street in SOMA. Let's hope that our city is able to bring out the best from this brilliant Danish architect -- our skyline could use more of the brash 21st century creativity that is electrifying architecture throughout the world.


As announced here last month, the City will be seeing a new Waldorf Astoria Hotel at the Sir Norman Foster/ Heller Manus- designed Oceanwide Center. Now comes word that the legendary world-wide Langham Hotels will open at 555 Harrison, developed by Pacific Eagle, the U.S. affiliate of Langham's Hong Kong-based parent, Great Eagle Holdings. The property will likely have at least 200 rooms and will be designed by renowned starchitect Renzo Piano.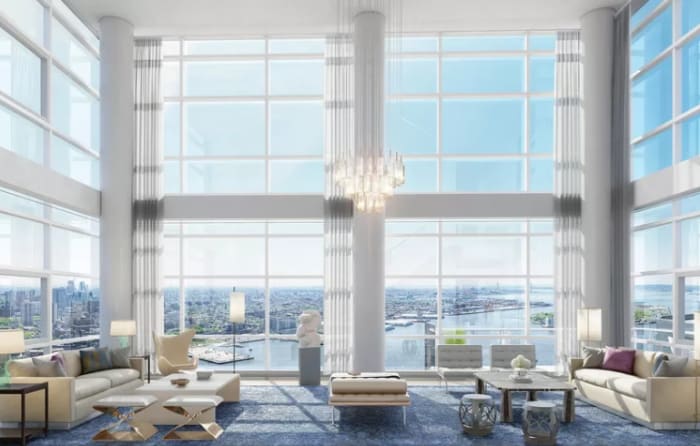 New York's Seaport Tower


In New York, the luxury building boom continues, as evidenced by New York's new Seaport Tower, which just began construction, and the Robert Stern-designed 70 Vestry.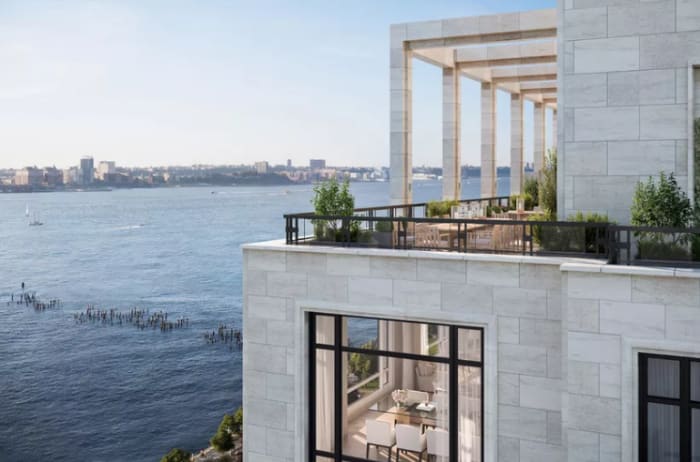 Robert Stern's New Project at 70 Vestry in New York


Also in New York we're seeing a new take on typical urban public spaces, such as Hudson Yard's The Shed which will rise six stories and contain two beam-free gallery spaces. It has a large glass canopy that, when extended,will transform the building by providing an additional performance area.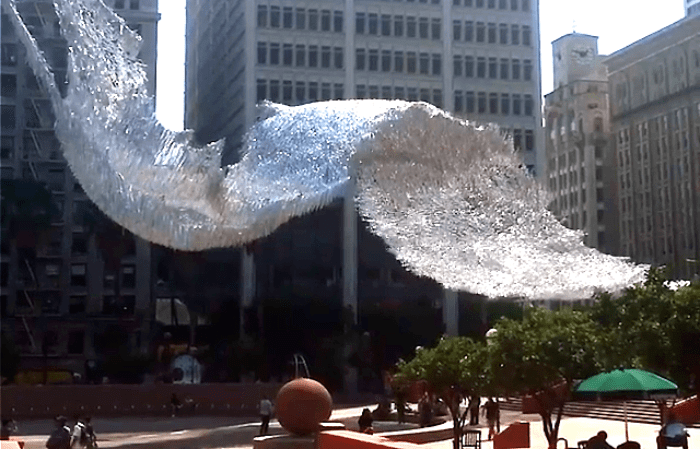 Patrick Shearn's "Liquid Shard" Moving High Above Perhing Square in August


Los Angeles is also embracing new ideas for public art. In Pershing Square a fascinating, kinetic, one-of-a-kind "Liquid Shard" sculpture by Patrick Shearn recently debuted, flying high overhead to the delight of visitors and mesmerized Instagrammers.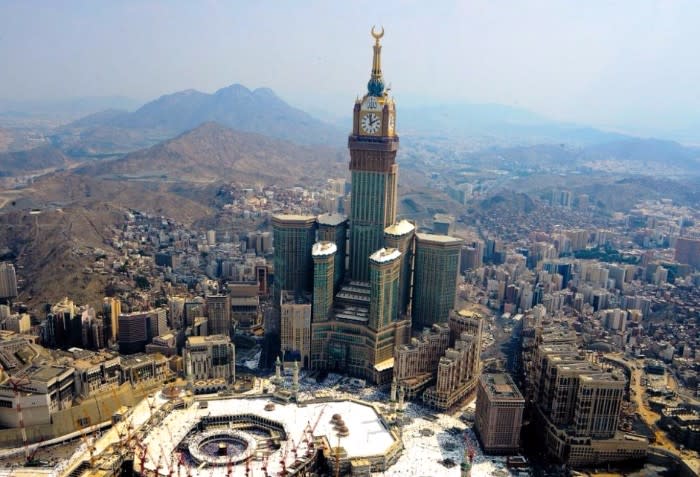 Saudia Arabia's Abraj Al Bait


This month we end our tour of the world's greatest properties with this fascinating overview of the most valuable high-rise buildings in existence, with the 76-story Abraj Al Bait complex in Saudi Arabia tking the top slot with a construction cost of $15 billion!


It features the world's largest clock face, a Royal Tower Hotel, nine state-of-the-art venues, and 4,000 (!) shops. It's a shopaholic's paradise!


Important Upcoming Events


One organization I'm happy to support is The Shanti Project, which next month is having their annual gala, Compassion is Universal. Chaired by Bahya Oumlil-Murad, funds from elegant benefit supports Shanti's work in enhancing the lives of San Francisco's most vulnerable with hospice and other services.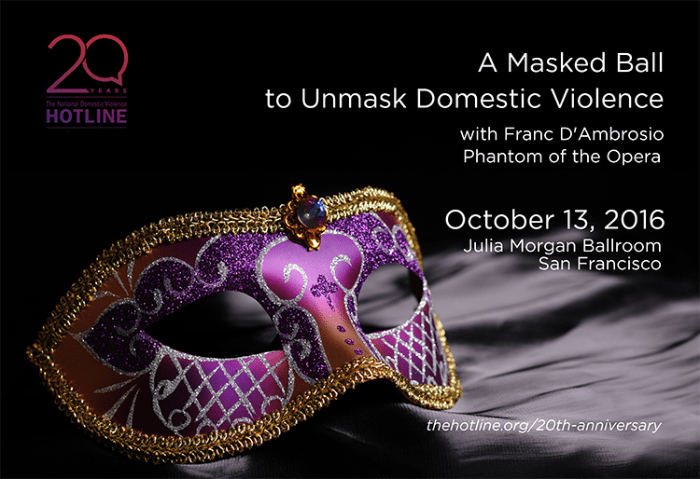 A Masked Ball, October 13th


I'm also pleased to be supporting the National Domestic Violence Hotline, which is throwing a Masked Ball on October 13th with Franc D'Ambrosio of Phantom of the Opera fame at the iconic Julia Morgan Ballroom.