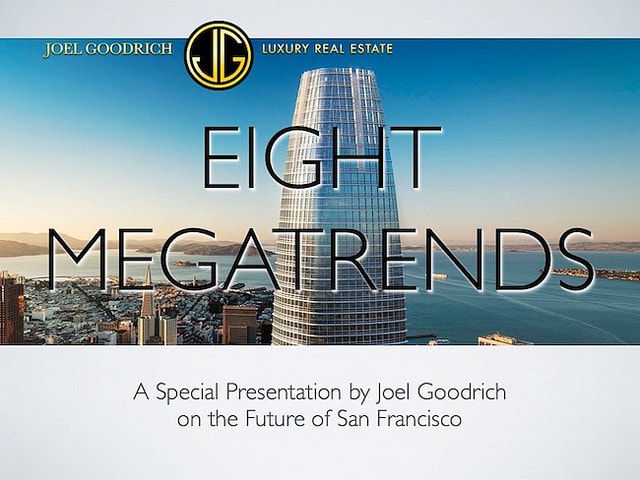 San Francisco has long had a colorful history as a boom and bust town, starting with the Gold Rush of 1849 and continuing on to the Dot-Com boom of 1999. The city has always been a world-wide tourist attraction with its iconic landmarks, physical beauty and great cultural attractions… some of the many reasons that make this one of the desirable places on the planet to live.
Its real estate has also attracted a lot of attention, from the stately French-style buildings on Nob Hill…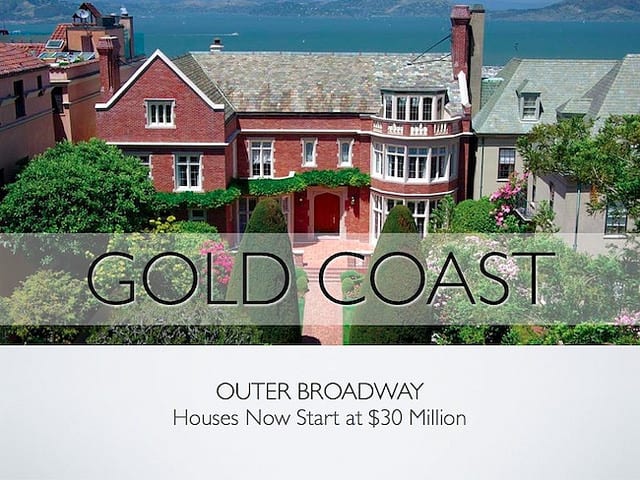 … to the Gold Coast Mansions in Pacific Heights…
… and of course the world-famous Painted Ladies of Alamo Square. Ahh, our beautiful city!
Over the past 15 years we've had three huge booms as well as two equally dramatic downturns, and in the current one we have surpassed the peaks of the other two. So, as we go into the 5th year of the current upswing, the question on everyone's mind is: are we in a bubble about to burst or do we still have a while left in this current economic up cycle?
Before we get to the 8 Megatrends, first let's review the current economic predictions: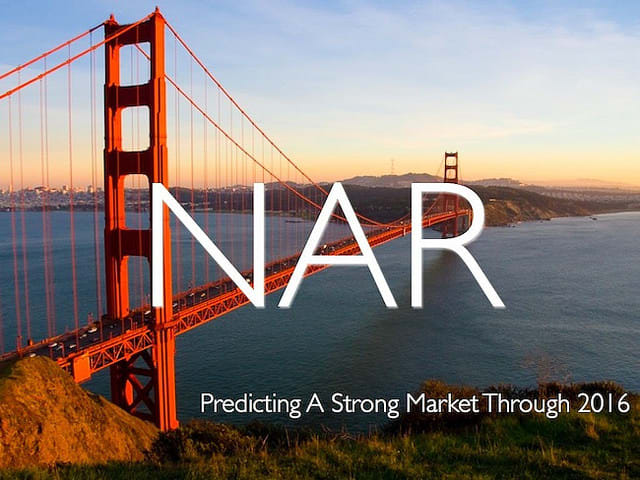 Last year the National Association of Realtors came out with a forecast predicting that 2014 would be a strong year, as was 2013 and that 2015 would be even stronger as we approached the end of this bull market and headed into a weaker 2016.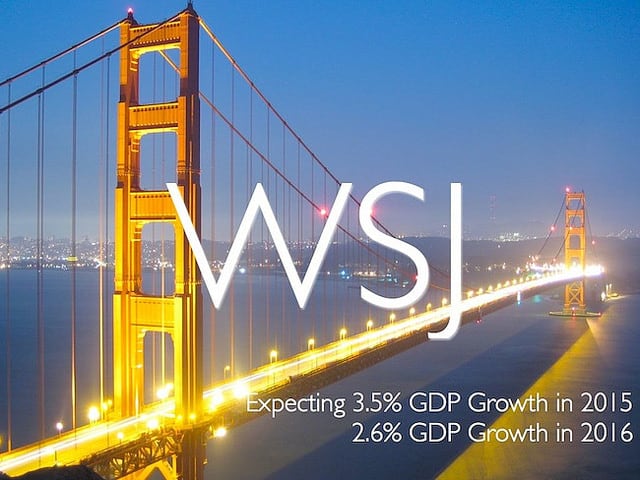 Earlier this year the Wall Street Journal did their survey of Top 50 economists and their predictions were for 2.8% economic growth this year (that's GDP, the Gross Domestic product), 3.5% in 2015, but growth continuing in 2016 at 2.6%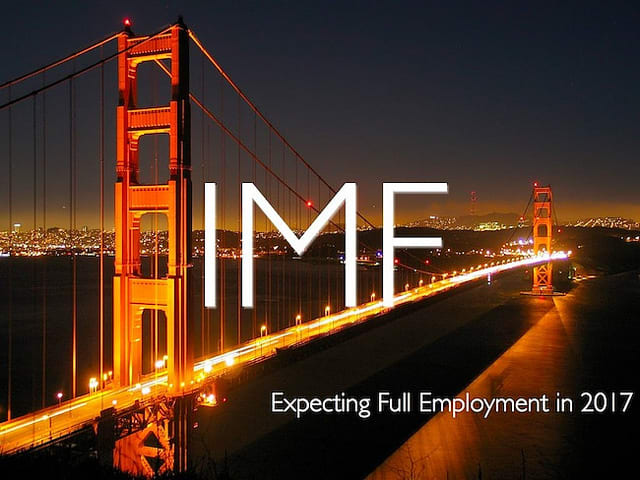 A few months ago, the International Monetary Fund came out with their economic outlook forecasting that globally we would not reach full employment until 2017
So, I know these are a lot of numbers, but the bottom line is this: if these forecasts hold true, then we will be in for a period of longer more moderate growth with a gentler downturn occurring in 2017-2018- so fasten you seat belts, it should be an interesting ride!
The next question is: where does that leave us here in San Francisco and where are we going from here?
Over the past few years, the City and Greater Bay area has been the strongest real estate market in the country in terms of growth. And while the rate of price appreciation has slowed from a sizzling 36% annually to a more sustainable 8-12%, the limited supply and continuous influx of new buyers has kept our market strong. Our residential rents just surpassed those in New York and it is predicted that by next year our commercial rents will have also.
Going into the future, I have identified 8 Megatrends that will shape the future of the San Francisco Bay Area.
Before going into detail, here they are (and some of them might surprise you!):
1- TransBay Effect
2- Technology of the Future: from Supercomputers to Artificial Intelligence
3- The Technology "Ripple Effect"
4- The Environment
5- Changing Demographics
6- The China Effect
7- San Francisco Underpriced Compared to other Major international Cities
8- The National and International Media Effect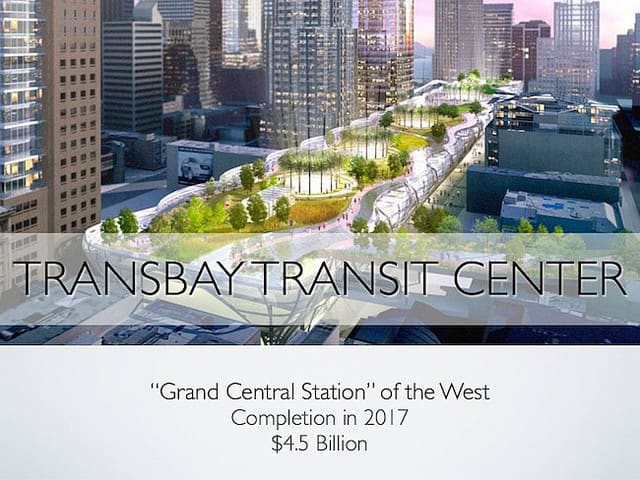 THE TRANSBAY EFFECT
Sometimes called "The Grand central Station of the West," the stunning new TransBay Center and surrounding highrises will become an international business and residential and the new financial center of the City. With 9 different Transportation Agencies converging at the terminal and a 5.4 acre park 5 floors above street level, this major transit hub will be surrounded by multiple billions of dollars of new highrises housing millions of square feet of offices, hotels, stores, restaurants and housing.
These new highrises will feature stunning designs by "Starchitects" from around the world, from the "SalesForce Tower" by Cesar Pelli, which will be the 7th tallest building in the United States to the 910 foot tower by Sir Norman Foster (designer of Apple's new Union Square store as well as their spaceship-shaped world headquarters in Silicon Valley), and many others, including a fascinating design of a twisty tower by Chicago architect Jeanne Gang.




Here's a fascinating video which shows this new San Francisco.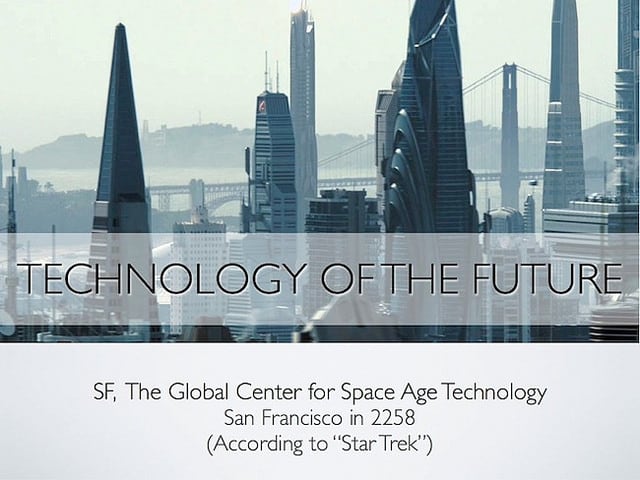 TECHNOLOGY OF THE FUTURE
Starting in the early 1930's, and with the founding of Hewlett Packard in 1939, Silicon Valley has gradually risen to prominence as the technology capital of the world. While those of us in the City always knew it was there, it wasn't until the late 1990's that it's effect really began to be felt in San Francisco as the first tech dot-com boom sent real estate prices skyrocketing up to unheard-of levels at that time as many of newly minted young tech millionaires all wanted either a primary or at least a secondary residence here.
Since then, we have experienced two more booms, each one bigger than the last- and Silicon Valley has continued to maintain its leading edge in many facets of technology, including in supercomputers, artificial intelligence, robotics, alternative energy, biotech, the Internet of Things, or (Internet 2.0) and of course social media.
The center of technology is moving northward into San Francisco as the new generation of tech founders and workers prefer to be in an urban environment. In fact, one of the leading venture capitalists remarked that it used to be that 2/3 of the deals were in Silicon Valley and 1/3 in the City. Now that is reversed. Today we are seeing tech workers and innovators from around the world as well as different cities in the US flocking to San Francisco. In many ways it's the new Hollywood!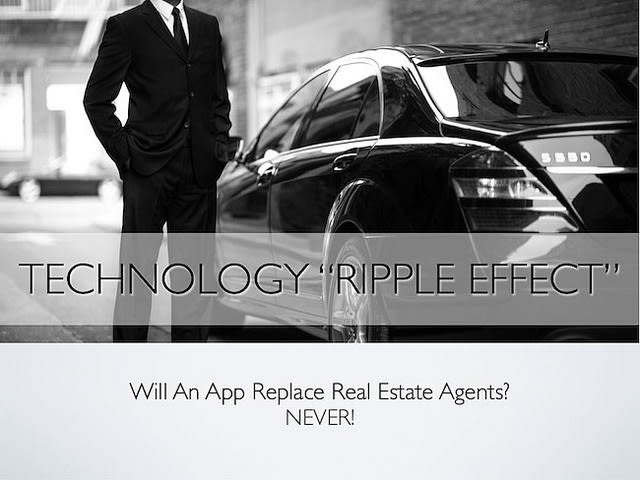 THE TECHNOLOGY "RIPPLE EFFECT"
In addition to tech CEO's workers and companies moving here, we are seeing an ever-widening "ripple effect" As different industries become "disrupted" by technology, first as we saw in newspapers (with a lot of the advertising dollars going online), hotels (think AirBnB), taxis (Uber) more and more companies in different industries, from automotive, retail, fashion and media to finance and many others (and who know, maybe one day real estate agents!), are moving here to be close to the technology and innovation they need to survive and prosper. This thereby increases exponentially the buyer pool for properties in the Bay Area.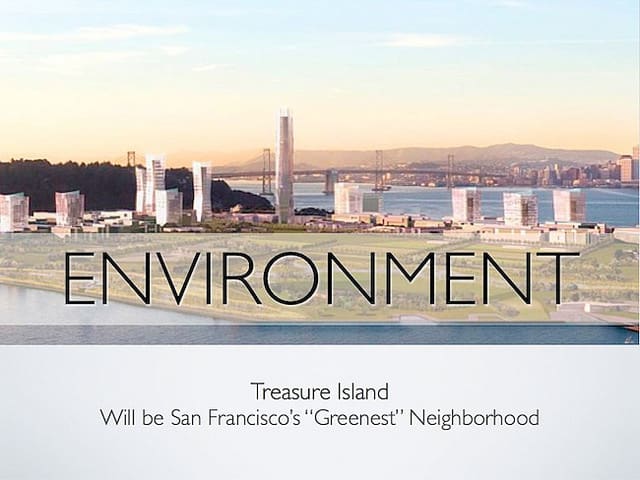 THE ENVIRONMENT
As the planet becomes more and more populated, the future is in more "green" living. And the greenest possible way to house the largest number of people is in high-rises. With San Francisco being the high-rise capital of the West Coast, it becomes more of a magnet as the world's population becomes ever-more urban rather than rural. And the importance of "green" building continues to rise.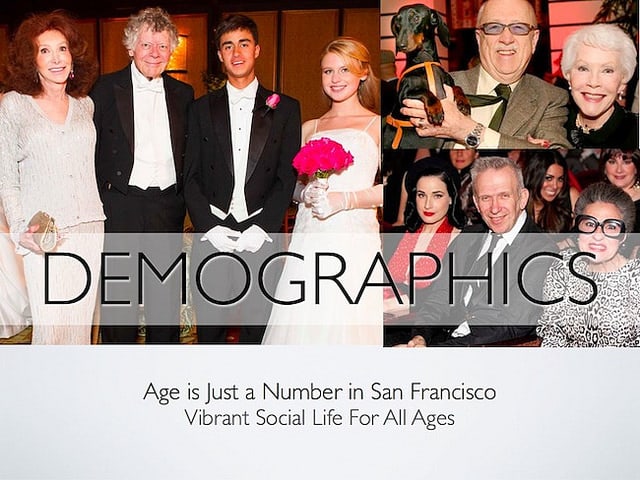 CHANGING DEMOGRAPHICS
In the last century, we saw a shift out of cities and into the suburbs and the country as people dreamed of a quiet retirement. Today, with people living longer healthier lives and staying vibrant into their 80's and 90's and beyond, many are choosing to remain to stay in cities to be close to cultural dinging and entertainment attractions, as well as top-notch medical care, thereby creating even further demand for housing in San Francisco.
A very interesting example of this occurred when the SOMA Grand, one of the large new highrises South of Market, opened in 2008 and there was a big article (I believe in the Chronicle) about the fact that one of the larger penthouses was bought by a couple in their 60's from the East Bay retiring INTO the City. and as more of the full-service, hotel-like highrises are built, it provides many people (including a lot of our friends, LoL!) very attractive options for staying in town.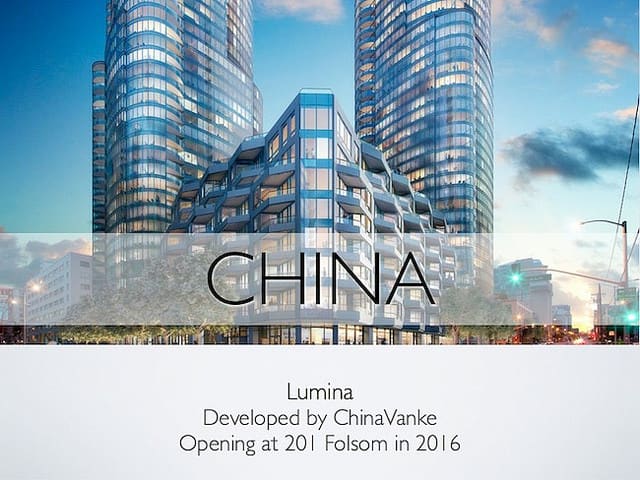 THE CHINA EFFECT
Much as New York has a huge Euro effect and Miami is a huge magnet for South American buyers, San Francisco is one of the world's top epicenters for Chinese investment in international real estate.
Long a gateway for China and the entire Far East, the City and surrounding greater Bay Area has deep political, economic, cultural and educational ties to China. When Ed Lee and Jean Quan became mayors in both San Francisco and Oakland, it was a huge media sensation in China and had the effect of further strengthening those ties.
With a large import-export exchange of technology and other industries, one of the largest Chinese populations in the United States and some of the world's best universities attracting generations of Chinese families, the past few years has seen an explosion in Chinese investment in US real estate.
The National Association of Realtors estimates that international buyers spent $92 billion on US real estate over the past year of which $22 Billion was from Chinese buyers. California is the most popular destination and it's reported that an astounding 76% of these transactions are all-cash.
Some of the largest examples in San Francisco include:
-ChinaVanke's, China's largest real estate developer, $615,000,000 investment in LUMINA, San Francisco's largest condominium developments ever
-The purchase of the historic 225 Bush Street, originally the Standard Oil building, a 583,000 square foot office tower in the Financial District to an undisclosed Chinese buyer
-The sale of the 17,000 square foot St. Regis penthouse to a Hong Kong family for $28,000,0000
And some economists are predicting this is just the beginning!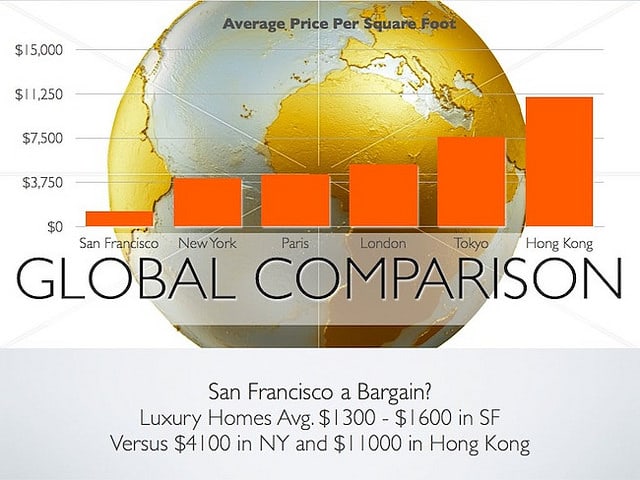 SAN FRANCISCO UNDERPRICED COMPARED TO OTHER MAJOR INTERNATIONAL CITIES
While we think our real estate is expensive, we are actually a bargain compared to some other major international cities!
Our luxury real estate is currently averaging in the $1,300- $1,600 per square foot range and our super-luxury properties in the $1,900- $2,500 per square foot range- with a few rare instances over $3,000 per square foot such as the off-market sale of a Presidio Heights home for over $3,5000 per square foot.
But when buyers com here from Hong Kong, the most expensive City in the world according to Forbes Magazine, where the AVERAGE price square foot is $11,000, they think we're having a last call sale at Neiman Marcus. At those price a 1,000 square foot apartment would be $11,000,000! Coming in at #2 is Tokyo at $7,600, London #3 at $5,300 and Paris #4 at $4,400. The only US city to make the list is New York at #6, averaging $4,100 per square foot.
Considering the incredible quality of life in the Bay area, as well as the world-class cultural, entertainment, sporting dining and business attractions of the City, this certainly bodes well for the future.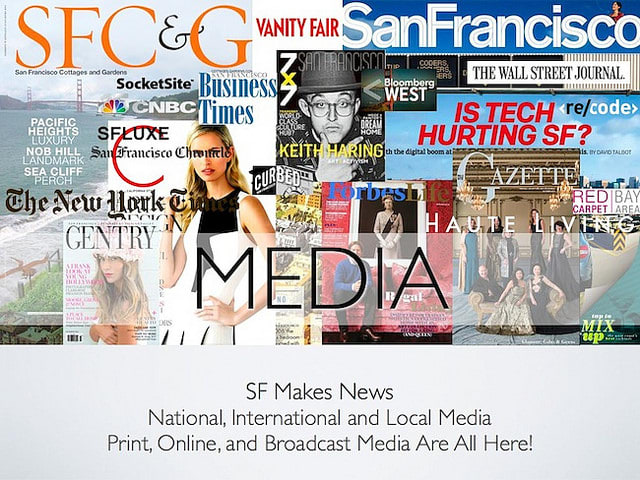 THE NATIONAL AND INTERNATIONAL MEDIA EFFECT
As San Francisco and Silicon Valley continue to be the world leaders in innovation and technology, the world's fascination without City continues to grow as evidenced by the increased national and international media coverage.
From articles in the New York Times, to my recent interviews in Reuters and Wall Street Journal Asia, the Wall Street Journal's article calling our wonderful historic Jackson Square area "The New Sand Hill Road", as well as Vanity Fair's famous article about Pacific Heights' Gold Coast Mansions (I know a lot of you are VERY familiar with those!), the international media focus on the City and it's beautiful real estate has never been more intense. And a very popular TV real estate show coming to San Francisco will only add to that scrutiny- stay tuned for more news on that!
What all this means is that for international home collectors (those who own 10+ luxury homes around the world), San Francisco is much higher on their radar screen, along with the traditional areas such as London, Paris, New York, South of France, etc..
With all of these amazing things happening, our beloved City is certainly going through some dramatic and exciting changes which bode well for the future- so fasten your seat belts, it should be an interesting ride!
And the good news is that while we see a whole new San Francisco taking shape before our eyes, all the historic neighborhoods are being preserved, leading to an incredibly dynamic combination of classic with modern. One thing we can all agree on- whether real estate prices go up or down, this is one of the most beautiful and exciting places in the world!