First, my deep thanks to the many of you who've reached out about the thoughtful profile Carolyne Zinko wrote about me for the front page of the San Francisco Sunday Chronicle earlier this month. It was an honor to be written about by such an esteemed writer, and to hear that it was well received. Thank you for your support!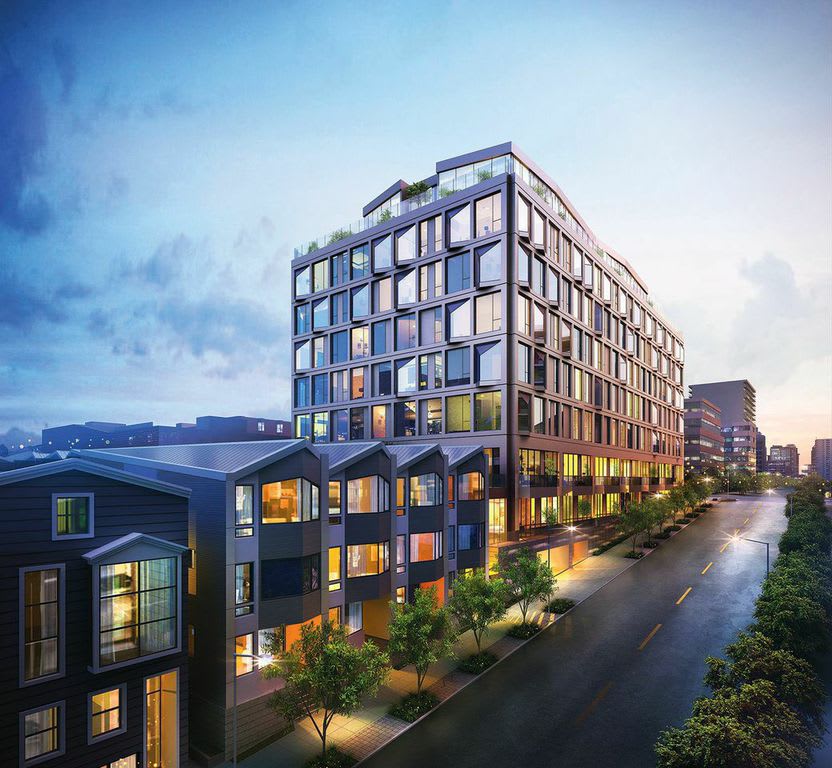 The Pacific, at Webster and Sacramento, Opening 2016

As we head toward the end of a banner year in luxury real estate locally, nationally and around the world, the sweeping changes affecting San Francisco are accelerating.


This was clear to me when I recently attended the groundbreaking for The Pacific, the first major new development in Pacific Heights in decades. The conversion of the former location for the Dugoni School of Dentistry into luxury condos is designed in the spirit of the Bulgari Hotels in London and Milan, and will set a new standard for luxury developments in the City.

A Skyscraper to Rise Behind The Chronicle Building on 5th
It's also exciting to learn that the huge new redevelopment of Treasure Island is about to move forward, as well as the modernistic new development around the historic Chronicle building in SOMA (creating a stunning combination of old with new), and the massive new neighborhood planned for Potrero Hill's southern slope. I'm sure many other plans are to come!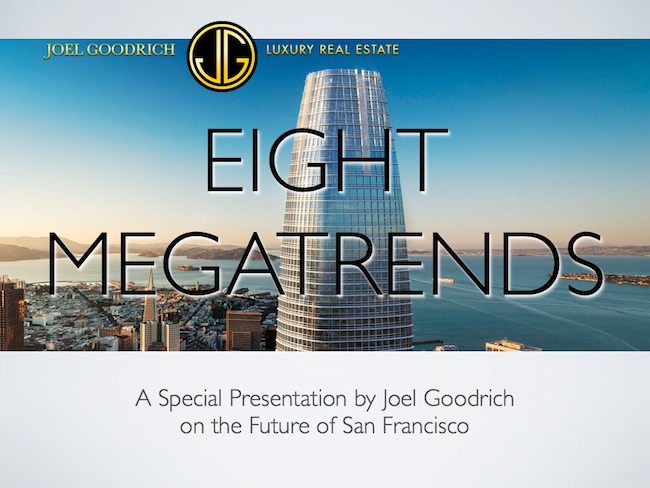 Eight Megatrends (available at joelgoodrich.com)

So the topical question of the day on many people's minds is: where do we go from here? I was recently honored to ask to give a talk at one of the City's most historic private clubs, and with that thought in mind, I actually looked into the past at an interview I had given several years ago about the future of San Francisco and it's real estate called "Seven Megatrends." With several of these already starting to take hold, and looking into the future, I re-worked the article, dropped a couple of the past trends and identified several new ones.


From the environment to the technology "ripple" effect, the media effect and several others that might surprise you, here are the "Eight Megatrends" shaping the future of our beautiful City and it's real estate.


I would love to hear if you have ideas about other megatrends coming in the future, either here or in your city!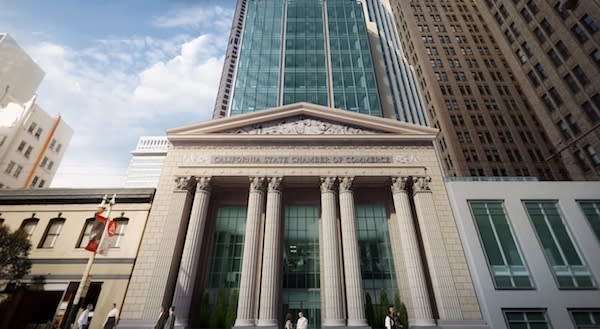 350 Bush, Designed by Heller Manus, opens 2016
Final conclusion: while we have a whole new city springing up, the classic, historic neighborhoods such as Nob Hill, Telegraph Hill, Pacific Heights and others will retain their extraordinarily iconic character, leading to an incredibly dynamic mix of modern and classic, such as this ultra-modern glass tower rising behind and incorporating one of the Financial District's most historic buildings.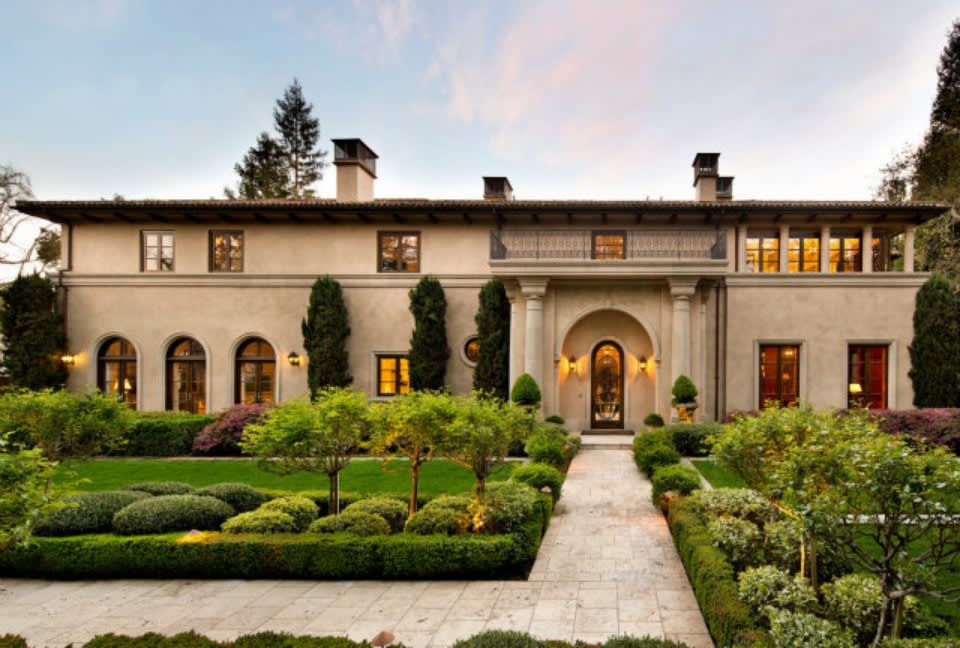 The Highest Priced Listing in Atherton is $21,988,000
One recurring trend is the high price of our housing. The San Francisco Bay Area continues to have the most expensive zip code in America, Atherton's 94027. But I did a study last year, picked up by many publications, that found that if Pacific Heights has it's own zip code it would be the most expensive! The San Francisco Chronicle's Leah Garchik followed up with an amusing piece entitled "What if Pacific Heights seceded?"

The Waldorf Astoria Sold for $1.95 Billion
While there are signs that the rate of appreciation in luxury markets locally and globally is decelerating to a more sustainable pace, the market continues to see new highs in sales and listings with the effect of Chinese and other international buying continuing to increase, such as the $1.95 billion sale of the Waldorf Astoria in New York to a Beijing-based hotel group, and the record-breaking $80,000,000 co-op sale in Manhattan to Ukranian-born Leonard Blavatnik, which is $5 million over the asking price. With such numbers, the $90 million condo "flip" by hedge fund mogul Bill Ackman doesn't seem so unreasonable!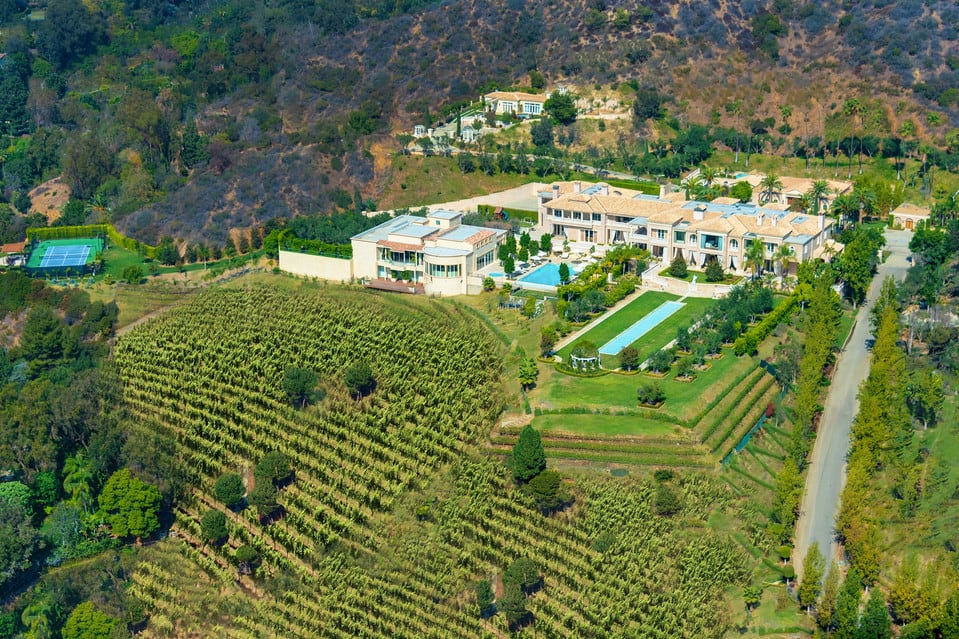 A 25-Acre Beverly HIlls Estate For $195 Million

New listing prices are reflecting the appreciating global market, from the $100 million penthouse at the classic Woolworth building in Manhattan to "Palazzo Di Amore," the $195 million Beverly Hills estate listed by Joyce Rey and Stacy Gottula of Coldwell Banker Previews International. "The most likely buyer is going to come from abroad," according to Rey. In fact, the home had previously been rented to Saudi royalty!


And while on the topic of ultra-luxe pricing, here is fascinating glimpse into a list of the world's ten most expensive homes as compiled by CompareCamp.com, including two valued at over $1 billion USD, and a penthouse valued at $400,000,0000!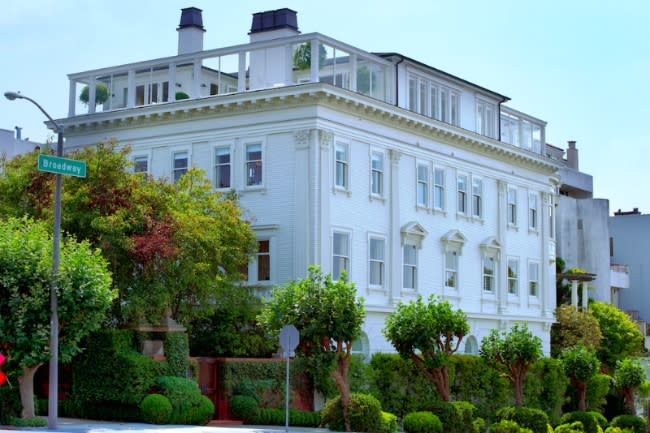 A Beautiful Gold Coast Mansion For $39 Million
Locally, iconic properties hitting the market include the Frank Lloyd Wright-inspired spaceship home in the Oakland Hills, Belvedere's Locksley Hall for $49 million, as well as a 16,000 square foot neoclassical mansion on San Francisco's Gold Coast for $39 million.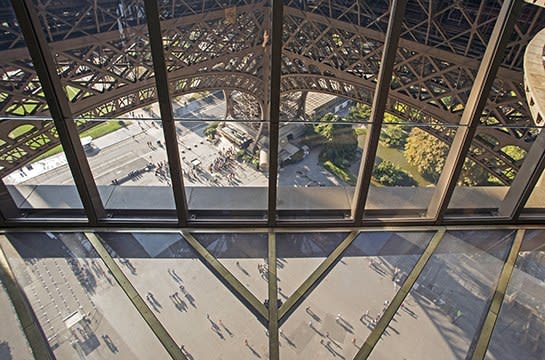 A Glass Floor at the Eiffel Tower
Architecture also continues to evolve at a fast pace with iconic new structures from Sydney to Vienna. And the combination of new elements into historic structures also continues with this interesting new addition to Paris' iconic Eiffel Tower. Design continues it's ultra-modernistic trend with splashes of Pop Art influence.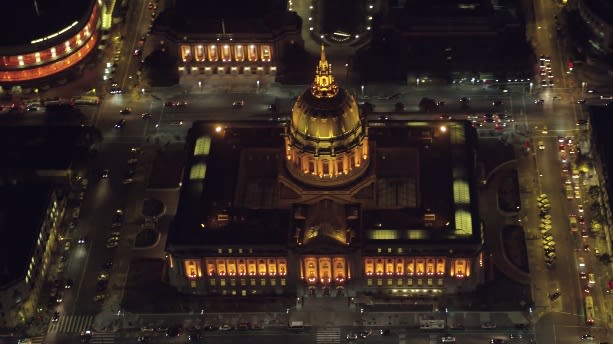 SF City Hall Lit in Giants Orange
And the pace of events in our amazing part of the world continues non-stop with a mind-boggling array of events last month, from the Blue Angels show during Fleet Week to San Francisco lighting up in orange (the new black!) for the Giants World Series victory and countless other continuing on into November.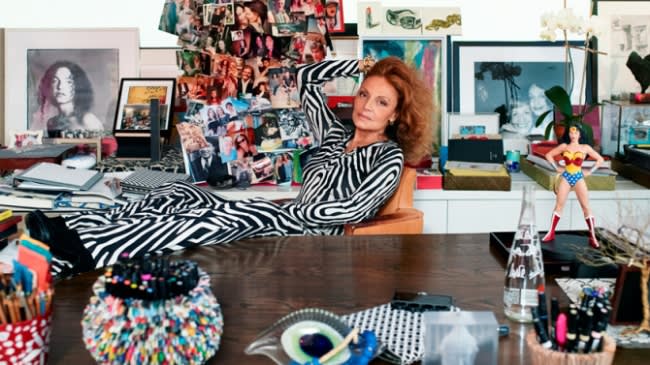 Diane von Furstenberg Visits SF This Month